Preventive Maintenance Schedule for Pumps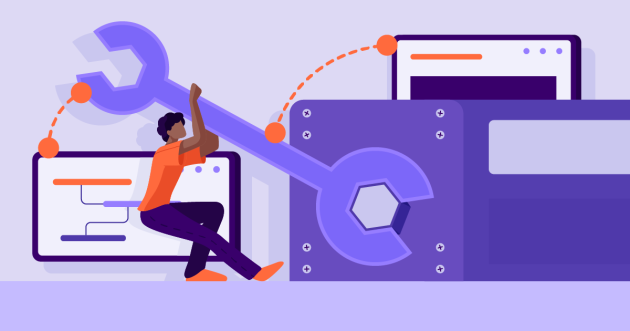 As it is the case with most equipment, pumps require regular maintenance to keep within peak performance benchmarks. The benefits of preventive maintenance in the HVAC industry have proven to improve asset life cycle, boost CRM, cut excessive repair costs and reduce unplanned equipment downtime.
With the assistance of preventive maintenance software, you can reduce the amount of admin time behind your maintenance schedule and ensure your assets are in the best condition. Maintenance software in your scheduling will also give you a better overview of any problems within your workflow and help create a smoother maintenance program in your business.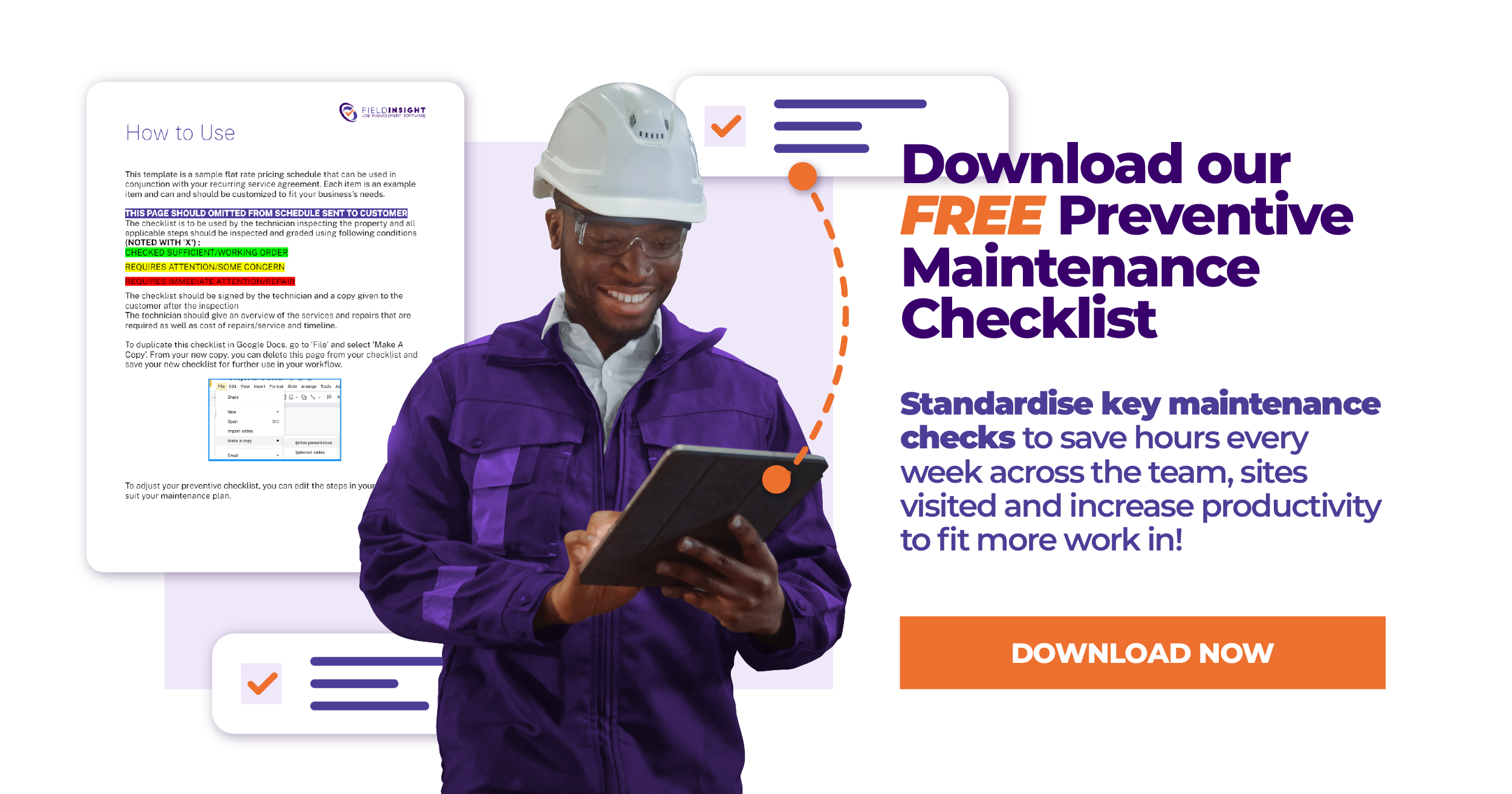 When talking about pump failure the best remedy is having a great schedule and maintenance checklist in place. In a pump's life cycle, environmental conditions can often be a major factor in its performance. Some other important maintenance tasks and factors to consider include:
Rubbing from wear and tear
Heat generation
Volumetric loss
Issues with discharge valve
Shaft alignment and clearance
Suction and discharge pressure
Mechanical seals
Bearing lubrication level
Pipe restrictions
Dirt or debris
Excessive pump vibration
Impeller clearance
Blockages
Loss of suction
Corrosion
All of these issues can be detrimental to a pump's performance and cause defects if not resolved with regular maintenance. When considering what to include in your regular maintenance checklist a great place to start is the warranty and manufacturer standards as per pump type. Pump manufacturers often set requirements to follow to ensure the best life cycle for your equipment.
Overview of Pump Efficiencies
Pump efficiency point is the result of hydraulic, mechanical and volumetric parts to ensure performance is within a desired level. The level of efficiency in a pump is drawn from the units of energy that is required for performance.
For example if two units are going into a machine and the output is one unit, your efficiency level is at 50%.
However in centrifugal pumps, the inner workings of the pump will drive the motor. Essentially this means the mechanical energy is transformed to hydraulic energy and electrical energy is transformed to mechanical energy. This means that for a centrifugal pump you will find your level of efficiency sits at either 75% or higher in larger pumps and around 60% in smaller pumps.
When trying to calculate your efficiency for centrifugal pumps, you can use the equation:
Efficiency= Water Power/Shaft Power
This equation is based on output (water power) to the input (shaft power).
Or by using the equation:
Water power = (Flow x Head) / 3,960
In this equation, your flow is your gallons per minute and the number 3,960 converts horsepower into the data you need for your pump.
As part of your preventive maintenance, ensuring your pump efficiency is within the desired range is vital in keeping your assets healthy.
Preventive Maintenance Schedule For Pumps
As a part of your work order management for your pump maintenance schedule, you need to do some research behind what factors you need to consider that will be most detrimental to your pump's health. When you create your ultimate guide to maintenance, your aim is to reduce your unplanned downtime and improve your standard of service by keeping a regular schedule.
How to Determine The Frequency?
When trying to determine the frequency of your maintenance checklist, you need to consider the factors that will impact your pump listed in the beginning of this article. If you have a higher quality pump that is used every day and is largely impacted by elemental factors, you will need to have more regular services in place. The warranty and safety standards will also have an impact here, depending on your pump type and according to the manufacturer's instructions.
In addition to these factors, consider the following 5 factors: 
Degradation Process: The degradation process of the pump can affect the Failure Developing Period (FDP). Some studies have used models like the Wiener process to describe this degradation and optimize the inspection and preventive maintenance policy accordingly. (source)
Failure Developing Period (FDP): The FDP is the time period from when it is possible to detect a failure until we have a breakdown. The inspection frequency should roughly be FDP divided by two. For example, if the failure-developing period is 14 days and we need some time to plan and schedule the corrective maintenance for that failure, a reasonable inspection frequency is seven days (FDP/2). (source)
Inspection Tools: The FDP changes when we have access to better tools. For example, we may be able to detect a problem with a pillow block bearing by listening to it by putting a screwdriver to our ear (and the bearing). This method may give us a warning period of a few days. However, if we buy a vibration analyzer, we can probably detect the same failure at least six weeks in advance. The failure is the same, but the FDP has changed.
Person's Ability and Environment: The ability to detect a failure and the FDP also depends on the person's ability to do the inspection, the environment (lighting, temperature, indoor vs. outdoor, etc), operational parameters at the time of inspection, equipment design and accessibility, and much more.
Component Life and Criticality: The life of a component has nothing to do with inspection frequency. The criticality of the pump may change the selection of the inspection frequency because we are uncertain of the FDP. The FDP is a guess. So a very critical component may be checked more frequently because we don't really know the FDP. It is an insurance policy.
Centrifugal Pump Maintenance
The more thorough your maintenance is, the better service you can provide. While a large maintenance schedule can seem daunting to your maintenance team, the assistance of checklists can ensure no step is missed no matter how big or small. Having a checklist in place will also provide consistency across your team and ensure each pump may receive the correct care it needs.
Your centrifugal pump is made up of some key elements that will be main stars in your maintenance checklist:
Casing volute: this is the outer shell that contains the pressure and directs the fluid.
Bearings: this reduces friction and ensures the impeller is spinning.
Impeller: this is a rotor that will drive the flow and boost kinetic energy within the pump.
Motor: this is the power source. 
Shaft seals: seals or rings that stop leakages within the pump. 
The main area for concern in centrifugal pumps is the lubrication. As centrifugal pumps rely heavily on correct lubrication to work, maintenance is important to ensure pumps aren't under or over lubricated, which can cause damage. When you have over lubrication your pump will create too much heat and can result in frothing the oil.
When considering your lubricant level and bearings you also need to consider what oils to use. Try to use non-detergent and non-foaming oils for the best performance. In your bearings you want to avoid using different variations and types of oils that can be varying in consistency and can affect performance.
Getting your maintenance plan right means you consider all these above factors and are able to incorporate them into your pump checklist and schedule.
Daily Maintenance Checklist
For your preventive maintenance pump checklist you should ideally include in your daily schedule:
Check exterior for leaks
Clean away any debris
Check for excessive vibration or unusual noises
Check for oil discolouration or foaming
Check the temperature of your bearings
Inspect gasket for oil leaks
Inspect self flush pumps
Check heat tracing
Clean bearing covers
Inspect water cooling
For this checklist, you want to schedule a quick inspection of your pumps to avoid damage and wear. The main reason for having a daily checklist in your schedule is to catch those pesky issues that can turn into defects and pricey repairs if not caught early on.
Monthly Maintenance Checklist
When you schedule your monthly maintenance appointments, key factors to include in your checklist are:
Top up oil – if applicable
Clean oil bulbs
Inspect and replace guards
Clean dirt and debris from bearings
Grease the motor bearings
Inspect hydraulic governors oil levels
Check for leaks
Clean external debris from pump
Scheduling your monthly maintenance will be a step up from your daily pump maintenance and include bigger steps that can be more time consuming.
Quarterly Maintenance Checklist
When scheduling your quarterly planned maintenance in order to keep your centrifugal pump in peak working condition, you will need to include:
Inspect pump and motor for excessive vibration damage
Grease bearings (this is usually done either every 2,000 hours or every three months, whichever comes first)
Change the oil (this is usually done either every 2,000 hours or every three months, whichever comes first)
Check suction and discharge
Check head pressure
Check hold down bolts for tightness
Inspect shaft pump alignment
Generally your quarterly maintenance will be done with the change of the season and can include varying tasks due to elemental factors. The severity of your pump environment will also affect the consistency and schedule of your pump maintenance program. Will your pump be exposed to extreme heat or extreme cold temperatures?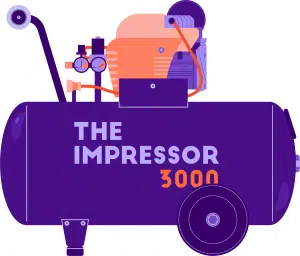 Annual Maintenance Checklist
In your annual preventive plan, you will generally go into more detail and evaluate pump performance. Each year you should take a record of your annual operations and benchmarking data that might include:
Pump flow meter rate
Motor amps
Suction pressure
Pump vibration
Head pressure and pump discharge pressure
For your scheduled annual maintenance your checklist should include:
Before you complete your annual checklist, you need to make sure your pump is disconnected from its power source.
Check exterior for corrosion, cracks, debris and scale.
Clean chase threads
Check for blockages in lubrication passages
Grease lubricated bearings
Replace worn housings
Check stuffing box cover
Analyse power consumption
Grease motor bearings
Check oil level
Check flow rate
Inspect casing for corrosion – replace if excessive wear
Inspect gasket for deformities
Check impeller for erosion – replace is excessive wear or bent vanes
Check shaft for excessive wear and corrosion
Check shaft runout for wear
Check mechanical seals
Inspect seal chamber for pitting
Inspect for scoring on the chamber face

How Your Scheduling Can Be Made Easy As Pie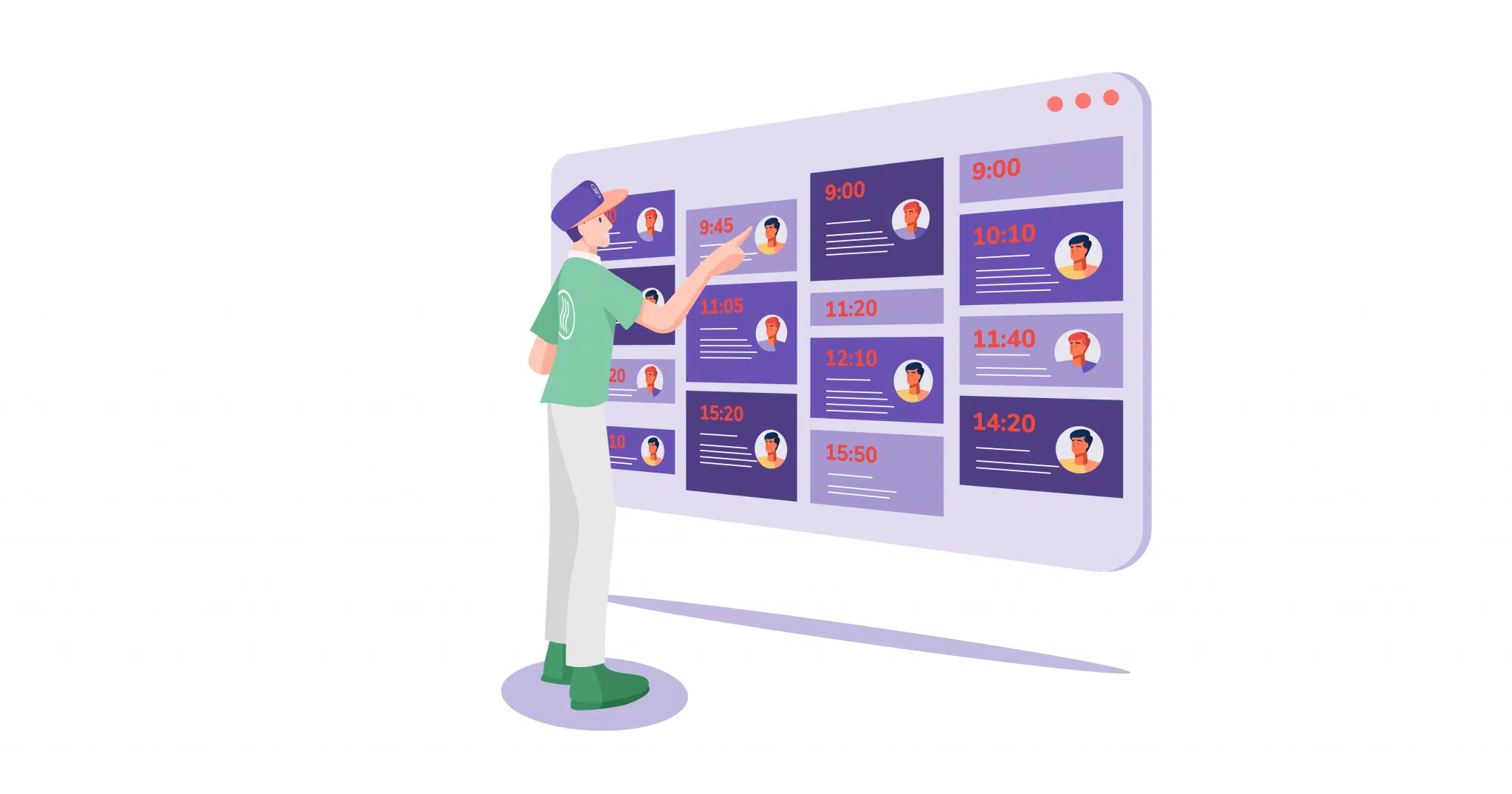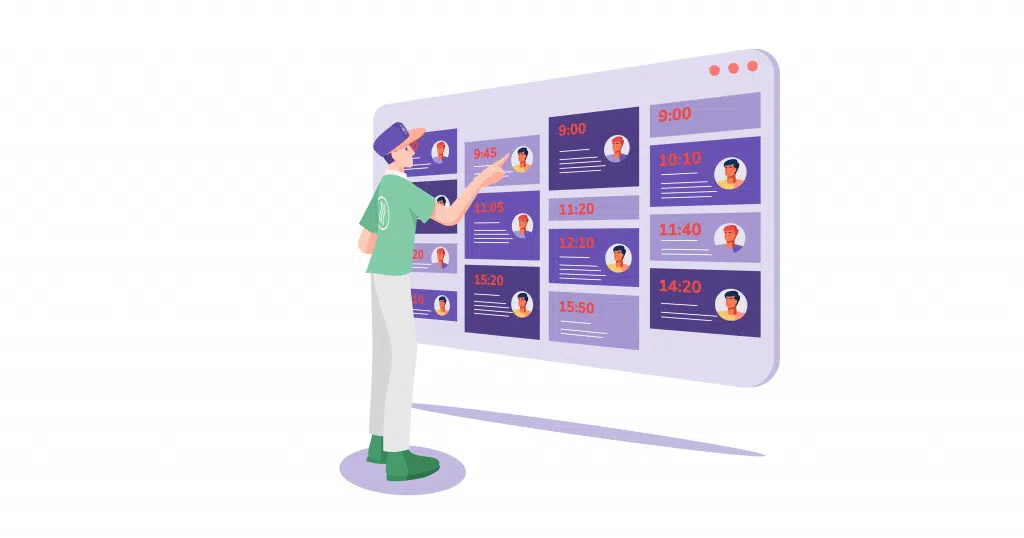 Now you know that you need to have regular routine maintenance for your pumps, you need to have a great system in place.
For your routine maintenance schedule for your centrifugal pumps you need to make sure you have a solid system in place where you can reliably plan and train your team. Having a great software in place will also give you the ability to structure your maintenance program according to the manufacturer's instructions and adhere to your customer contracts.
With field service automation you can manage your scheduling for your maintenance with maximum visibility and little admin effort.
Job management software like FieldInsight gives you the ability to keep your centrifugal pump maintenance in perfect balance. With FieldInsight, you also gain access to the five primary automations in your business:
To reduce the stress in your scheduling system and improve your maintenance program, book a free demo today and find out what FieldInsight can do for your business.
What You Should Do Now
Book a Demo. You'll be in touch with an automation expert who has worked in this space for over 5 years, and knows the optimal workflow to address your needs.
If you'd like access to free articles about managing HVAC workflows, go to our blog.
If you know someone who'd enjoy reading this page, share it with them via email, Linkedin, Twitter, or Facebook.