Best Plumbing Software by FieldInsight
Less stress and respond to emergency call-outs quicker than ever before with FieldInsight.
We help emergency plumbing companies automate work flow, sky-rocket revenue and productivity through our job management software solutions.
Increase Your Conversion Rate
Being able to quote instantly on the same day to get approval while you're on the field can increase your conversion rate by 25% to 50%. Our plumbing software helps you achieve this and handles your quote management from A to Z. Your revenue sky-rockets with just one click away.
Seamless Integrations
eWay – Get paid right away
Xero – Keep your bookkeeper happy
MYOB – Why change it if it works.
Quickbooks – Keep your bookkeeping in sync
API – We will provide APIs for you
QuotientApp – for beautiful quote management workflow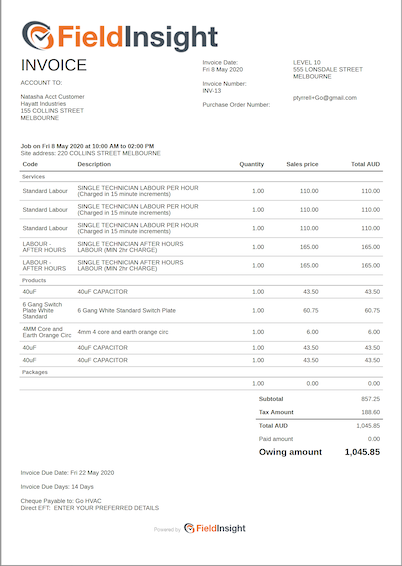 Our Management Software Is Trusted By:



Increase Team Efficiency and Save Hours Of Admin Time

By automating your job tracking, completion and job notes come back instantly, your plumbers can update parts and activities and time on the fly, allowing them to keep the information updated throughout the pay period, rather than waiting until the final day to turn them in. The scheduling software tracks everything for you, so your office staff won't have to spend long, tedious hours retyping and chasing up information. Even better, your guys get their job information instantly, reducing paperwork.
A Simple & User-Friendly Interface

Our intuitive and easy-to-use office and mobile software enables you to systemize and automate your business, to create the high value asset you want. Software needs to be as simple as possible but not so simple it doesn't solve the problem. We have worked extremely hard to give you this experience.

With a mind to simplicity and flexibility nearly every element of FieldInsight is configurable. You can configure your calendar view the way you want from its rotation, the information it shows, the day, the week, month or project view. Giving you the key information you need to speedily keep your business running.

We have kept it simple by giving you the ability to hide complexity you don't need but enabling the power you do need to run your business the way you want.
Automate Your Field Service Management
You probably know that manually keeping track of work assigned to your staff can be very tedious, time-consuming, and error-prone. This is the best management system that helps companies like you improve field operations.
Create Rich Asset Service Reports Automatically
FieldInsight's Dynamic Asset Report Automator™ takes all of the Asset Information you have, all of the completed Service Report tests and checklists and photos, and magically puts them together in a neat format with the click of button.. Normally building asset tests is a pain in the rump. First you have to get the service reports back for your technicians, they have to have completed them of course, you need all the key information, sometimes this can result in return trips just to get a serial number or some information that a photo would have saved the need for a trip. Then you have to Type all the information up, to make it look pretty finding Asset information, sometimes spending many hours collating these reports. What would it mean if you could do this boring part with the click of a button?

With the powerful Asset Management functionality you have all your customer's assets at hand, no need for trips to capture model information or location information a photo here tells a thousand words. The Asset's support custom fields, so you can add your own drop down lists, custom photos, PDF manuals. And with your Smart Asset Test Generator™ You can create different tests for different asset Types, with Instructional images, check-lists, check-boxes, dates giving you full flexibility to build your own reports and as many as you would like.

You are now in a great position, your technicians are out in the field anyway, they can easily capture the asset information saving unnecessary driving. They can complete a simple guided Asset Test or Service Report for that Asset. And now the hard work is done, it's a simple button click to select the jobs and assets you'd like in the Service Report, Selecting your preferred template, and generating your beautiful rich Asset Service Reports that you can email off with the click of mouse.
Why Choose FieldInsight Over The Alternatives?
Wondering how we are compared to other competitors? We've put together the comparison pages below: