Being an HVAC business owner, you have a huge amount of double data entry and a lot of paper to keep track of. FieldInsight helps automate your asset management workflow with just one click away!
Systemize and automate your business
We understand that if nothing is systemized and nothing is automated, you don't get any downtime and the business becomes you. With our asset management software, you will have the ability to take your business to the next level, turning it into a high-value asset.

Creating Asset Test reports for customers and sending them via email as soon as the work is completed can save your thousands of admin hours every year.
Save you hours with a click of a button

Normally, building asset tests is a pain in the rump. FieldInsight's Dynamic Asset Report Automator™ takes all of the Asset Information you have, all of the completed Service Report tests and checklists and photos, and magically puts them together in a neat format with the click of a button.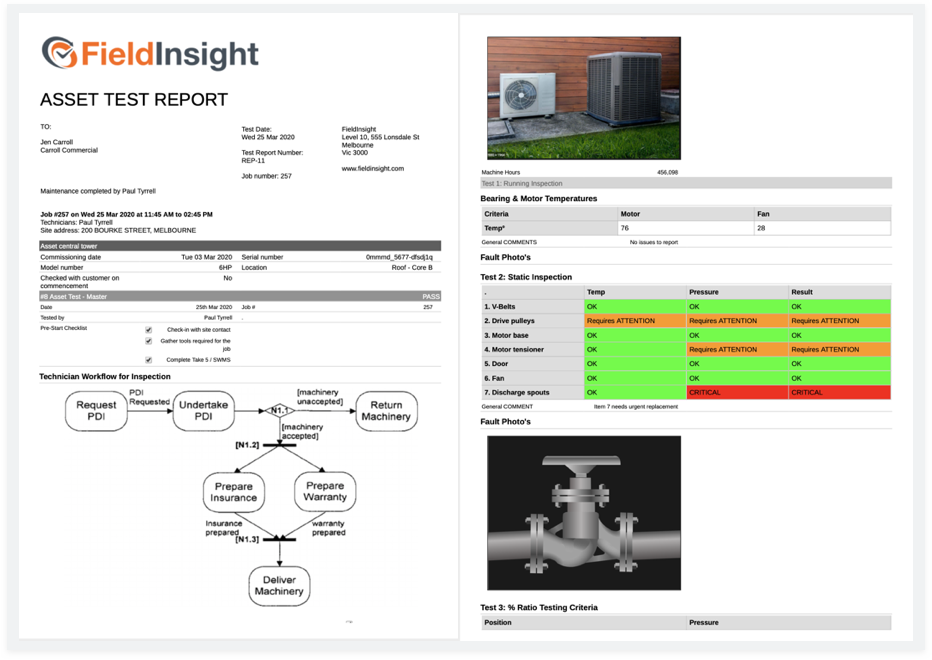 Full flexibility to build your own reports
With the powerful Asset Management functionality you have all your customer's assets at hand, no need for trips to capture model information or location information a photo here tells a thousand words. The Asset's support custom fields, so you can add your own drop-down lists, custom photos, PDF manuals. And with your Smart Asset Test Generator™, You can create different tests for different asset Types, with Instructional images, check-lists, check-boxes, dates giving you full flexibility to build your own reports and as many as you would like.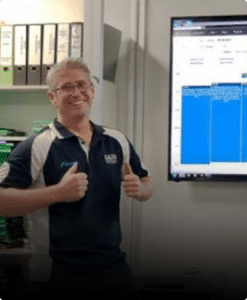 What do our happy customers say about our asset management software?
"I used to spend weeks chasing up paperwork and easily 2 hours putting together each report for a customers, we do 100s of maintenances contracts and this was a huge time waster for me, now it takes minutes to generate the reports and the guys have the information they need to do their job, and I get the information back same day, such a win for me."
Simone from Commercial HVAC in Melbourne

"I tried other Solutions and spent $10,000 and over 6 months trying to get it to work, and I couldn't get my data in, and I couldn't get it working the way I needed. It was incredibly frustrating. I called Paul and explained what I wanted and he stuck with me to get everything I needed up and running. It took a little while for my husband to get onboard, but now he loves it too. Life is just flowing so much better now."
Diane from Heating And Cooling

Why choose Fieldinsight over others?
The biggest difference that sets us apart from our competitors is that FieldInsight operates with an exclusive nine-step delivery model. This delivery model guarantees you a successful implementation of our software. We run through every process in your business to understand in detail how your business operates. We then configure our software to suit your business and your current workflows. The best thing is our experienced team will take away the hard work for you.