Commercial HVAC Service Software
Optimize your commercial HVAC business with our integrated platform, from field operations to office organization. Experience enhanced profits, reduced admin, and swift execution.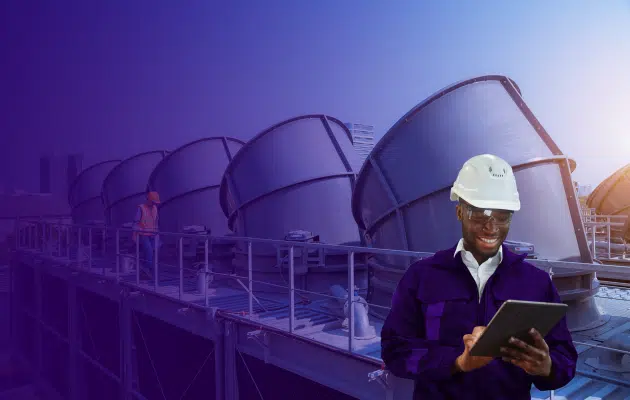 Redefining HVAC Software Space
FieldInsight excels in the market with its unmatched capabilities in job scheduling, asset reporting, preventive maintenance, and workflow customization. This unique combination allows for seamless operation optimization and business growth, setting a new standard in field service software solutions.
See How It works
What our Customers Are Saying

Commercial HVAC in Melbourne
"I used to spend weeks chasing paperwork and 2 hours creating each report for a customer, we do 100s of maintenance contracts and this was a huge time waster for me. With FieldInsight, it takes minutes to generate the reports and the guys have the information they need to do their job in hand which meansI get the information on the same day, such a win for me."

Commercial HVAC
"We are a large commercial HVAC business and we had information all over the place, and many systems running. The existing software just wasn't growing with us, and moving to FieldInsight has made our life run so much more smoothly. It's been a great decision."

Heating And Cooling
"I tried other Solutions and spent $10,000 and over 6 months trying to get it to work; I couldn't get my data in or get it working the way I needed. It was incredibly frustrating. I called Paul and explained what I wanted and he stuck with me to get everything I needed up and running. It took a little while for the team to get onboard, but now they love it too. Life is just flowing so much better now."
Best HVAC software that fits your unique workflow like a glove, track your work-in-progress and profitability?
You can have all your information at the touch of your fingers with our simple and easy-to-use project & field service software for HVAC businesses. From integrated accounting software to CRM management, FieldInsight has all of the five primary automations in the one easy to use software. 
Remove double data entry and invoice the same day

See the Profit and Loss of Projects with our management software

Add Purchase Orders and Timesheets to Costs

Simple and Easy to use Budget's from your Quotes

Dedicated Work Orders and Project Schedule with our real time HVAC field service software
Learn more about HVAC Accounting Software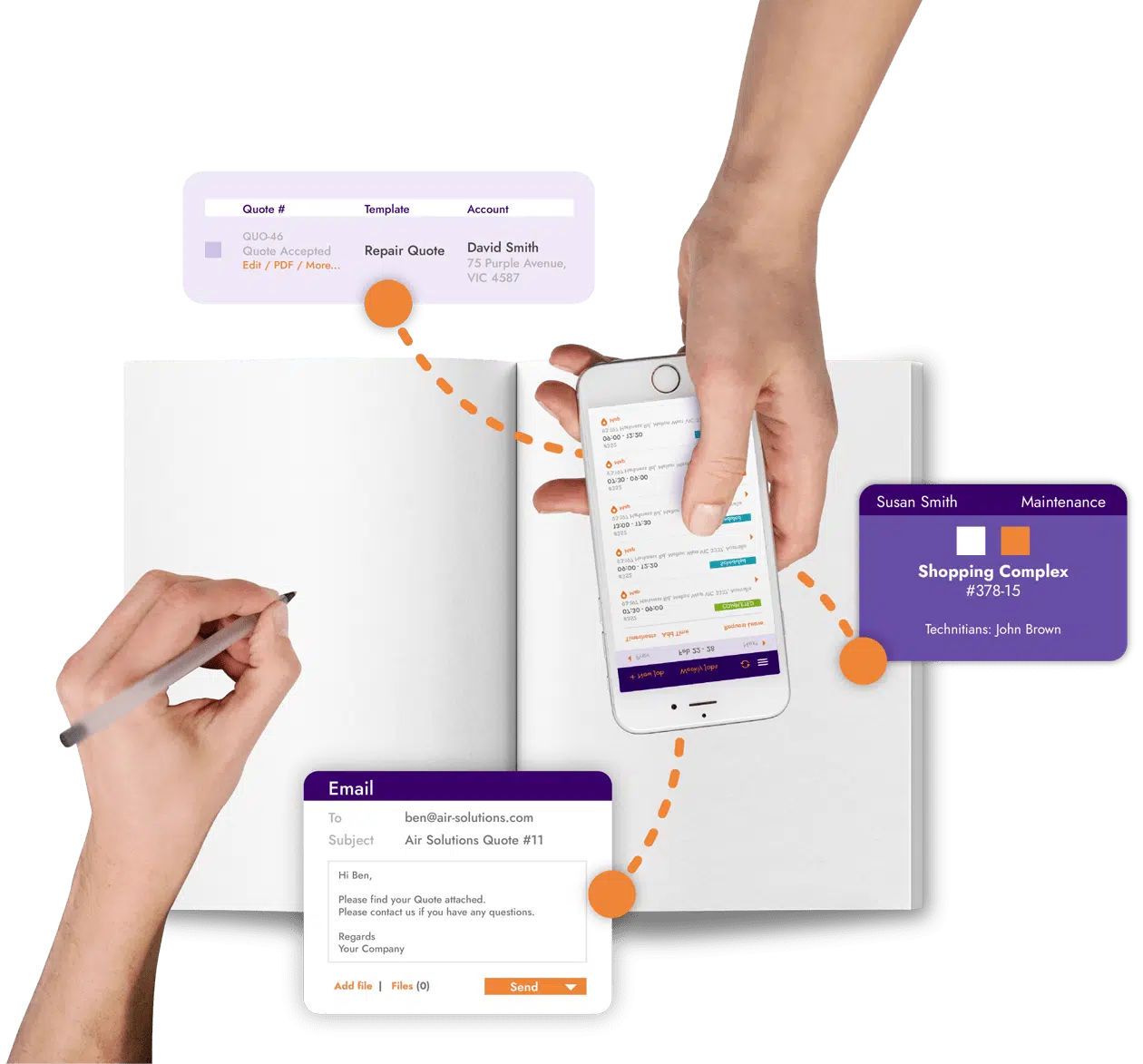 Want to Avoid Unnecessary Downtime and Ensure Safety Compliance?
Protect you and your crew with Safety automation. Avoid fines and compliance headaches while saving hours of admin work. Spend more time assessing, communicating risks, and working in a safer manner with our Safety automation.
Safety in the workplace is vital when working with high risk construction or everyday hazards. With the construction and HVAC industry up to 70% more likely to be involved in an on-site accident, you need to be on the ball when it comes to safety. That's why with FieldInsight, we make it easy to keep your team safe. 
Build ITPs, SWMS, JSA, Take Fives, complex safety documents with PPE sections, Risk Matrix, images and instructions with ease

Multiple accessible SWMS documents that your employees can edit and use in the field instantly

Select, sign and email the documents to the project manager or builder from the field HVAC app

Our HVAC service software provides flexible real time app solutions for the Field team straight from your mobile device
Learn more about HVAC SWMS Software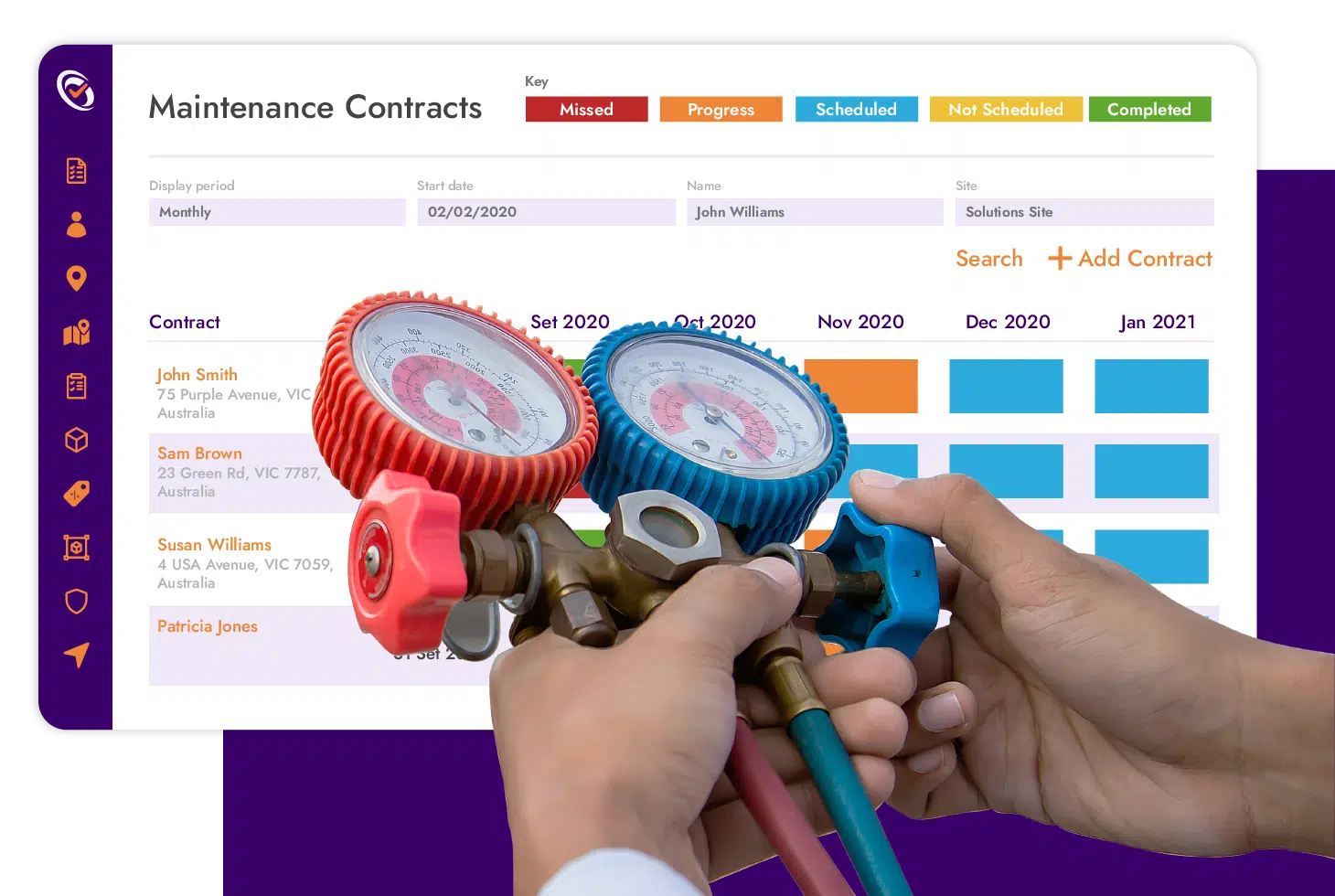 Want to see FieldInsight in Action for your Business?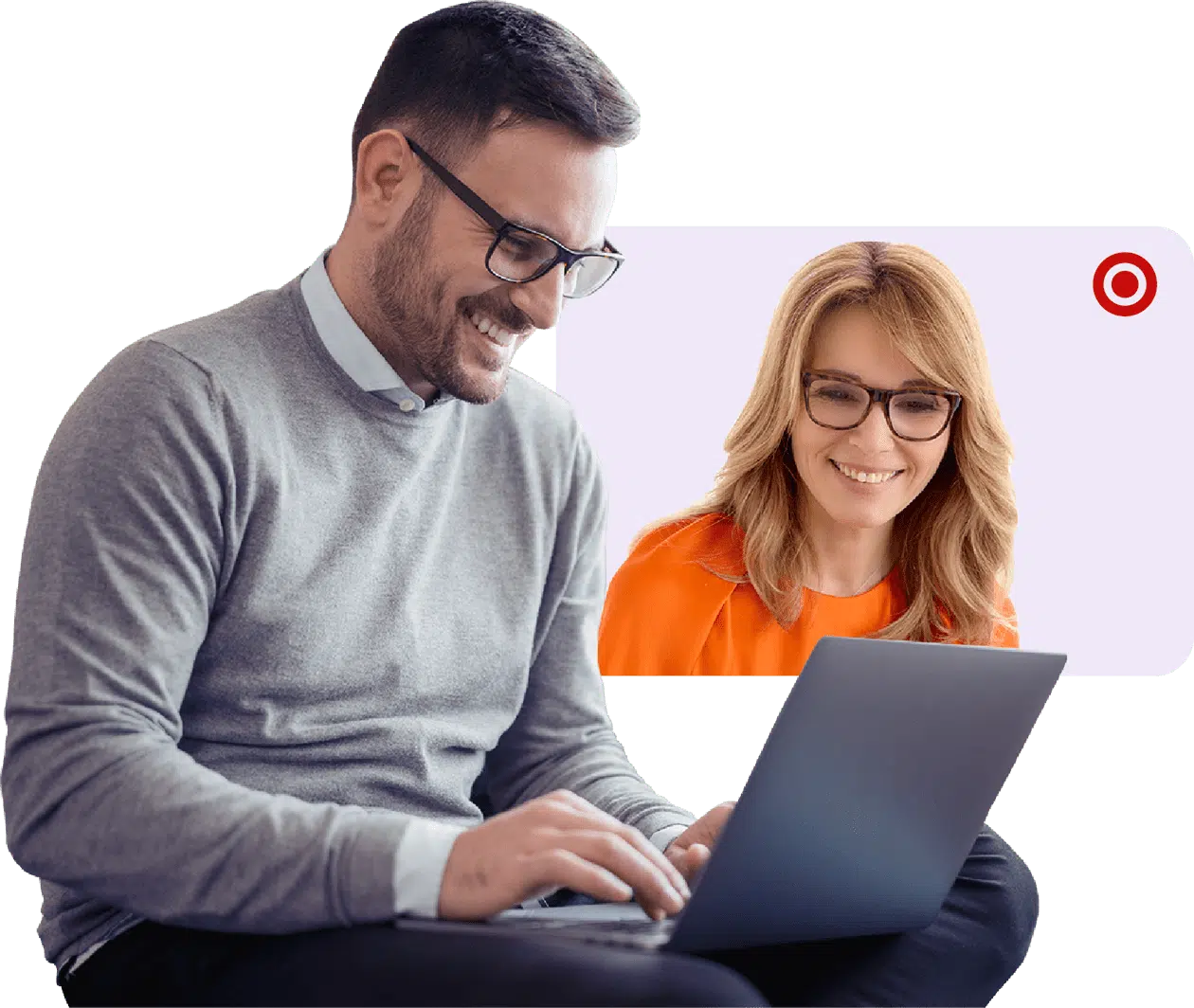 No Sales, just us listening and understanding your goals then show you exactly how you can achieve them using FieldInsight.
You'll be working with a product and automation expert who has worked in this space for over 5 years, and knows the optimal workflow to address your needs.
Book a 15-minute Call today to see FieldInsight in Action.
Frequently Asked Questions
What is an HVAC Software?
HVAC software is a type of field service management tool specifically designed for businesses in the Heating, Ventilation, and Air Conditioning (HVAC) industry. It aids in job scheduling, inventory management, cost tracking, quoting, invoicing, and more. It streamlines operations and enhances tracking and management of various business processes.
What to Look for in an HVAC Software?
When choosing an HVAC software, consider features such as job scheduling flexibility, automatic quote and invoice follow-ups, easy creation of asset test reports and maintenance schedules, efficiency in safety workflows, preventive maintenance scheduling, and integrated route optimization. A good HVAC software should be configurable to multiple specialized workflows, offer both online and offline mode, provide online training, and support various staff roles.
What are the Best HVAC Software Options in the Industry?
Aroflo, Simpro, and FieldInsight are considered top options in the HVAC software industry. Aroflo is user-friendly and offers secure storage, but it has poor email integration and weak inventory management. Simpro manages multi-stage projects, inventory tools, and job status effectively, but it lacks a free version and its time tracking feature is limited. FieldInsight stands out with its flexibility, clear visibility in job scheduling, automatic quote & invoice follow-ups, and efficient SWMS.
What Sets FieldInsight Apart from the Competition?
FieldInsight provides more flexibility and clearer visibility in job scheduling with irregular schedule templates. It also helps close more deals with automatic quote and invoice follow-ups and improves efficiency in safety workflows. FieldInsight is also unique in its ability to create more time and reduce errors with preventive maintenance scheduling, and it enhances team productivity with integrated route optimization software. It is configurable to multiple specialized workflows, making it a versatile option for a wide range of businesses.
How Much Does HVAC Software Cost?
The cost of HVAC software varies based on the features, functionalities, and the vendor's pricing model. Some vendors offer a subscription-based model where businesses pay a monthly or annual fee. Others might charge based on the number of users or devices. It's advisable to request a quote from the specific software vendor to get an accurate estimate. Remember, while cost is an important consideration, the overall value provided by the software in improving operational efficiency and reducing costs should be the primary focus.
Blog
HVAC Resources & Guides
If you are in the field service industry, you are probably wondering what is the best HVAC software? In fact you might even be wondering what is HVAC software? To…
HVAC Maintenance Inspection Checklist (FREE to Download)
Why do you need a HVAC inspection checklist? Essentially it can improve the efficiency of your business and save you time and money. Did that grab your attention? Inspection and…
Guide To Build Your HVAC Annual Preventive Maintenance Plan
When thinking about creating your maintenance plan one of your first considerations should be a great preventive maintenance software. Preventive maintenance is all about extending asset life cycles, reducing equipment…