Guide To Build Your HVAC Annual Preventive Maintenance Plan
When thinking about creating your maintenance plan one of your first considerations should be a great preventive maintenance software.
Preventive maintenance is all about extending asset life cycles, reducing equipment downtime and increasing efficiency in your workflow. When considering the types of preventive maintenance you wish to implement into your business, you will need to first do a little research into what your intended goals will be.
In this blog we will walk you through step by step the process of creating your ultimate annual preventive maintenance plan and what your business will need.
Annual Preventive Maintenance Plan
Preventive maintenance tasks are by nature scheduled intervals based on a SLA (Service Level Agreement) or customer contract. Depending on your contract and your preventive maintenance scheduling, this may be monthly, six-monthly or annually as we will dissect.
When you have an annual maintenance strategy in place, you reduce the risk of defects occurring in assets that could have easily been prevented. Maintenance tasks and work orders such as cleaning filters can also serve to prevent more dangerous hazards such as fires or brown outs from occurring. Annual servicing will generally include the harder aspects of maintenance and include a thorough inside and out clean and inspection of HVAC units.
Annual preventive maintenance should also include a review of your goals and plans for the next year. Setting your team goals and KPIs is a great way to keep your team on track and gain the results you desire.
To find more about maintenance strategies, read The Guide To HVAC Preventive Maintenance Checklists.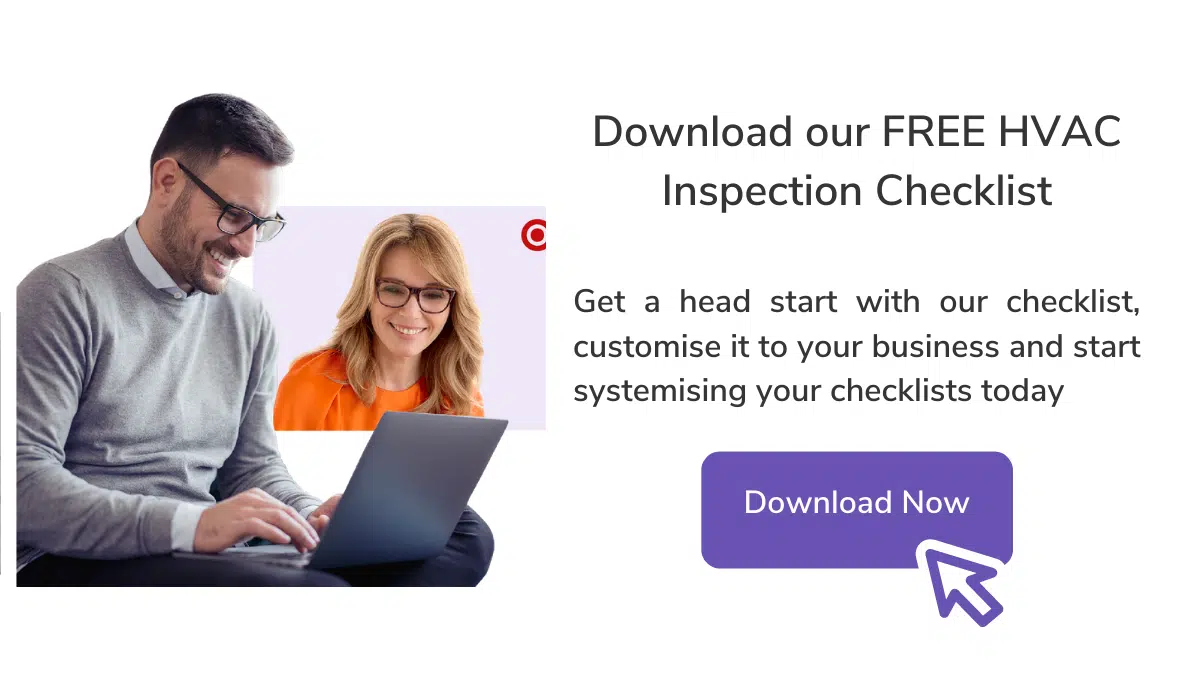 Not All Assets Suit Preventive Maintenance
Begin your preventive maintenance checklist by deciding what assets to include. To produce maximum results in your planned maintenance, your first asset list should include your client's highest value or critical HVAC assets.
To determine what to include and what not to include in your preventive maintenance (PM plan), calculate your costs and analyse which assets have over-costly repairs. Consider what parts or materials you will need for your preventive maintenance tasks – does the cost merit the maintenance?
Where preventive maintenance falls short, other methods such as predictive maintenance or reactive maintenance can be of more benefit.
Have You Collected Asset Data?
Now you know what types of assets you want to include in your preventive maintenance program, gather the relevant asset data. With this data you can make more informed decisions about your assets and equipment. In order to create efficiency in your team, it is important to know your asset data and have knowledge of part numbers, serial codes and user manuals. Having a great CMMS system can be a great benefit when you have valuable information such as this to share with your team.
Important asset data can include:
Manufacturer recommendations– this will impact the consistency and type of work orders needed for your preventive maintenance plan.
Asset History- Will the asset type require large amounts of materials? Will the maintenance require an hour to complete or a whole day? What is the type, brand and age of the assets? 
Necessary maintenance training-  Does your team have the training they need to perform the maintenance work and avoid unscheduled downtime.
Asset reliability- Are the assets worth maintaining or does the cost of a new unit outweigh a preventive maintenance program.
Build On Your PM Plan
When you create a preventive maintenance program, you need to consider the evolutionary process and development of your structure. As you progress you will discover some maintenance is too time consuming and you will have room for improvement in your maintenance work.
After you have begun your maintenance tasks by only including critical assets, you can grow your maintenance schedule to include more assets and improve your maintenance strategy.
The more you can grow your preventive maintenance plan, the more consistency and reliable cash flow you will have in your business. You will have the ability as your business grows to move from a reactive maintenance plan to a successful preventative maintenance program.
Keep in mind as older assets begin to wear thin, you will begin to lose money as you continue to replace worn parts with no improvement to asset performance. Building on your asset maintenance is essential to obtaining success in the HVAC industry.
Setting Up Your Plan
For your annual preventative maintenance, you need to include components that won't be checked in regular monthly maintenance and require less frequent attention. Once you know what your asset maintenance checklist does or doesn't need, you can develop your servicing in more detail.
For example, a typical technician's checklist for an air conditioning unit at an annual maintenance can include:
Remove any debris or dust from around unit
Inspect frayed wires or connections
Clean and inspect evaporator coils
Inspect refrigerant charge for leaks
Clean drains and check for blockages
Do a general safety check
For an annual furnace checklist, it can include:
Check ignition
Ensure all moving parts are performing and lubricated
Inspect heat exchange
Check exhaust
Clean blower assembly
Perform general safety check
Scheduling
Scheduling your maintenance tasks may sound easy in theory, but once you have several assets to juggle over many contracts, you may think twice. While spreadsheets can be a great way to start your scheduling process, it is a limited approach and will hold your business back from potential growth.
To make sure your schedule is running smoothly in your workflow, a CMMS is an ideal end solution. With a scheduling software you gain the ability to connect your field and office in a centralised database. When you have automated scheduling in your business, you reduce the need for pesky double data entry and can more accurately track travel and work time in the field. When you schedule your maintenance in your off seasons (spring and autumn) will free up more time in your peak seasons to deal with emergency repairs and serve to balance your cash flow year round.
Impacting Your ROI
Your ROI or Return On Investment will impact where your money is coming in and going out. Short term you will find your ROI is improved when you have thoroughly planned maintenance strategies. Your long term business decisions will rely on your profit and your cash flow margin. Without a successful ROI, you will have no business growth in your workflow. Any HVAC business system should be based on the relative profit and ROI of a business to determine where potential is possible and where any faults may lie. To estimate what your ROI might turn out to be, you need to divide your net return and your cost of investment. If you have begun your preventive maintenance work based on valuable assets, you should have a reasonable return.
In this stage of your maintenance breakdowns, you will gain clarity over goals and whether they have been achieved or need adjusting. When thinking about your long term goals and maintenance strategies, you ideally want to be reducing equipment failures, increasing ROI and boosting customer relationships. All of this is achievable with a successful maintenance program.
Getting a Jump on Your Maintenance Plan
CMMS and job management software will transform your maintenance plan from spreadsheets and whiteboards to a systemised maintenance program. With an automated software, you gain the ability to track and schedule more fluidly and create visibility amongst your team. Starting your annual maintenance program with a CMMS like FieldInsight will give your team the leading edge amongst your competitors so you can throw away the outdated paper based systems.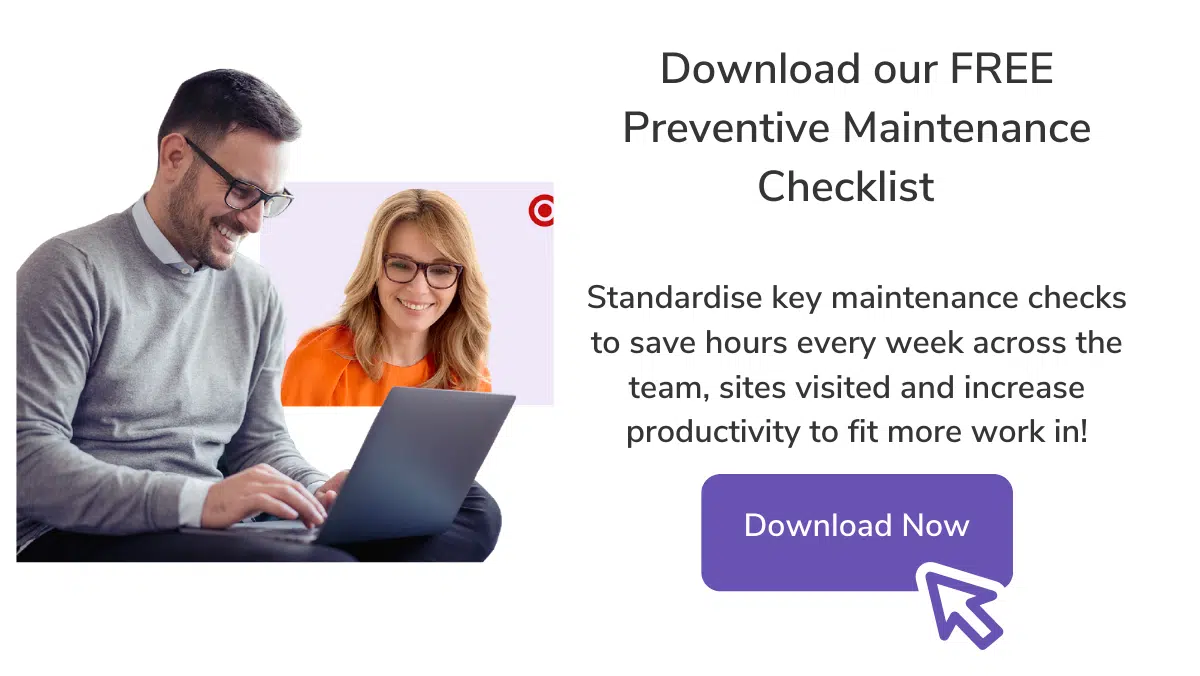 When getting a jump on your maintenance plan, management software can store asset data, customer history and provide your team with the relevant information they need, when they need it.
Not only do you need a well oiled system in your workflow, but you also need a well trained maintenance team. Introducing a new maintenance schedule may require some training to ensure everyone is on the same page. When you move your preventive maintenance plan from a paper based system with little to no automation, to running your PM plan on a CMMS, your team will need a little time to adjust to the new methods.
In your maintenance team you might have:
Schedulers
Site managers
Technicians
Accountants
Administrators
Service managers
When starting your PM schedule, you will find for each of these roles automation and systemisation play a part.
With FieldInsight, you gain advantage of the five primary automations in HVAC business:
To learn more about how you can improve your preventive maintenance tasks in your business, contact one of our product specialists today to discuss more.
What You Should Do Now
Book a Demo. You'll be in touch with an automation expert who has worked in this space for over 5 years, and knows the optimal workflow to address your needs.
If you'd like access to free articles about managing HVAC workflows, go to our blog.
If you know someone who'd enjoy reading this page, share it with them via email, Linkedin, Twitter, or Facebook.