10 Best HVAC Software in 2021
If you are in the field service industry, you are probably wondering what is the best HVAC software? In fact you might even be wondering what is HVAC software? To find out the best HVAC software you first need to do a little research into your own company's needs. Just like a good pair of workboots, not everyone will have the same fit. When looking for your software, you need to first map out your own business needs. Once you have done this, you can gain a better scope of what you need to be looking for in your perfect HVAC service software. 
What is  HVAC software?
HVAC service software is designed to bring automation into your business and streamline your operations. The best HVAC field service softwares will use the five primary automations (CRM, field, office, accounts and sales) to boost your productivity. HVAC software uses automation to reduce pesky paper based systems and save hundreds of hours each year in admin work. 
Top Features To Look For In an HVAC Software
For  HVAC maintenance software, you need to consider some key features for your HVAC companies: 
Easy to use software 

Reminders and notification alerts 

Great CRM

Status tracking 

Fits your business needs

Service management 

Preventive maintenance 

Accounting software 

Live job updates in the field

Scheduling options

SWMS management 

Mobile accessibility 

GPS tracking 
FieldInsight
FieldInsight is an Australian based job management software with key pillars in the five primary automations. With HVAC services like FieldInsight, you can seamlessly connect your office and your field with ease. FieldInsight focuses on boosting productivity and saving time in your workflow. When you use automation in your HVAC business, you can reduce the need for mountains of paperwork and unreliable whiteboards to record your information. With FieldInsight, you gain an all-in-one system that is tailored to your needs.
Pros

Free trial 

Alerts and notifications 

Inventory management 

Preventive service management

Easy scheduling options

Timesheet management 

MYOB, Reckon, Xero and QuickBooks integration and more

Flexible software 

Customisable fields

Easy reporting 

Audit tracking

Automated scheduling 

Clock on and off features

Mobile accessibility in the field

Credit card management 

Asset and client history 

SWMS management 

Defect tracking 

Ability to upload photos from the field

Customisable checklists 

Document automation 

Email templates and alerts

GPS tracking 

Job and project management 

Online booking 

Sales reporting 

Status tracking 

Warranty tracking 

Work order management 

Customer support 

Online training and support 




Real time data 

SMS messaging 
Cons
No API 

No free version 

No activity dashboard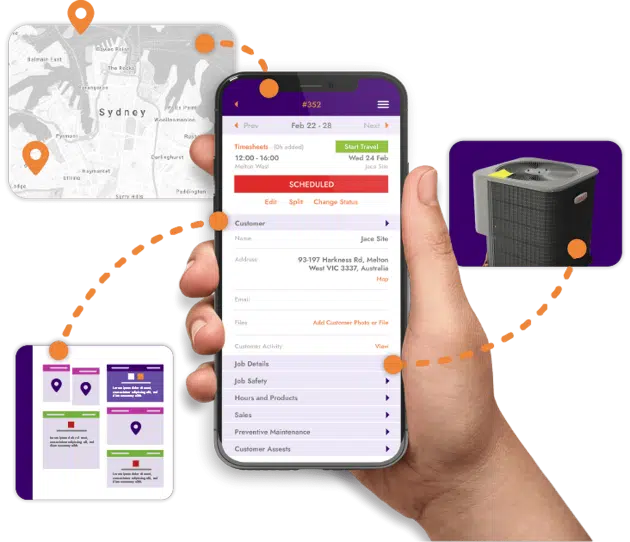 Why choose FieldInisght over Others
FieldInsight as a field service management software, offers a wide range of features and customisable tools for service companies. FieldInsight offers HVAC service businesses an End-to-End system that effectively boosts productivity, consistency and efficiency. 
With the nine step delivery model, FieldInsight ensures you're not left in the dark. FieldInsight offers training and support for its customers every step along the way. With key steps to navigate, automate and empower, FieldInsight can tailor software to suit you, not the other way around. 
Want to learn more? See  FieldInsight Job Management Software Comparisons
1. Field Software
FieldInsight includes tools to streamline your workflow and boost productivity in the field. With 
field service management software FieldInsight helps your office and field to be connected with real time information. With  field service automation your technicians can track their hours, access asset data, upload photos, complete testing and send reports with just a click. 
2. Sales Software
If you find yourself frustrated with lost invoices and stale quotes, you will be relieved to hear about  FieldInsight's sales and estimating software. With the ability to instantly access your data whether you are in the office or in the field, you will always have the information you need on hand. With sales software, you can instantly send invoices without the need to spend hours on double data entry. You can also easily track your quotes and get reminders on status reminders. 
3. Customer Relationship Management 
FieldInsight's  CRM software centralises all your asset and customer data in one place. With the flexible system, you can easily manage customers with multiple site locations and create visibility over all your current jobs. With great CRM you can build long lasting customer relationships and increase your chances of repeat work and consistency in your cash flow. 
4. Accounting Software 
A key part of HVAC service software is good  accounting software. When you can smoothly integrate your chosen accounting software seamlessly into FieldInsight, you gain the best of both softwares. With FieldInsight's accounting software, you can customise your templates and accounting tools to save time and impress your customers. 
H4: 5. Office Software
FieldInsight's HVAC  office software automates your workflow to save you time and effort. With FieldInsight's office software, you can easily schedule, allocate jobs, order parts, update templates and more. Office software helps your team to stay on the same page and ensures that there is no more wasted travel time or tiresome double data entry. With office software, you can improve team accountability and create visibility over your HVAC service business. 

Jobber
Jobber is a HVAC software best suited to small and medium sized businesses. With focus on value for money, Jobber has a wide range of HVAC features with a subscription basis. Jobber uses a centralised system to connect the field and office and manage assets. 
Pros
Free trial 

Easy to use

Easy scheduling 

Quickly implemented

Integration options

Good customer service 
Cons
No compliance management 

Issues with live booking functions 

No cost to completion tracking 

No financing management 

No multiple user accounts 

Weak reporting 

No pricing in estimation function
FieldEdge
FieldEdge is a HVAC business software designed to help your business save time. FieldEdge focuses on field management for small, medium and large businesses. Used primarily in the USA and Canada, FieldEdge is available on Apple, Android and online. FieldEdge uses a subscription fee that is contract free. 
Pros
Easy to use

Quickbooks Integration options 

Affordable 

Alerts and notification features 

Clock on and off feature

Mobile app

Inventory management 

Available flat rate pricing 
Cons
No GPS tracking

No job scheduling 

No route optimisation 

No activity tracking 

Reporting is clumsy 

No audit tracking

No client management

No multiple location feature 
Intuit Field Service Management 
Intuit field service management HVAC software focuses on real time data to connect the office and field. This HVAC software offers field service scheduling, customer management and integration options like GoogleMaps. Intuit runs from a subscription based fee and is available for small businesses to large businesses 
Pros
Free trial 

Mobile app (both Android and Apple)

Accounting integration 

Reporting tools

Scheduling features 
Cons
No reminders 

No SMS messaging 

No timesheet management 

No work history 

Little to no updates 

Clumsy implementation 
Fieldmagic
Fieldmagic is a cloud based software for those in the commercial, HVAC electrical plumbing and field service industries. Fieldmagic is designed for small businesses to large businesses and is used in Canada, UK, USA and Australia. Fieldmagic offers HVAC businesses job management software features centred around systemising businesses. 
Pros
Free trial 

Value for money 

Activity dashboard 

Accounting systems 

CRM features 

Customisation 

Document management 
Cons
Not available on Apple

Appointment scheduling 

Audit tracking 

Automated responders 

No SMS messaging 

No customer history management 
Verizon Connect Field Service Dispatch
Verizon Connect field service and HVAC dispatch software can be paid for as either a subscription or an open source software. Verizon is usable for small businesses to large companies and uses real time information to connect to the field.
Pros
GPS tracking 

Job costing 

Easy to use

Customer support teams
Cons
No Apple mobile app 

No Windows mobile app 

No free trial 

No free account 

Long contract periods
Ascente 
Ascente is a HVAC business software that helps to increase productivity in the workplace. Ascente works best for small to medium sized businesses and provides in person and online training. Ascente is also useful for those in the plumbing  and  electrical contract industry. 
Pros
Mobile app

Scheduling jobs options 

Easy to use day to day 

Reporting tools available 

Provides job site history 
Cons
No free trial 

No GPS tracking

No free version 

Limited Integration options 

Time costly to implement

No many flexible features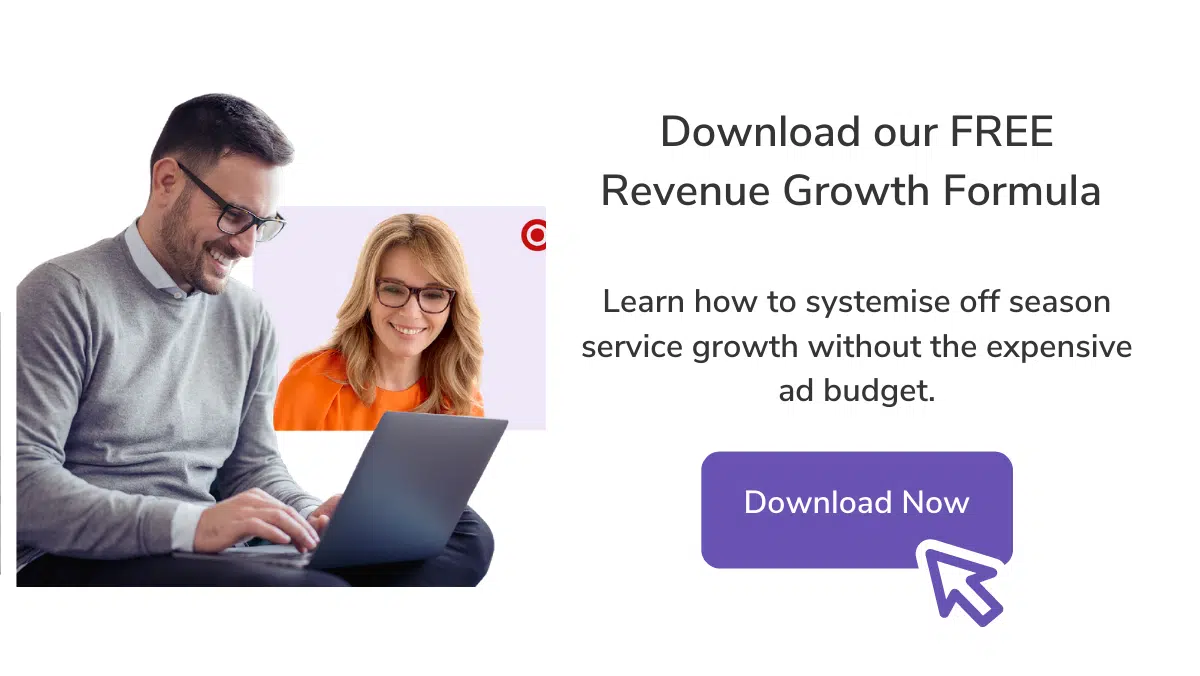 Fergus
Fergus is a cloud based HVAC software for field technicians for small to medium businesses. Fergus allows those in the HVAC industry to use reporting tools and scheduling options to boost their productivity in the field. For service companies looking for  job management software, Fergus offers a centralised database for your entire business. As a HVAC service software, Fergus has customers located in Australia and New Zealand and offers in person and online support.  
Pros
Free versions

Free trial 

Subscription 

Alerts and notifications

Timesheet management 

Work history 

Job scheduling 

Third party integrations 
Cons
No online booking

No overhead estimated costs 

No resource management 

No supplier management 

No payroll management 

No photo capture option 

No SMS messaging 
Connecteam
Connecteam uses HVAC service software to reach businesses with small to large businesses. Conneteam focuses on boosting communication within your service business by using features of a field service software to centralize data. 
Pros
Free version 

Free trial

Flat rate pricing 

Mobile app 

Activity feed

Automated scheduling 

Employee database 
Cons
No appointment management

No audit tracking 

No CRM 

No calendar management 

No customisation for information fields

No customisable reporting 

No drag and drop features 

No electronic forms 
Tradify 
Tradify is a cloud based field service software to assist in boosting customer satisfaction and efficiency. Designed for small to medium businesses, this field service solution uses easy to manage features and tools to increase productivity. Tradify uses mobile and desktop versions to connect your team and offers online training. Based in New Zealand, Tradify offers a free trial but does not have any free versions of its software.
Pros
Free trial 

Inventory management 

Accounting software integration 

Increase business processes 

CRM tools 

Customisation 
Cons
No client portal 

No credit card management 

No digital signature 

No expense tracking 

No inspection management 

No ability to capture photos 

No reminder system 

No SMS messaging 
The Right HVAC Service Software For You
Choosing the right HVAC software can seem like an impossible task at first when you are presented with the wide range of options on the market. To meet your  business goals and KPIs, you need to ensure you choose the right software for your business. 
Want to see how FieldInsight stands up against other software? See  Oracle Field Service Cloud Review and FieldInsight 
Contact our expert customer support team to discuss more about your business needs or learn how to book a free demo. 
Try it out yourself and book a demo  today.
What You Should Do Now
Book a Demo. You'll be in touch with an automation expert who has worked in this space for over 5 years, and knows the optimal workflow to address your needs.
If you'd like access to free articles about managing HVAC workflows, go to our blog.
If you know someone who'd enjoy reading this page, share it with them via email, Linkedin, Twitter, or Facebook.