Reduce Equipment Downtime With These 10 Steps (2021 Updated)
When a 6-ton CRAC unit has more downtime than uptime, it can create a 6-ton sized hole in your revenue and productivity. Wouldn't you rather have your commercial HVAC business on track to achieve service efficiency rather than managing excess downtime?
Reducing unplanned downtime for equipment is a challenge, getting it wrong means the loss of productivity across the team. When your productivity is diminished it can have a domino effect of decreased sales, unhappy customers and can put your planned preventive contracts at risk.
Equipment Downtime can cost your business in the following ways:
Staff twiddling their fingers waiting for something to complete the job
Machine manufacturing failures
Costly repairs
Spoiled stored goods that impacts the customer
Loss of sales through broken SLA's or risk you introduced to the customer
Late delivery fees for jobs not completed on time
Loss of goodwill
What the equipment downtime?
Customers have important assets they have paid for that need to do a job and do it well. You could have customers who are responsible for temperature sensitive goods such a food or even as sensitive as fridges in the medical industry looking after blood or other medical equipment (sterilisers etc). You can't afford to have unplanned failure or downtime as these may risk lives or the stock itself.
If your customer is responsible for a refrigeration unit at a hospital with patient blood and temperatures fluctuate too much over a specific time duration the blood is at risk of microbial growth and can be lethal and basically needs to be destroyed. The cost of equipment downtime can vary from; a customer sweating without an AC unit or freezing with no heating or as severe as impacting the medical, food, pharmaceutical or the elevators in any manner of building.
Equipment can go down for many reasons, but one important way to mitigate these failures is to have a regular preventative maintenance schedule to ensure assets are checked and run optimally and defects/faults proactively identified and monitored.
Top 10 Ways To Reduce Equipment Downtime
When you track asset downtime, you have control over the data and trends in your workflow that lead to identifying failure and can avoid downtime. Let's take a look at the 10 best ways to start reducing downtime for asset you manage with a field service solution: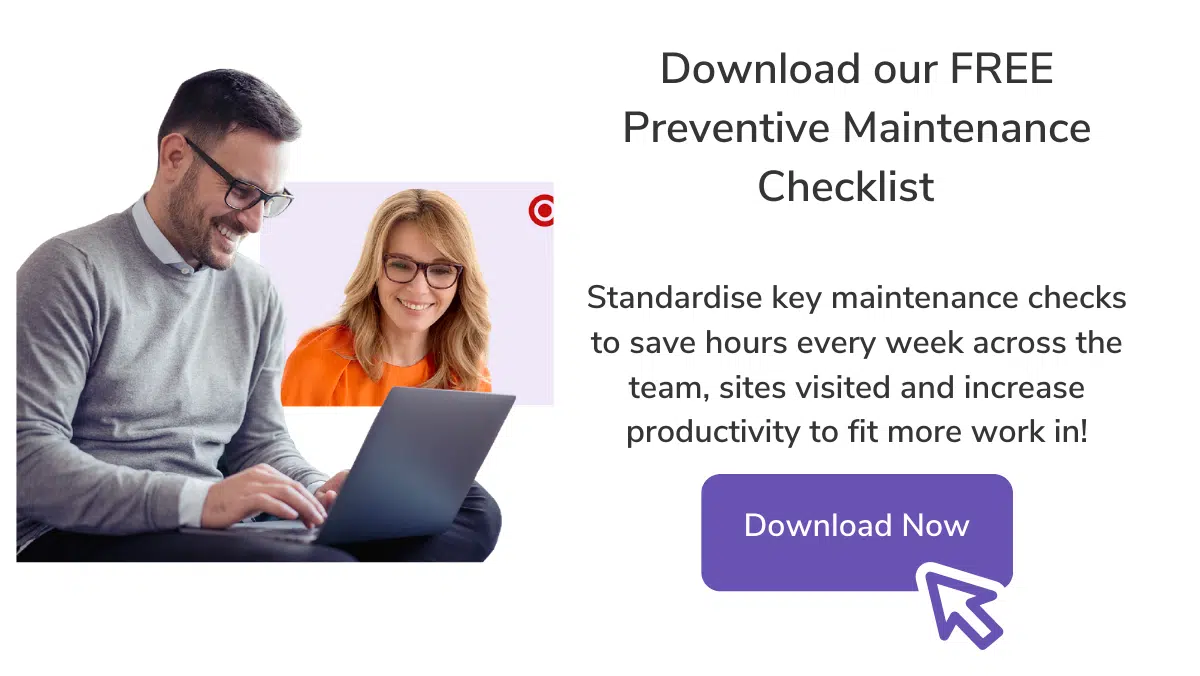 1.Planned Preventive Maintenance will save you the headache
Planned preventative maintenance allows you to identify problems before they get serious. If you catch that small leak in your customer's AC unit before it turns your customer's back yard into a lake, you save yourself a lot of trouble, time and cost.
Planned maintenance is to mitigate issues in a timely manner. "A stitch in time saves nine" and with perfect planned maintenance scheduled optimally across the week or month you could avoid unplanned equipment downtime completely.
2. Get rid of that underperforming equipment
A clogged air filter isn't going to fix itself and is only going to contribute to issues the longer it continues to perform badly. Even with regular servicing, an underperforming part is never going to work 100% due to structural issues and the fact it is fundamentally worn out.
Having a good view of the inventory requirements for a specific asset/equipment type will ensure parts can be replaced in a timely manner and the cost effective price.
3.Chose Quality parts
Replacing parts is all good and well…unless you replace those parts with cheap parts that can deteriorate faster than you would expect. It can be a false economy finding the cheapest part and ultimately lead to more downtime and failures in the long run.
Your customers will not thank you and you could be doing more damage if you are trying to manage the asset costs in your favour rather than the customers.
4.Is airflow providing the right pressure?
Sometimes asset failure isn't the result of neglect, but can be a result of its environment.
When conditions are sub-optimal you can have factors such as fluctuating voltage, humidity or precipitation levels can also fast track asset failure. As part of the routine checklist, it's worth evaluating environmental factors when assessing equipment to avoid downtime.
5. Highly Trained Professionals
Sometimes your average Joe isn't the right person to ensure a high standard of workmanship. When you hire experts to get a job done you can be assured that you will get a quality result. You look more professional and create a more desirable culture in your workplace.
When you have qualified and trained professionals doing the job you will find less downtime as a result of the job being done right the first time.
6. Hiring a cheap installer can only end up costing you more
It might be cheaper to hire your local chippy to do the electrical work on a HVAC unit, but that doesn't mean they are going to know what they are doing. Hiring someone who is cheaper per hour can end up costing you more in the long run as a reflection of the mistakes they made whilst doing the work.
The same rule applies when using cheap parts for your asset repairs. You will find you have a higher ROI when you make more quality decisions and consequently leads to less downtime.
7.Quality equipment = less problems
Spend a little now and save more in the long run.
An easy way to reduce downtime is investing in quality systems. When you do this, you will find your revenue remains more balanced over time with fewer hours being spent repairing assets. Getting the message to customers that the cheapest unit isn't the best for them, present enough information in your Quotes including the full cost of ownership, asset lifecycle as the costs for good quality assets they will see the better opportunity and savings in the long run.
8.Is longevity more costly than new equipment
When looking at your revenue and profit margin, the costs and data speak for themselves. From the comparative costs of equipment, certain brands and different models, you can factor into your HVAC business plan how you can balance longevity (having work over a long period of time) and profitability (managing assets cost effectively). Having the data on managing the preventative maintenance plan for certain asset types helps you make informed decisions, introduce quality in to your business leading to a reduction in downtime and fewer failures.
9. Monitor your maintenance costs
When you calculate the costs of an asset vs the hours and parts you require to maintain and repair an asset, you will know when the right time comes to replace that asset. A preventative maintenance software or system to help collate all this information can minimise downtime and optimise the teams scheduling to be productive and efficient across all your contracts.
For everything you need to know in the service industry click HERE for an interesting read.
10.Do you have traceability for your defects?
To reduce equipment downtime and failure, it is important you understand the issues that lead to downtime and have a system that can trace any defects.
With effective preventive maintenance management software you can track asset defects with ease and manage the resolutions end to end.
FieldInsight
FieldInsight.com is Cloud-based job management CMMS software that will increase your production and decrease downtime.
Book a Demo today to experience maximum productivity in your business today. What are you waiting for? Reduced downtime and increased productivity are just a click away…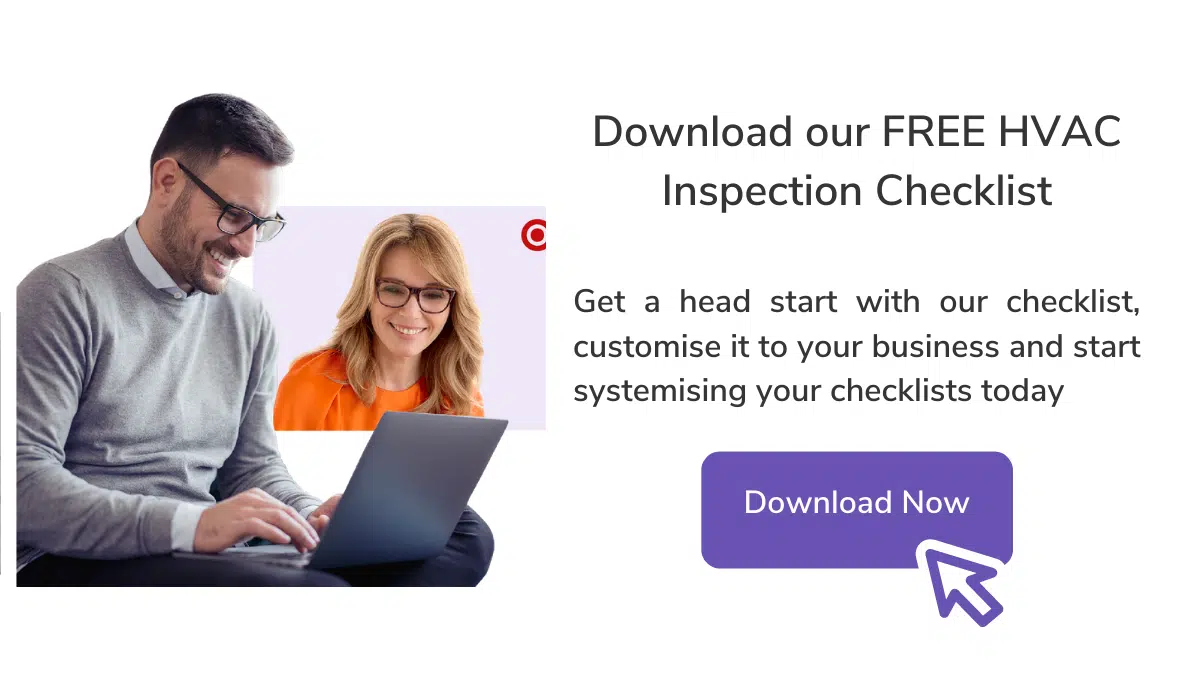 What You Should Do Now
Book a Demo. You'll be in touch with an automation expert who has worked in this space for over 5 years, and knows the optimal workflow to address your needs.
If you'd like access to free articles about managing HVAC workflows, go to our blog.
If you know someone who'd enjoy reading this page, share it with them via email, Linkedin, Twitter, or Facebook.