How To Get HVAC Leads in 2020
It can be extremely frustrating when your Commercial HVAC business is stalling as you have no leads coming in. Work can dry up overnight sometimes and you want to make sure that you are prepared with options and can access new leads so you can successfully grow your business. Success in lead generation comes in from building systems and automating with software.  Marketing plans can be as simple and all you need is a repeatable and reliable system to help boost your business HVAC leads.
Keep track of where you are getting your leads from and what your conversion rates are for your quotes from those leads. Keeping track of the channels and what is and isn't working is key to your successful HVAC business growth. (Check our complete guide to HVAC sales tips here)
We are going to run through some of the best practices for HVAC companies that we have seen over the last ten years in lead generation for HVAC to help boost your business.
1. Research what works best
To get the HVAC leads that your business needs you need to do the research. Learn from the people that have already aced the system and do some research into what works best for them. If you are starting out and you don't have a proven channel already or even know where to start, take tips from the experts already succeeding and try and incorporate their lead generation tips into your own space.
Take it one channel at a time, you don't want to try too much at once and become overwhelmed. Pick one channel to begin with and refine it until its working well (consistent flow that is repeatable)t. Work on getting your customers through that one channel and adjust and readjust your process until it works. You want to turn this channel into something you can repeat with ease before you move onto the next one.
Like with anything in HVAC companies, you will know when you have got this process right. With successful research and experimentation, you will be able to find a lead generation process that works for you. If you have this process right, you will see money coming in from your customers and with the cost of the sales, you will be left with a profit.
HVAC lead generation can help your business grow, whether this is on Instagram, Facebook, LinkedIn or another platform, you can leverage your photos from completed jobs on social media or email marketing to generate leads. The key to finding success here is research and repetition.
2. SEO
It can be extremely frustrating when you go to the effort to set up a website, only to realise that no customers can find your site. SEO can be an important tool in making your online presence known. SEO means Search Engine Optimisation that allows your site or online presence to be enhanced and appear more frequently and higher up in search engine responses.
If you want the best customer service results and leads you need to have a well thought out website and online presence. For success and making sure that you appear high up on search results, you want to have a good business name, good location and easy to access information as well as reviews. It is all about having high quality content available for your customers about your HVAC services.
Leveraging tools such as Google My Business and capturing reviews that helps potential customers see that you have a good reputation.  You can build a healthy Review catalogue by simplying embedding a google review link in your service or complete job reports and asking for a review based on the job completed.  These are systems you can build and automate easily with the use of job management software.
For your HVAC business website, you want to have your location visible, so that when people search for "HVAC businesses in my area", your business will be visible on that list. If you are not in the top five results, you won't find SEO useful. You need to find an easy path from being found in SEO to them requesting a quote. Incorporating an online HVAC estimating software can be very powerful here and can help bring in those potential customers.
Your motivation to get HVAC leads online is that you will spend less time hunting down new customers and instead you will find they will come to you. SEO and lead generation HVAC results can dramatically increase growth for your business. When you have successfully incorporated this into your business, you will find that people will ring you up more frequently asking for your services, or you will get more quote requests coming in.
3. SEM
What is SEM? SEM stands for Search Engine Marketing and essentially it is paid marketing like ads on Google, Facebook, LinkedIn and so on (these are online channels – not the traditional advertising mediums such as print and billboards or TV).
Lead generation can come from paid clicks where you can bid for a key phrase to be found under. This might cost you anything from $2 a click to $20 a click.  The higher the price for a click means that word is highly sought after by others in your industry.
From these paid ads and diverted traffic to your website, you want to make sure that your website is easy to access and your services are clearly displayed. You may only get a 10 second view of a webpage and if you cant catch the customers eye they will click away.
You always want to have on your website a Call To Action (CTA) or options to contact you or submit a quote request.  Embedding a 'Get a quote' form on your website can increase engagement and get you a lead that is ready to buy.
If you have paid to get these customers to your website, you want to make sure that your website is a good representation of your business. You want your email address, phone number, opening hours and links to your social media that can be easily found.
For successful incorporation of SEM or lead generation you want to ensure that the cost of the leads are going to be less than the cost to you to provide your services. You will need to take a look at your accounting practices to ensure that you are ending up with a profit. Success here will see that your numbers work out so that the cost of acquiring a customer and providing services is less than what you quote, this way you end up with a healthy profit margin.
4. Hire in the Experts
Now you may have gotten started on your lead generation and digital marketing campaign only to realise that you don't have the skills in house to execute successfully on those platforms. Just as you don't want Bob the plumber doing your electrical work, sometimes you need to outsource to find an expert for the job. Experts aren't always cheap, but often as not – cheap isn't efficient. The same goes for hiring a technician, if you pay peanuts, you're going to hire monkeys.
As you would assess a new hire's performance, you want to do the same with your expert.  The more experience in your field that the expert has, the higher the chance of success you will have in your lead generation.
There is a large element of trust that goes into hiring someone to help with SEO as there can be a six to eight month wait before those leads start coming in. It is because of this that you need to be considerate of who you hire and any experience they might have. You will know when you have hired the right person based on their work and their dedication to reporting progress.
Having good communication with all of your team is key to a successful HVAC business being able to run smoothly. If you have hired someone that you are unsatisfied with, you want to make sure that you haven't signed onto a contract that has trapped you into keeping this new hire. You need to be looking out for your business, and hiring the right people with the right mindset that can help your business boom.
5. Deliver an Excellent Service
Lead generation can spawn from a number of places and word of mouth is a great place to start if you haven't yet dived into social media, digital marketing or email marketing. In driving word of mouth leads, it can account for 60% of leads for HVAC companies and can contribute to repeat work.
Having customer references can help boost your credibility and trust for new customers as this demonstrates great judgement of your business. When thinking about your own customer service, you need to think about how your team interacts with customers and the quality of service you provide. This can include making sure your technicians are leaving behind a clean site, turning up on time, keeping a good personal presentation standard and having a professional attitude. In ensuring that your HVAC company has the right attitude and quality of work then customer referrals will come easy to you.
Word of mouth can be the cheapest source of lead generation as you don't need to put effort in a marketing campaign or write content for a website. Word of mouth and customer referrals are a trusted source for potential customers. When you have completed a great job for a customer you can conduct a survey to glean more insights in to what works well and areas that need improvement. You can ask your customer what they thought of the technician's manner/behaviour, the quality of work and the how the process was when interacting wth the office or the technician.
Customer surveys are a great way to engage customers to get the information you need to continuously improve – leverage field service management software to help automate this key workflow after job completion.
6. Quoting Fast
Tired of your customers ringing you up and ask what happened to that quote they have been waiting for?
Getting quotes out on time can be vital in winning more customers. The higher the conversion rate you have, the better leverage you have on the leads coming in. By building a quoting system that supports fast, profitable and consistent quotes, you can dramatically improve your conversion rates and therefore increase your profit margin. By perfecting your quoting system, you can create more profit and need less leads to succeed.
Successful quoting means getting quotes out the same day they come in. You want to make sure that you have a system where you have all your prices on hand and you can sort out a quote within the day rather than taking a few weeks. You want a fully documented system and automated reminder software where emails and SMS go out to remind customers to respond to quotes you've sent out. You want to make this process as simple as possible.
One of FieldInsight's customers shared with us they get their quotes out within five minutes with a solid profit margin leveraging our Package Feature and triggered emails.
Why You Should Consider End-To-End Job Management Software
If you are still wondering how to get HVAC leads, then automated HVAC estimating software can be the key to success and growth in your business. Digital marketing can be a great way to get more leads and bring in potential customers that had previously remained untapped.
End-to-end job management software like FieldInsight can help boost the profitability and efficiency of your HVAC business. FieldInsight can incorporate all areas of your business into the one easy to access place. With an automated software you can combine both field and office workflows to increase your chance of finding new leads.
Ask yourself, what would your business look like if you had an end-to-end job management like FieldInsight to boost your leads?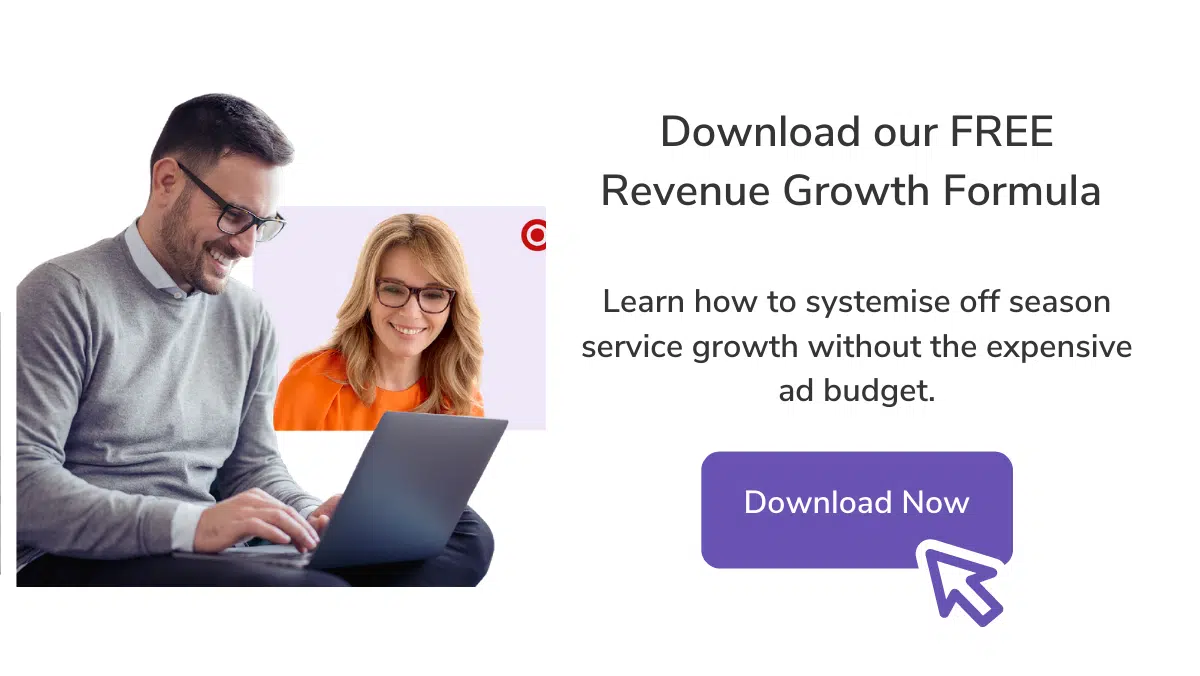 What You Should Do Now
Book a Demo. You'll be in touch with an automation expert who has worked in this space for over 5 years, and knows the optimal workflow to address your needs.
If you'd like access to free articles about managing HVAC workflows, go to our blog.
If you know someone who'd enjoy reading this page, share it with them via email, Linkedin, Twitter, or Facebook.