Follow These 5 HVAC Sales Tips To Boost Your Revenue Today
If your goal is to boost your heat and air conditioning company's revenue, the possible key path is to go and leverage your existing customer list. To boost your sales and revenue you want to ensure that:
The actions you take are long term and structural with the right pricing in place.
You are going after the right customer which means the quality customer with higher percentages of profitability.
You need to have growth systems in place to generate leads and a responsive sales team to follow up on any leads. If you're getting quotes out quickly to customer you can improve conversion rate by a factor of four.
A key element of attracting more sales, is not to forget about the profitability of the work. It is an exercise of quality of customer over quantity of customer. Ask yourself this question:
"Do you want 100 customers with a 3% profit margin or 10 customers with a 20% profit margin?"
A typical HVAC ratio is 50/30/20.
50% gross margin with a 30% overhead with a 20% profit. That saying a 50% cost of goods sold with a 30% overhead leaving 20% for profit.
For more on this, a great book to read is 'Profit First' which might help set your mentality to making sure that you are running a company. You want to ensure that at the end of the year there is a profit, you don't want to end up like Leonardo with a 20 million dollar company and no profit for 5 years.
Curious how FieldInsight can help……request a call from an experienced Automation expert in job management software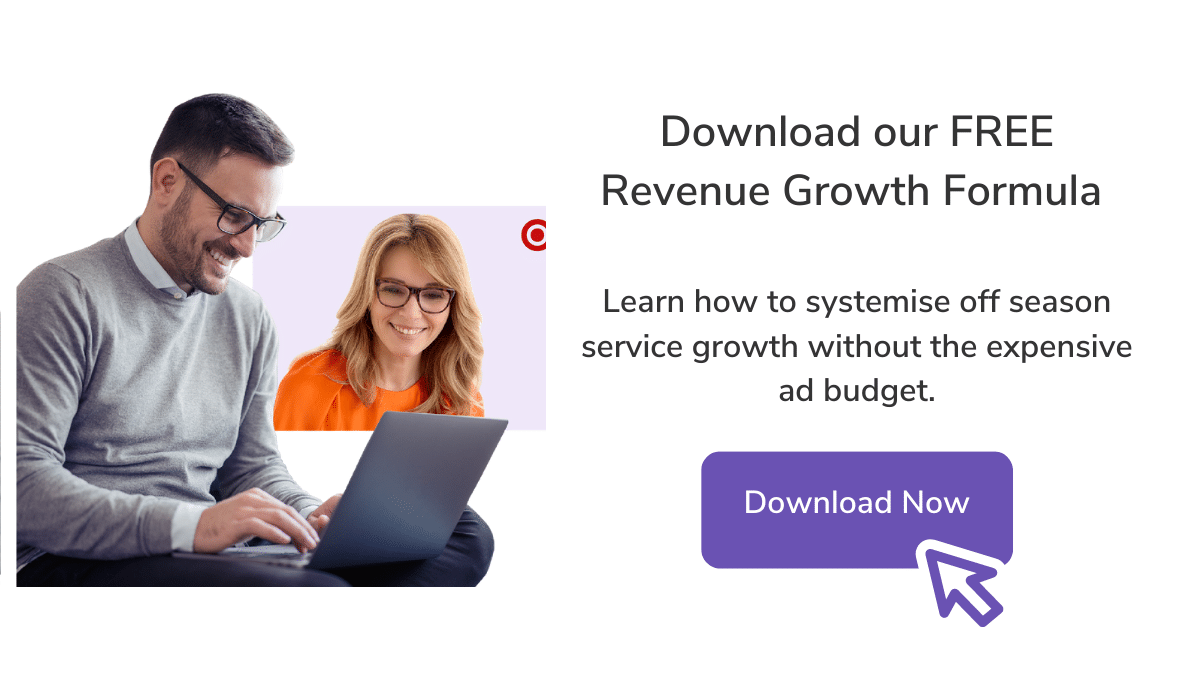 1. Understand Your Customers Needs and Emotions
A key element of HVAC sales success is understanding what your customer wants. To sell better, you can segment your customer into 6 primary behaviours or personalities:
Tactile customer for whom you have to emphasize the people of your HVAC business.
Neutral customer who you want to emphasize the technology of your company.
Introverted customer who you need to emphasize the idea of your HVAC business and perhaps the why of your business.
Experimental customer who you have to emphasize the uniqueness of your company.
Transitional customer who has to emphasize the dependability of your business.
Traditional customer who you have to talk about the financial competitiveness of your business
2. Attract high-quality HVAC leads with a lead magnet
To build a Lead Capture form on your website.  To attract high quality leads to your website you need to ensure your messaging is accurate and easy to use. It needs to be an easy way to request a quote-like form on your website that they can request work. You may use our regeneration strategy by using an SEO consultant or a SEM consultant.
SEO means search engine optimization. When used on your website SEO can help you rank higher on Google search and stand out from other businesses. You can build SEO on your website through regular blog posts or articles on your website.
SEM is search engine marketing, that is paid ads on platforms like Google or Facebook directories. Don't stress if you don't know how to use SEO or SEM you can hire somebody to help you with this.
Data is king for your HVAC business
With all of these options data is king. Having a good understanding of where your customer is coming from by using a CRM in your job management software is important. You want to know what channel is resulting in the best customer. You want to know what the best customer looks like and how to build your relationship to ensure continuing serve and maintenance work.
If we look back to understanding our customer's needs, emotions and personality type we can better understand what language will resonate best with them.  If you are targeting a tactile customer one who loves people, your unique selling proposition could be "Cosy home HVAC, where the comfort of people really counts!".
Experimental customers are people who love new revolutionary technology. Your unique selling proposition could be "Smart Home HVAC, where living on the edge is a way of life!".
Using a quoting system like QuotientApp or PandaDoc can greatly improve the presentation of your quotes and overall company. This becomes more important as you move up to more premium customers and begin to sell more premium products where presentation is key.
3. Respond & Follow Up With Your Leads Promptly
Streamline your pricing and quoting process so that you can quote on the phone for simple quotes and easy access. By using prebuilt functional blocks of labour and product, it will help you get back with quotes and opportunities faster.
By having a clear workflow for a quote you can respond and follow up promptly. Clearly label the steps from quote required, quote sent, quote awaiting acceptance, follow-up, quote accepted, quite declined, quote turned into a job and job completed. In doing this you can ensure everyone has visibility of what is going on and what stage the job is at.
Having a clear workflow also allows you to set clear KPI's for sales targets, ensuring commissions are properly incentivised and that salespeople are delivering a profit for your business. With having this you can ensure transparency between the sales team and the management team. By having a simple and clear workflow it makes it much easier to ensure that people are following up promptly. This is the essence of a great salesman and makes customers feel cared for and that their work will be dealt with with a similar level of attention and detail.
A way to increase your conversion rate by a factor of two, three or four, is to ensure that you get your quotes back first. Faster than the competitors spending weeks getting your quotes out is very very costly.
What if you can't get back to those leads quickly enough?
The cost of not getting back to a lead within 1 to 2 days versus two weeks can be the difference between a 25% success rate and a 50% success rate. It can be up to a 4x improvement in sales conversion rate.
Failing to get back to the leads in a fast and responsive way leads to a reduction in trust in the relationship with your customers. Having a culture of data tracking quotes helps keep the sales team accountable, especially if the sales team are the business owners themselves. The quoting activity can easily slip to late nights or the weekend, resulting in less effective quotes and delays for the customer which never looks good.
(You can also check our guide on how to get HVAC leads here)
4. Keep Your Pricing Structure & Invoicing Simple
Understanding your profit structure, cost structure and your cash flow is key to your pricing. If you don't know how much a job is costing you, how can you possibly quote and manage your business?
Remember that cashflow is the money coming in and out of your business, profit is the money your company keeps after everyone else including the tax man is paid.
Ensure that you are quoting and accepting jobs which are profitable and saying no to jobs which are not profitable is the difference between building a company which will help you realise your goals and a company which will just cause ulcers and headaches.
Ensuring you understand your overhead costs is critical:
Calculate the owner's manual needed hourly pay
Estimate the cost of a sale
Calculate the job cost of all installation and service jobs
Produce a profit and loss statement
Forecast and calculate your company's business expenses
Build a cash flow forecast six months ahead
Break your costs down into

Sales numbers
Gross profit and gross margin percentage
Overhead expenses
Net profit
This is a very telling table. This is segmented by construction replacement & service, but it equally could be by customers. Understanding your data allows you to make better decisions.
| | | | |
| --- | --- | --- | --- |
| SEGMENT | Residential New Construction | Replacement | Service |
| Overhead | 26% | 34% | 53% |
| Desired Net Profit. | 10% | 10% | 10% |
| Selling Price | $6,103 | $6,975 | $10,557 |
TABLE 1: USING THE 'DIVISOR' METHOD, WITH THE IDENTICAL COST OF SALE OF $3,906.
THE DIVISOR METHOD OF PRICING
Your Estimated Cost of the Sale for this Residential New Construction job is $3,906
Res. New Construction Department Forecasted Overhead = 28%
Res. New Construction Department Desired Net Profit = 8%
Add Percentages together. 28% + 8% = 36%
Subtract the 36% from 1.0   (1 – .36 = .64)
The Divisor for this Residential New Construction. Department is .64
Divide Cost of the Sale $3,906 by the Divisor .64 ($3,906/.64)
This Equals the Right Price of $6,103
You recovered 100% of the cost of the sale, 100% of overhead and 100%  of your desired net profit.
Desired Net Profit of 10%
Cost of the Sale = $3,906
The desired net profit is the same for all three departments.  This illustrates the importance of knowing Department Overhead Percentage
5. Use Email Marketing To Nurture The Leads
To know who your target customers are, it's useful to understand who you've done jobs for in the past. Understand the job types you did for those people and when you did those jobs. It is critical to ensure you can build sensible mailing lists, targeted to your existing customers.
For example if you wanted to build a mailing list for a particular set of builders or real estate agents, you could use something like Google Maps and search for the company type you're looking for. You could go to somewhere like UpWork and get someone there to research a list for you. Then you could then build an email with a marketing consultant or a design company to build something which represents your brand and your messaging accurately.
If you had a job management system you could export these lists into a software program like Mailchimp or CampaignMonitor to send out an email blast.
Success in this space comes from repetition and continued improvement. At a very simple level, marketing is an activity of Building Systems to communicate to customers, testing those results and continuously refining and executing.
Improve Your HVAC Sales With Automation Software
It is clear above there are many steps to building a successful sales process,  but all of them have a common theme. You need to be informed on what decisions you should make, what customers you should go after, what type of work you should quote, how you should quote, build lists of data of people to market to, remind customers that you're still there and  remind sales reps to follow up on activities.
If you are looking for the all-in-one HVAC job management software that helps you save hundreds of hours and improve your sales, FieldInsight is your go-to option. Book a FREE demo with us today to take your business to the next level.
Job Management Software to Boost Sales in your
Commercial HVAC Business
If you would like a chat about how you could Automate your Commercial and Retail HVAC Business, we would love to chat.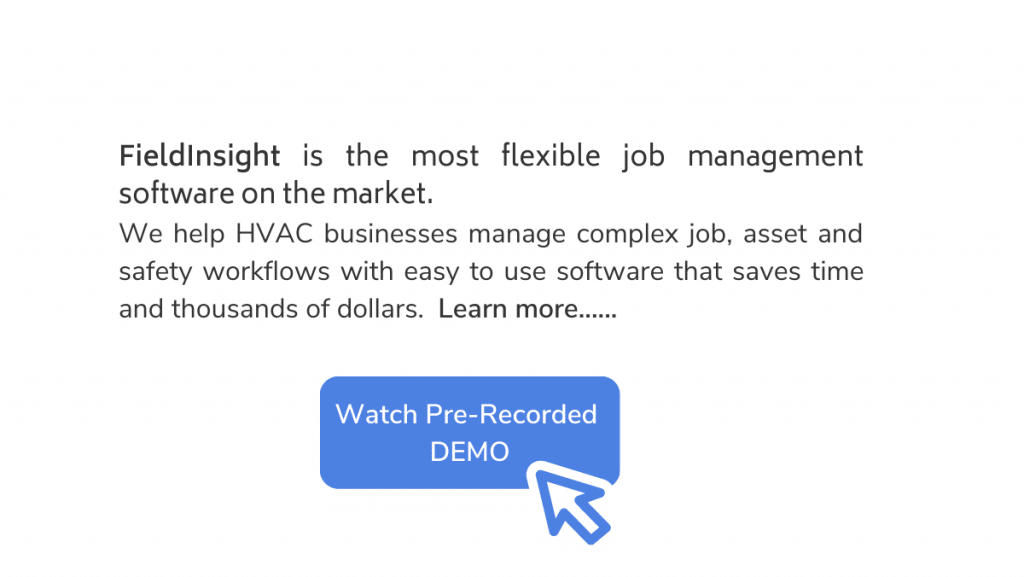 What You Should Do Now
Book a Demo. You'll be in touch with an automation expert who has worked in this space for over 5 years, and knows the optimal workflow to address your needs.
If you'd like access to free articles about managing HVAC workflows, go to our blog.
If you know someone who'd enjoy reading this page, share it with them via email, Linkedin, Twitter, or Facebook.