Everything You Should Know About HVAC Field Service Automation
HVAC software automation is all about leveraging your team and your processes.  Being able to automate your systems so you get maximum results for minimum effort is where you want to be….sounds simple enough right?
Amplifying the effect of your work through automation means you can work with the same number of team members and generate a greater profit and more positive impact for your customers. There are two levers you can pull for optimisation of your business and they are:
Standard Operating Procedures – Systems and documenting the way you execute.
Software Automation- with commercial HVAC software like FieldInsight
When you empower your business and combine Standard Operating Procedures (SOP) and software automation, you can assign and track your SOPs and ensure you are executing consistently every day.
There are many things that are suited to field service automation and there are some tasks that aren't suited to automation. A great way to determine what is and isn't suited to automation is to go through the process of mapping out your field service business systems.
The first step before you can map out from your HVAC business plan is to focus on the biggest pain point – what is dragging you business down right now. To dissect the different elements that go into automation, ensure you have clear SOPs for each part of your job workflow. Having clarity in your SOPs will make the process a lot smoother when building software around your business and a vital tool in creating consistency and efficiency in your field service business.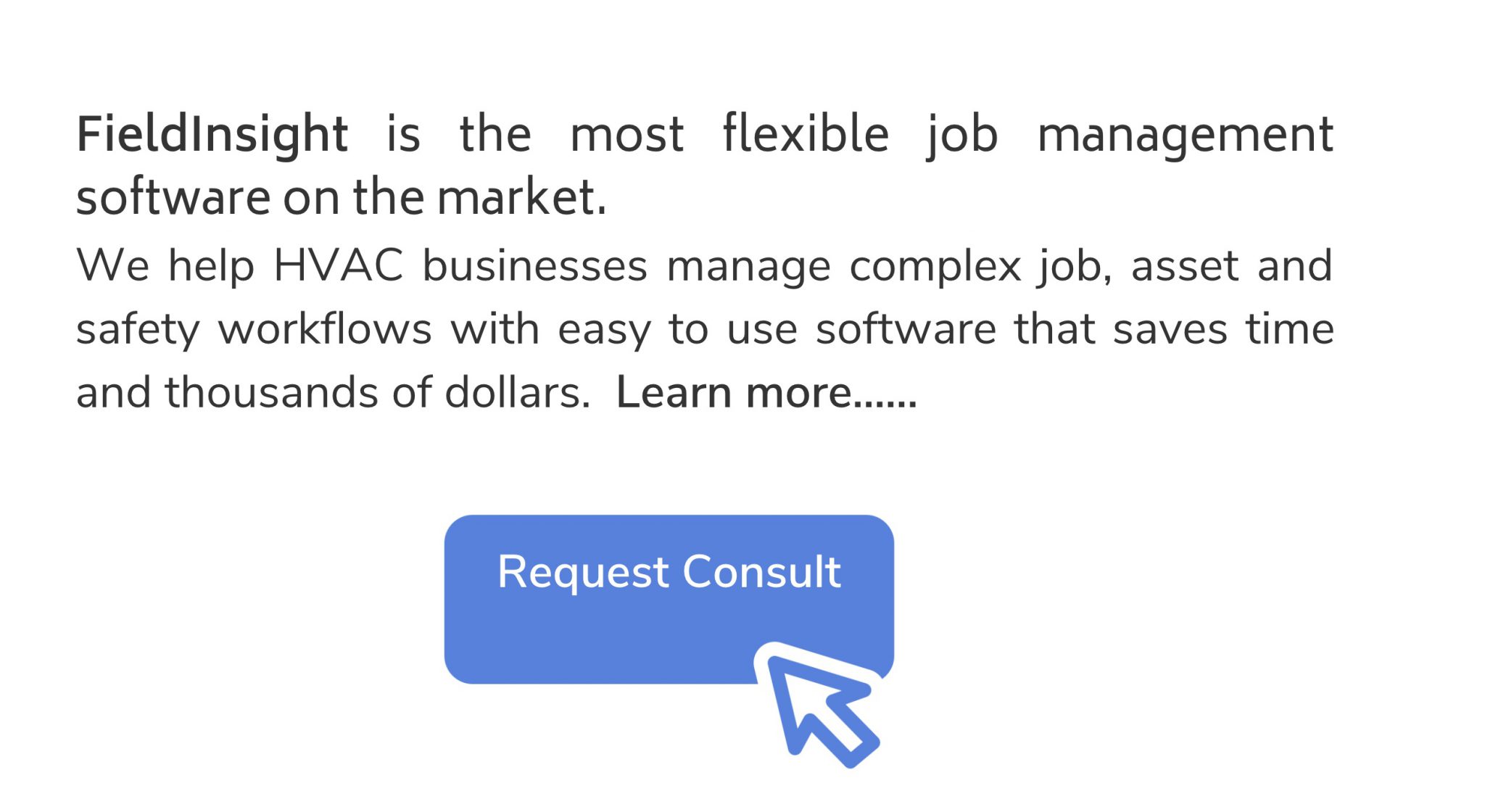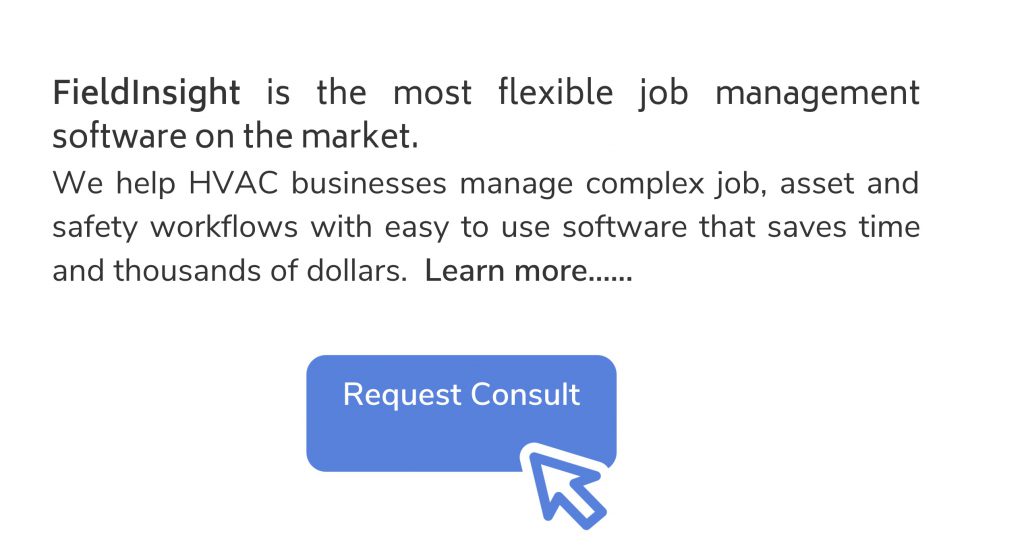 What Is Field Service Automation?
Automation as its name suggests is allowing software to reduce the time to do a task or to automate completely. This is why it is so appealing across the field service sector. Field service automation creates flexibility and consistency in a HVAC work place and reduces high levels of delays and frustration that can result in laptops flying out of windows due to stress.
One of the hardest parts of automation is finding where to start. Picking a suitable Field Service software solution can be a daunting process and it can be easy to pick software that isn't a good fit for your HVAC business. As nice as it would be to pick a software and everything would fall into place, the reality it is difficult and sometime a hard lesson to learn if you get it wrong.
A large percentage of automation projects fail because people try to eat the elephant in the one go. The secret is a slow and steady pace of implementation (bite by bite) that allows you to set and reach goals more realistically. When you set smaller, achievable goals, you get 80% of the benefit for 20% of the effort.
So, prioritise methodically and you get more gains earlier on in your process rather than waiting until the end.
Mapping your workflow
What exactly is mapping a workflow? Before you prepare to introduce software automation to your business you need to go through the steps undertaken across all the key areas of your business.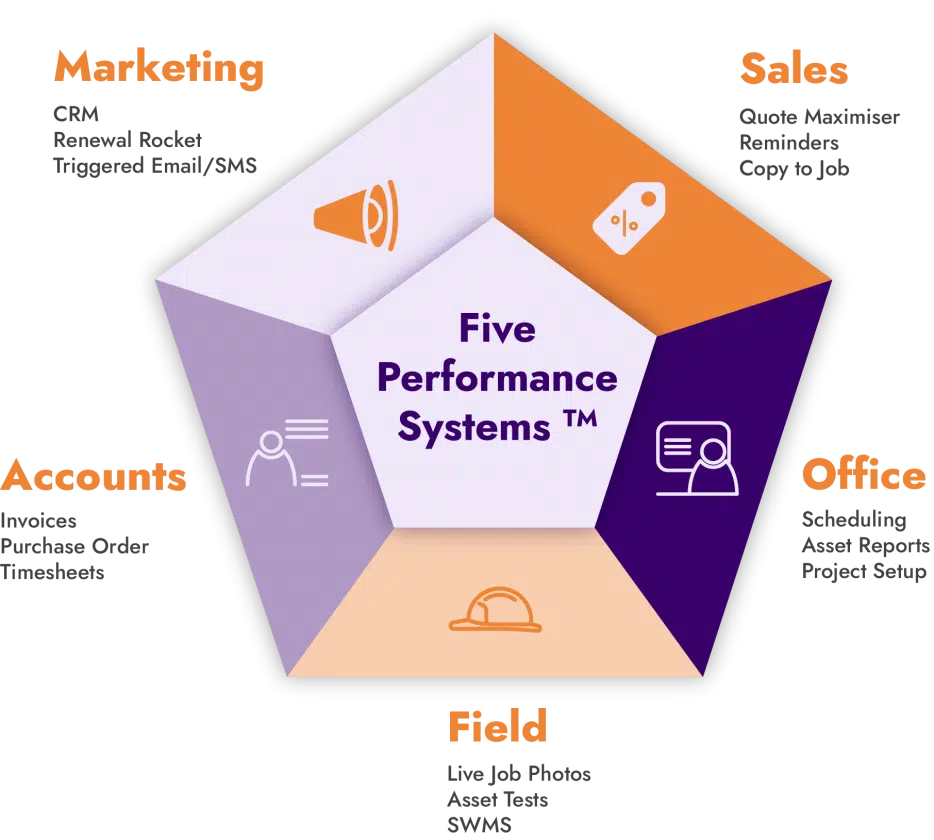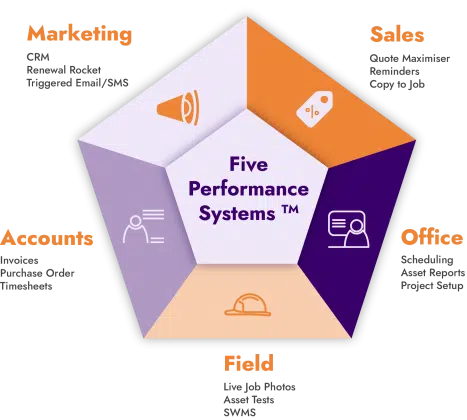 Grab some post-it notes, some butcher paper and a pen. Jot down a note for each activity or job status to capture your process and visualise your workflow. Colour code for different roles and for people who might wear multiple hats in your business. The idea here is to see what your business actually looks like when you break it down step by step.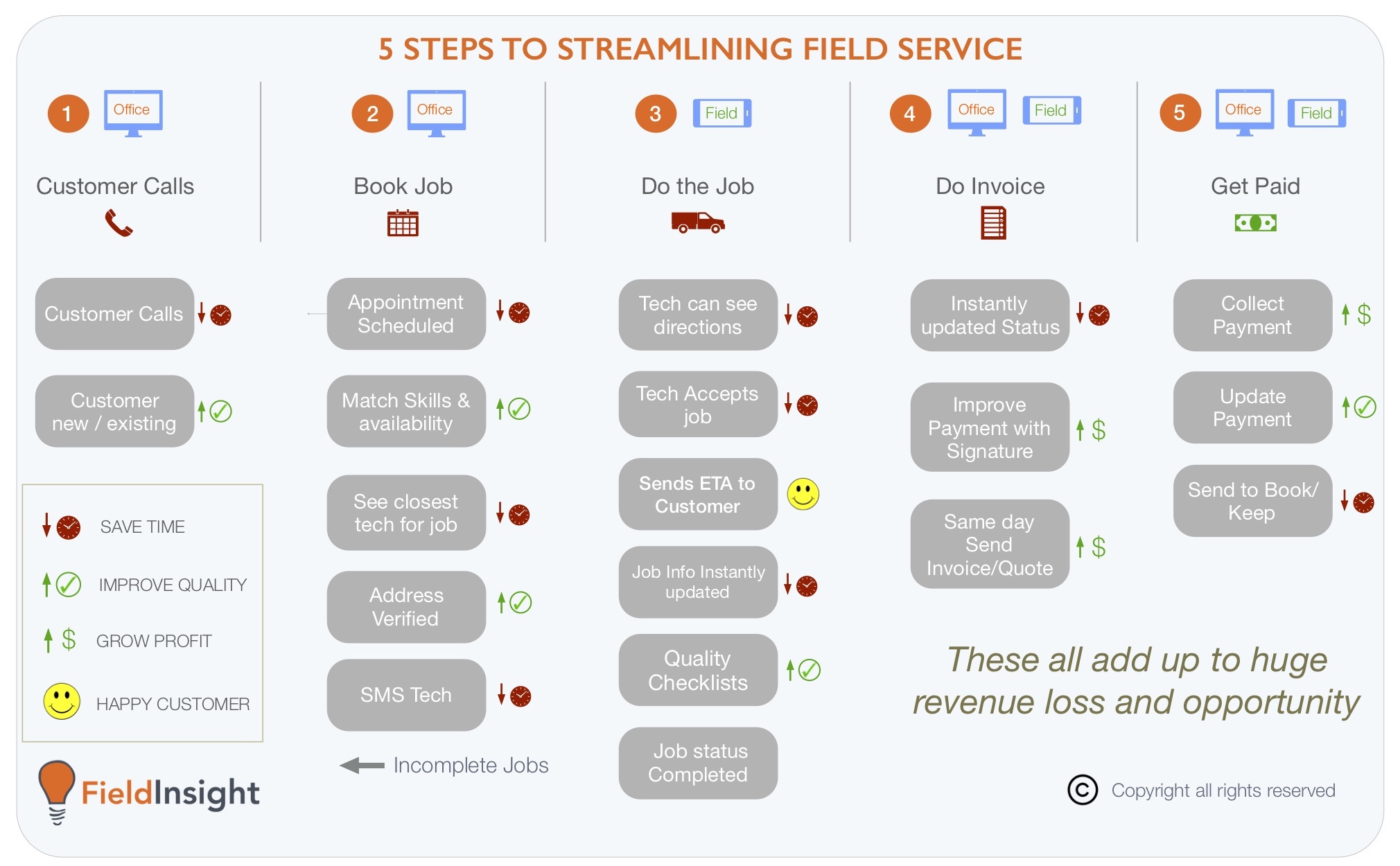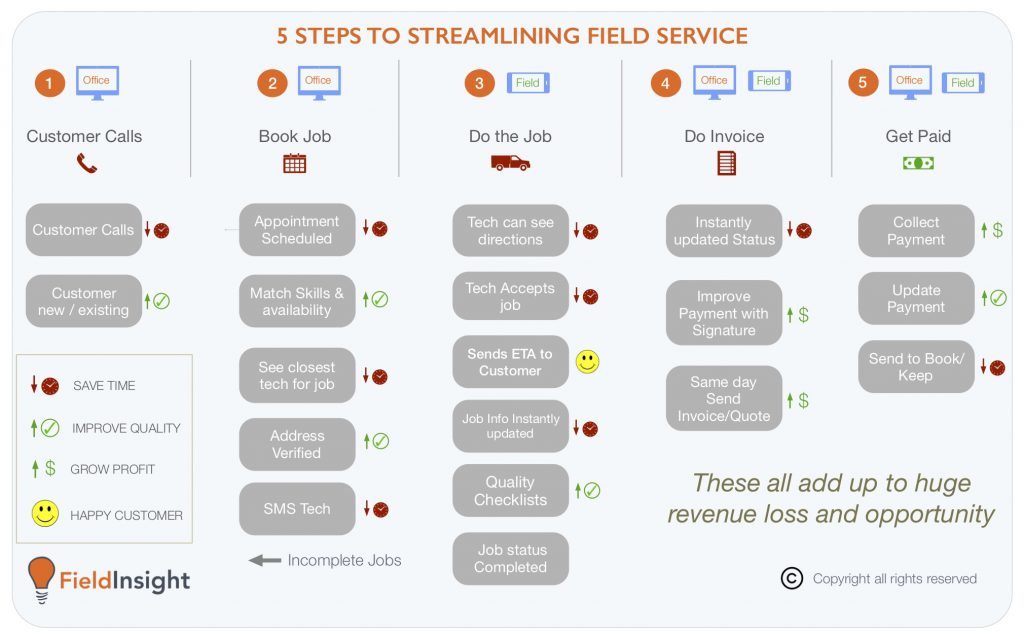 Now what? For each of those post-it notes you can transform them in to the software. Sometimes it can be worth getting a specialist process consultancy to work with you and the team – this can give you a fresh perspective that hold more value as its a critical look at your business at the process level.
When you map out your business systems it can also be a great opportunity to find some of the 8 Common Time Wasters;
Transport – driving unnecessarily between site, office rather than between jobs
Waiting – for a timesheet, job sheet to do invoicing, inputs to complete a quote, approvals
Inventory – lack of stock take and inventory management meaning excess stock as well as forgetting to capture and charge for the job
Motion – carrying around paper, incorrectly cataloged stock, travel between warehouse and site because job wasn't spec'd correctly
Over Processing – doing more than is necessary to get the job done, too many approvals/handoffs
Over Production – compiling or printing reports that the customers doesn't read/wants, double/triple or more data entry across various software
Defects – incorrect scheduling, customer no-shows, forgotten parts for a jobs, missed steps (checklists etc), data entry errors
Staffing – knowledge and skill development, procedure accuracies, accountability
Top 4 Ways Field Service Automation Can Reduce Errors In HVAC Businesses
To err is human. But how to reduce these errors? When you introduce software automation in a field service business you can significantly cut down some of the simple mistakes and replace it with a minimal admin effort.
Stop losing paperwork. Funny thing, when you have paperwork sitting in the back of your van or precariously stacked on your desk, it can be all too easy to lose or damage. With automated software you have all your information and documents in one place so you won't lose your SWMS on your way to site or spill coffee on your freshly printed work order.With a digital system, your information is available instantly whether in the office or field and you can ensure it is kept up to date, hence reducing any chance of errors.
No more forgetting or falling behind! Quoting is a great example of where it can be easy to forget to follow up or send it. It can also be difficult to follow-up.  When you have automated software you can have pre-filled Quote templates by Job type to speed up creation.  With automation you can sent them out and set reminders and be in direct communication with the office from the field while keeping your customer in the loop. When you try to juggle all the other aspects of your business, some customer communications can fall to the back of the line and easy mistakes can be made. And speaking of customers…
Increase CRM! With automated software it can be easy to keep your customers in the loop via SMS or email reminders. When your customers are happy you will find the rest of your business will fall in place. If you have great CRM in your business you will be able to keep customer and job history and reduce errors on the job. You will also have more marketing opportunities and more chances of repeat work if you have happy customers.
No more illegible notes. Have you ever received a note from someone only to hesitate and wonder if it is a 3 or an 8 written down? A mistake like this can look extremely unprofessional for a business and could make the difference in getting a customer's work done or not being able to call them back because you have the wrong phone number. An automated system reduces human error and increases efficiency.
Here are some example of steps you can automate with field service software:
Marketing
In marketing you have two main opportunities for automation:
Centralisation of all of your customers in one place. From this you can set up campaigns, social media, mail outs or email blasts through products like MailChimp. By knowing who your customers are and what demographics they fit into, you can adjust your marketing to generate field service leads for your business.
Repeat / ongoing work. Service renewal or Preventative maintenance contracts can be a steady stream of income for a HVAC business.  Leveraging the relationship with a customer after a recent installation to lock in a maintenance contract and automation can assist to send reminders for when service work is scheduled or when a contract is ending so you can be there, ready to help your customers before another company swoops in.
Sales
Sales and automation success sit around the benefit of quick reaction times and excellent customer service. You want your service delivery and customer experience to be flawless. In your sales lifecycle, quoting is a vital step. You can't get the work if you don't quote it. Hence, you need your quoting system to increase efficiency.
Having automated software that centralises your information means that you have past job history, quoting history and inventory management to rely on from your own laptop or mobile application. When you can clearly see how many technicians a certain job took, how many parts it needed or how much you charged you will be able to make a bigger profit with less effort. (There's that leverage again).
Automation is also great for catching those small things that slip through the gaps. You can get reminders set to your customers at each stage of the sale and remind you or them if a quote hasn't been chased up.
Office Workflows
Office operations are the heart of a field service business. Like the heart, the office has to run consistently and smoothly. The office needs to juggle;
scheduling efficiently
creating and issuing reports,
managing contact information,
managing technicians,
capturing job information,
coordinating safety
tracking assets for customers
managing and ordering stock – managing suppliers
payroll …
While your office needs to have good communication with the technicians out in the field, they also need to keep good communication with customers.
The Office connected to the Field workflow is the most critical – having a live connection between the Technicians the Office can reduce unnecessary travel, phone calls etc. This can reduce the stress levels when unexpected things happen.
Field Workflows
For your service technicians out in the field, they hold the key to automation in their pockets. From a mobile app, your technicians can do their job faster and more efficiently when they leverage software.
With the right software automation in place, you can have them complete pre-start checks, safety documentation, generate invoices or quotes, complete timesheets, complete maintenance checks on assets.  Leverage photos and tech notes (using voice instead of typing), capture parts used and have the tech and customer signatures captured.
There are no more hurried trips back to the office to update SWMS or get a customer's details. With data centralised from an automated system, wasted travel time is dramatically reduced. The office will be able to keep up to date with parts and serial numbers, customer satisfaction improves through more communication and invoicing is a lot simpler when everything is captured on the field.
Accounting
There is a wide variety of accounting software available that can assist in your own field service operations. Integration into products like QuickBooks, Xero or MYOB to streamline your overall business systems and minimise wasted admin time.
Before automating your accounting system, have a read of the Best Accounting Practices in 2020.
Timesheets
Timesheets can be a headache to collate and transpose to payroll or invoicing when the hours don't add up. It can be hard for a technician to remember the exact start and end time they started travelling and working on top of everything else they have to balance that day. Not to mention there could always be that bad egg that is saying he worked three hours longer than he actually did.
Automation is fantastic for timesheets and can make the process a lot simpler all round. If there is a stop/start work button on their mobile app or a timesheet they can log hours onto on their tablet, it can save the trouble of having to remember how long smoko time was last Tuesday. This automatically takes a big weight off the shoulders of the technician so they can focus on the job in front of them.
Asset Management
The power of having all of your assets in one system is that you can easily see all the assets for a single site.  Finding part numbers, work orders, check service schedules or recent photos of the asset and reports generated are all easily accessible. Having information available in real time means that the office can get the technician's test report as soon as it's completed rather than having to chase the technician up weeks later for a paper copy.
It can save a huge amount of time with automation  and you switch be being proactive in responding to customers to look professional. Nothing looks worse than a technician turns up to site with no checklist or asset history and they take twice as long to fix a problem with a HVAC unit that if they knew the asset and what is expected to happen in the visit can save the technician time as well as reduce costs for the customer.
If you are on top of your customer's assets and testing cycles you create great value in your business.
Preventative maintenance
Preventative maintenance takes asset management to the next level. Organise a schedule for those assets and never miss a month, quarter or annual test/service. Demonstrate a high level of quality assurance and quantitative assurance that you've done the work you've committed to do by sending reports to the customer straight after the work is completed.
This also means your SLA s are much easier to adhere to.
Preventative maintenance makes life a lot easier on keeping track of the servicing needs on the asset type. Leverage test completion on the field specific to the asset to prolong asset life and as a bonus increase customer satisfaction when you do.
Project Management
Project management to put it simply is about making sure that you can bundle lots of activities together to give you a position of cost. For instance you can look up past costs of similar projects and see the hours taken and total cost of a particular project. You can break it down into a work order and see if a job is on track or maybe running over budget. Automation and project management is all about tracking the job has correct materials, technicians and other costings. Without correct management or visibility over a job, it can be very easy for example to spill over your budget and lose all your profit margin – or worse make no money.
Safe Work Method Statements
In the field service industry where technicians work in high risk environments, safe work method statements (SWMS) are very important to get right.
A key way for SWMS automation is to lighten the burden of the admin and give more control to the technician in the field. This means that if conditions on a work site change, the technician is able to update their SWMS from their mobile device and get it signed and sent to the builder/site manager without timely delays in returning to the office etc.
An editable SWMS in the field means they can add a risk, hierarchy of control and can do risk assessment using the tools given to them by automation.
Keeping your technicians and customers safe is paramount. Remember, you're not going to get paid for your work if you've accidentally knocked your customer over with your ladder.
How FieldInsight Can Help With Field Service Automation
With automation in a field service business, you start with the little things and bite by bite, you work your way through the whole elephant. FieldInsight as a job management software can help your field service business do just this. With FieldInsight you have an ongoing software automation that is flexible and adaptable to your needs as they grow or change.
If you want to work better, gain more profit, save time and continuously improve… FieldInsight is the field service automation you are looking for.
Get in touch with one of FieldInsight's product specialists to learn more and book a free demo today.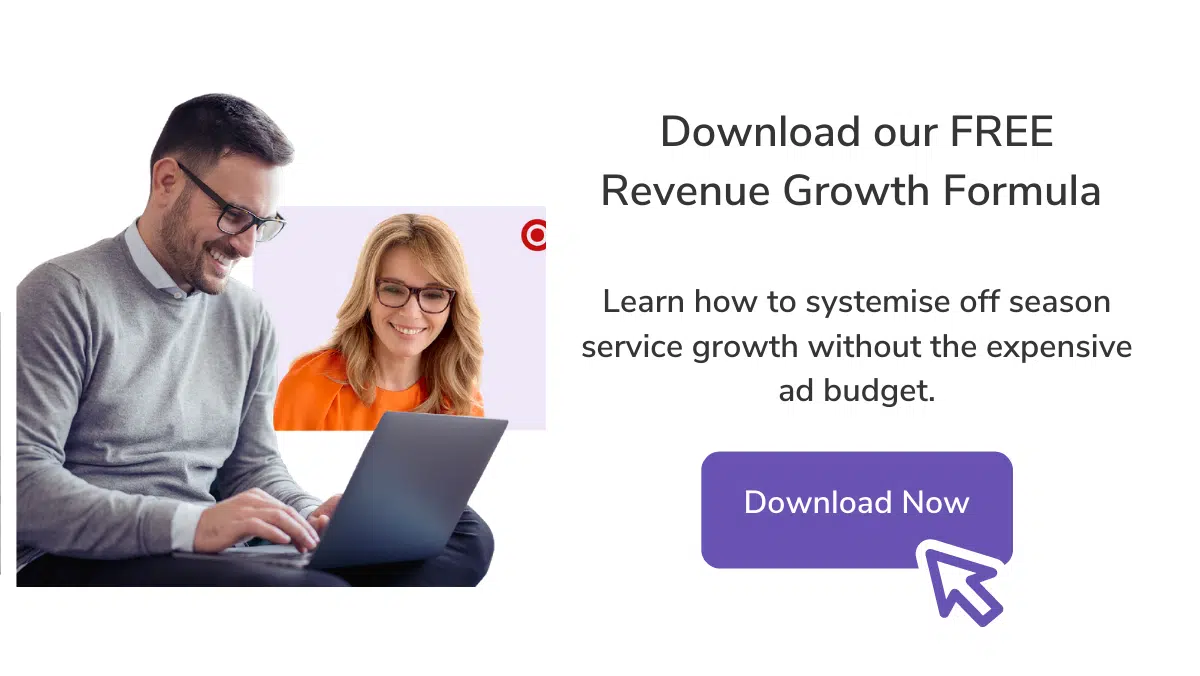 What You Should Do Now
Book a Demo. You'll be in touch with an automation expert who has worked in this space for over 5 years, and knows the optimal workflow to address your needs.
If you'd like access to free articles about managing HVAC workflows, go to our blog.
If you know someone who'd enjoy reading this page, share it with them via email, Linkedin, Twitter, or Facebook.