Why You Should Use Job Site Time Clock (Field Service Guide)
Are you looking to cut costs and save time in your HVAC business?
Without a job site time clock, you might find yourself losing track of your technician's hours or falling into disputes over payroll discrepancies. Knowing what hours your team is logging each week will create more clarity in your workflow and allow you a better insight into your business.
Top 10 Benefits You Should Use Job Site Time Clock
With great time tracking, you could be improving your scheduling, estimation, job allocation and save yourself some wasted time.
With job management software there is no need for the slow and traditional time tracking like punching in a piece of paper to signify the start or end of your shift (This is a much outdated method that is time consuming and unreliable).  When you have a digital system where your technicians can simply hit start or stop from their mobile device when they begin work, you create an accurate system that can be accessed from the cloud, with reliable real time information.
1.Increase your ROI
In the Commercial HVAC industry, your ROI or Return On Investment, is the measured costs that your business earns as a measure of your efficiency and performance. With time clocks on site, you can monitor the time spent on each project to better manage performance in your business. When you have a great time management system in place, you will find your ROI is affected positively because of it.
2.Stop time theft amongst your team
When you are scheduling your field technicians to various jobs, your time becomes very valuable and can all too easily be taken advantage of.
Time theft may not always be intentional, but it will always affect your business if you don't catch it in time. Some common occurrences that you can stop with a time clock app include:
Early knock offs
Late starts
Extra break time or long lunches
Personal breaks
Altering time without authorisation
Wasting time on their phone inside of work hours
Excessive goofing off with customers or team members
Extending travel time or making unauthorised stops back to the office
For another efficient way to reduce wasted employee time and errors on job sites, read about how a maintenance checklist can benefit your business in the HVAC Maintenance Checklist.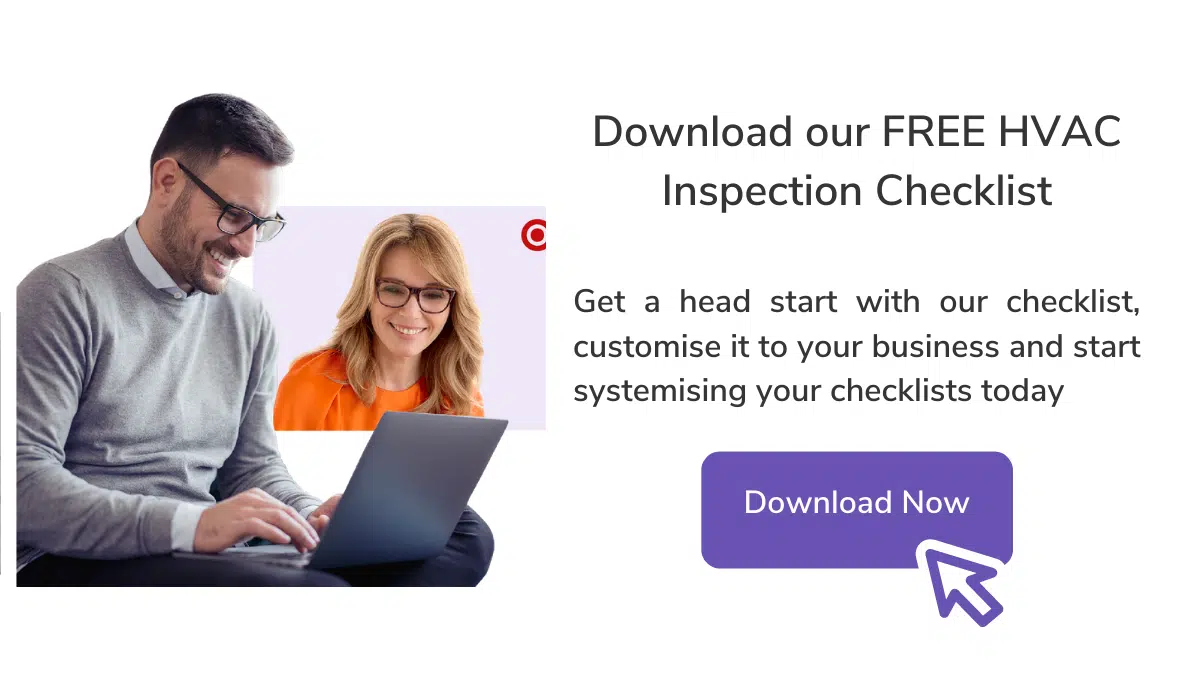 3.Make payroll and timesheets a breeze
Creating timesheets and payrolls can be difficult enough in HVAC and construction companies without disputes over what hours someone did or didn't work. Mistakes can be easily made when your technicians have to juggle part numbers, user manuals and test reports while on site and sometimes writing down what hours they worked that day can slip the mind.
When you include a field service management system and time tracking app on job sites, you reduce the need for your technicians to write down in a diary or spreadsheet when they get back to the office.
Check out more about payroll and accounting practices in the 7 Best Accounting Best Practices.
4.Accountability is key
As much as your employees probably love working for your field service company, it's doubtful that they will want to work for free. When you have a great time clock system in place, you create higher accountability amongst your team for both you and your employees knowing the right hours are being counted.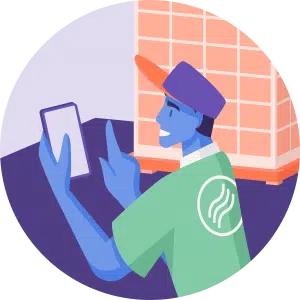 5.Boost your productivity
With automation and apps to boost your workflow, you can spend more time on what matters. With an onsite clock system, you also reduce tiresome double data entry. Productivity is dramatically increased as the need for chasing up hours and disputing travel time is eliminated. In a matter of mere seconds your technicians could have logged their hours for the day and can move on to serving their assets and getting work done.
6.Scheduling won't give you nightmares
As a part of your HVAC Business Plan, scheduling is an important part of your day to day workflow. For a typical field service business, scheduling can mean hours of work, lots of double data entry and usually a headache or two.
When you have an employee who works on several assets over a wide range of sites, you need to be precise when organising your hours and scheduling technicians to their jobs. If you have an onsite clock system, you will know that your team can clock in and out, no matter where they are.
7. Real time information at your fingertips
Having real time information can empower your business and boost your productivity dramatically. Your technicians won't have to drive back to the office to log their hours for the day or get a hold of next week's schedule if you have a field service management system in place. With time tracking and real time information, your office and field can be on the same page and consequently, less mistakes are made.
 8.Have more accurate estimations
Quoting can be one of the hardest parts of a HVAC sales system and it can take some work before you get it right. If you can view all your technician's hours through a job site time clock, you will have a more accurate estimate of how long serving will take per asset type.
In your Preventive Maintenance Program, the more accurate you can be with quoting and appointments the higher rate of success you will have in your business.
9.More happy employees
When you have happy employees, you have a better culture and morale amongst your team. The benefits of a job site time clock means your employees are acknowledged for their hard work. When you have such high clarity over what work is being done, you can recognise those team members who are going above and beyond. When your team knows they will be acknowledged for their work, they will be more likely to put their hands up for overtime shifts and they will feel noticed for their accomplishments.
10.Create visibility
A key to success in the HVAC industry is understanding your requirements in the field. With a high visibility over real time information, you will gain a better understanding in areas for improvement in your business.
You will also create visibility for your employees where they can view their hours, overtime, leave and sick days and have confidence they are getting paid for the right hours.
Why You Should Use End-To-End Job Management Software For This
End-to-End Field technician software introduces more accountability and productivity into your field service business with automation. For a job site time clock, an end-to-end software is the best way to efficiently manage your business.
FieldInsight
For an automated software that is accessible from both the office and the field through cloud based CMMS, FieldInsight.com is the real time software for you.
With FieldInsight, you can introduce the 5 primary automations into your business today: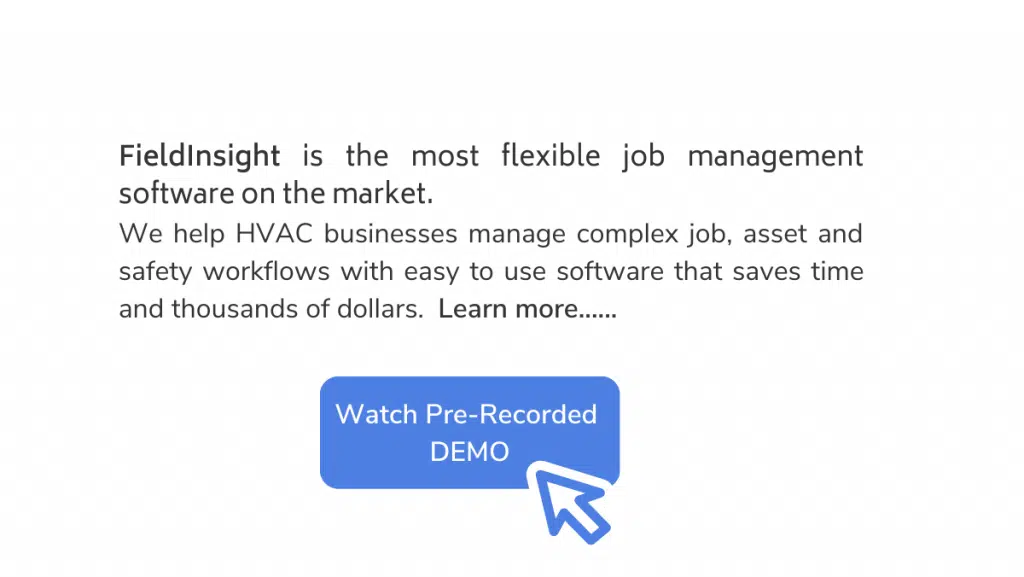 What You Should Do Now
Book a Demo. You'll be in touch with an automation expert who has worked in this space for over 5 years, and knows the optimal workflow to address your needs.
If you'd like access to free articles about managing HVAC workflows, go to our blog.
If you know someone who'd enjoy reading this page, share it with them via email, Linkedin, Twitter, or Facebook.