How To Start A HVAC Business (2023 Updated Guide)
Wondering how to start an HVAC business? Follow these 8 steps and you will create the #1 HVAC business plan
Here are the 3 things you need to keep in mind when asking yourself 'How do I start an HVAC business"?. Feel free to add these tips to your HVAC business plan
Governance is essentially how you plan on structuring your HVAC business. This might be as a sole trader or a partnership. You might even be planning on building an entity which is going to ultimately be run by someone else privately-owned with a single or a group shareholder.
Ideally you want to have complete ownership for your HVAC business if possible, even if you're considering splitting this role with family or friends. Sharing a role like this with people you've known for many years may lead to trouble if there are conflicting ideas developed over time.
This isn't true for everyone however, but majority rules in the number of people who have shared ownership with family or friends and consequently ended sourly. If it's possible for you to have full control over your business, it is definitely preferable.
Starting an HVAC business requires proper financial modelling. Setting up a financial model for your business is about ensuring sustainable relationships within the moving parts of your HVAC business. Between you as the manager, the administrator, the staff and the contractors, a sustainable relationship needs to be ensured. You need to make sure that everyone is happy doing their work and the profit made from that work.
Profit can sometimes be affected due to the seasonality of HVAC contracting work. You might have seven months of solid profit in the year and five months with little to no work. This slow period can be difficult if you don't manage smooth work flow throughout the year. Ideally you want to move as much service and renewal maintenance work into this offseason to create a much more manageable balance.
The gross profit margin on equipment can be around 45%. Therefore if you can reduce the time it takes to complete an installation and do more installations you can drive a higher margin HVAC business. That said if you can shift a service and labour intensive work into the offseason you can cover your labour costs and reduce the risk or the need to borrow money.
Here is an example of a contractor costs from the year 2011
Having a clear understanding of your service offerings is vital in any HVAC business.
Are you focused on residential or commercial? Are you focused on installation or service? What are the main areas you plan on covering? Obviously the more specialised you can get, the higher the premium. The consultant doctor normally gets paid more than the general practitioner. The more specialised you can be typically the more you can charge for your time and services.
1. Consider which skills and certifications an HVAC business owner must have
Consider which skills and certifications an HVAC business owner must have. Roles in an HVAC company cover (but no limited to):
Mechanical Engineering,
Plumbing,
Electricians,
Building Service Engineer,
Building Management Systems (BMS),
Duct Management,
Project Management,
Installation and Servicing and vary from Residential up to major commercial construction work.
A model career path could progress through these four stages:
Level 1. Graduate mechanical engineer, or engineering officer level.
Level 2. Mechanical engineer
Level 3. Senior mechanical engineer
Level 4. Principal engineer.
There certainly are hundreds of other paths.
HVAC is clearly a specialised trade and as a contracting business so you must obtain your HVAC licences for the state location you're planning on working in. Licences can vary from small appliances to high pressure systems to low pressure systems. These licenses can also vary from country to country and be state specific. Here is our list of some of the different types of skill sets you need to develop and corresponding certifications
Obtaining Certificates In Australia
Make sure that plumbers have critical knowledge and skills to protect the health and safety of the building occupants. What does this mean for you?
As a registered practitioner, you must be able to understand and apply the compliance requirements of – –
Mechanical Services plumbing work. These requirements include:
AS 2896 Medical gas systems
AS/NZS 3666 Air handling and water systems
AS1668 Use of ventilation and air- conditioning in buildings
HB 276-2004 A guide to good practice for energy efficient installation of residential, heating, cooling and air-conditioning plant and equipment
Relevant aspects of the National Construction Code.
To undertake Mechanical Services work to a safe and competent standard, you must also be able to:
Work safely at heights, including on scaffolding or elevated work platforms, and when using other access equipment such as ladders
Read and interpret plans
Carry out oxy-acetylene and manual metal arc welding (with mild steel pipes, brazed brass flanges, or copper or steel pipes), and know how to weld safely.
Obtaining Certificates In America
EPA Type I Certification – For Servicing Small Appliances
EPA Type II Certification – For Servicing High-Pressure Systems
EPA Type III Certification – For Servicing Low-Pressure Systems
Universal EPA Certificate
North American Technician Excellence (NATE): Offers professional level certifications for professionals.
Areas of certification include:
Air Conditioning (AC)
Air Distribution (AD)
Heat Pumps (Air-to-Air) (HP)
Gas Heating (GS)
Oil Heating (OL)
Hydronics Gas (HG) (service only)
Hydronics Oil (HO) (service only)
Light Commercial Refrigeration (LC) (service only)
Commercial Refrigeration (RC) (service only)
HVAC Efficiency Analyst (Senior Level) (EA)
You can earn a certificate II course through diploma-level qualifications to set you up for entry-level or management roles in the industry. Our air conditioning and refrigeration courses will also qualify you to apply for your Restricted Electrical Licence and full Refrigerant Handling Licence.
Training for a particular supplier Brand
Mitsubishi Heavy Industries
Kelvinator
Mitsubishi Electric
Panasonic
Fujitsu General
Samsung
Daikin
LG
2. Determine the costs to start an HVAC business
Quoting hurdles
Starting up a successful HVAC business can cost anywhere between $100 and $150,000 assuming that all business assets are purchased upfront.
When starting your HVAC business, you have options to help reduce this cost like leasing a truck instead of buying one, or acquiring second-hand equipment or equipment of a lower price range.
Little steps like this can save you money and make sure your entry into the HVAC industry a little smoother.
Certification, training and industry knowledge is essential and understanding how you're going to acquire customers is a must-do.
Often starting your own HVAC company is something people consider after working for a successful HVAC business for around 3-5 years before going out on their own. Having this experience can be helpful in knowing how to build your own HVAC business and understanding how to deliver quality service. Importantly to ease your transition from worker to HVAC business owner, you want to find a neutral area and not create any conflict with your prior company.
Assets and infrastructure: Total HVAC Startup Costs
Here is the list of the total costs you should take into account:
Training costs
Certification costs
Licenses and registrations
Liability Insurance, Workers compensation Insurance
Diagnostic equipment:
Personal Protective Equipment (PPE)
Installation equipment (per crew):
T-Shirts with Company logo & hats
Vehicle Signage
Vehicles (per vehicle)
Website
Computer (IT) equipment
Marketing Material – HVAC business cards, magnets, pamphlets, thank you cards
Mobile Phone/Tablet
Software: up to $500 p/m
Accounting (Xero, Quickbooks, MYOB A/C live, Reckon)
Job Management Software (CRM, Quoting, Reporting, Field Updates, Asset Management, Timesheeting, SWMS, 17. ITP-safety documentation, Project management). (E.g: FieldInsight is the #1 go-to option when it comes to HVAC software)
Google Docs & Office 365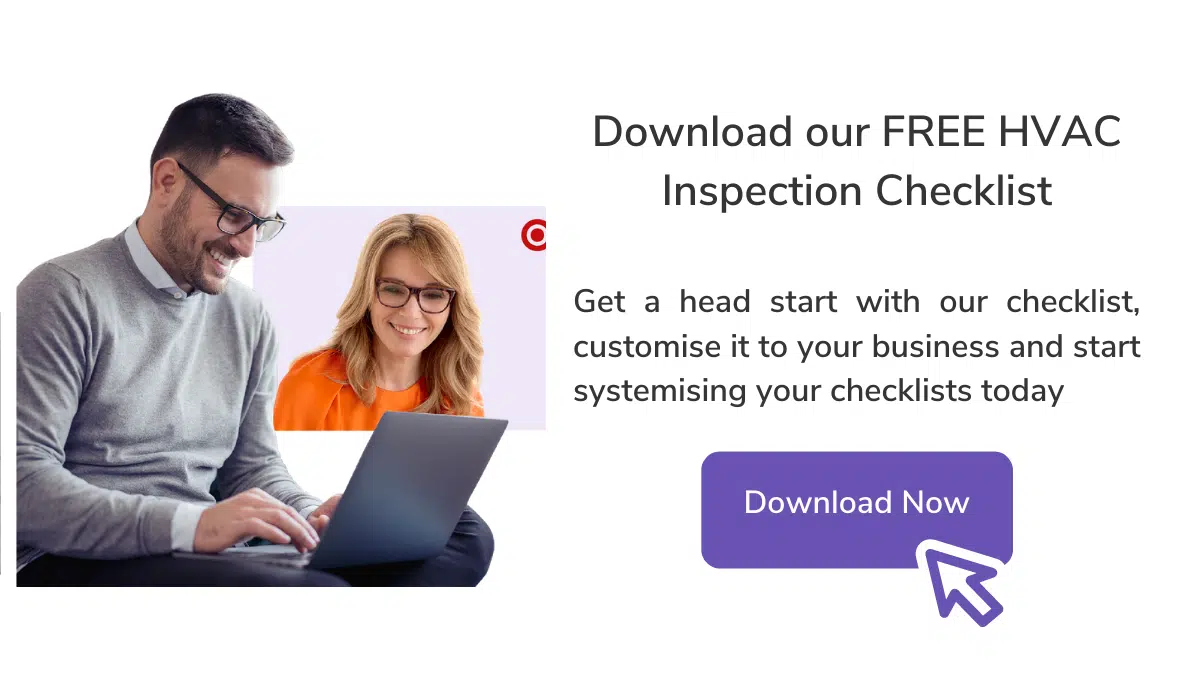 3. Build Your Marketing Gameplan
Customers and customer acquisition
To better understand your target customer, you need to look at five metrics; household income, the year the home was built, the size of the home, education and sex.
These factors are used for targeted marketing campaigns to give you a clear understanding of who your target customer is.
Say you're targeting real estate agents or homeowners or builders or schools, with any of these you want to have a good understanding of who they are and where they are. You can then develop a marketing strategy that is tailored to the types of places they are likely to be or in the material your target audience is likely to read.
Not all of your marketing will be in paid advertising and research. Customer acquisition can also come from word of mouth, customer referrals and supporting companies. Reaching out to customers you have done an installation job can get you annual service work for any call back issues as long as you maintain a good relationship with that customer.
Localised internet search engine optimisation can help your HVAC business stand out on the market, this is something you can do yourself or hire someone to manage. Other avenues of paid advertising can include radio, television or printing. Printing and mailing sales letters, flyers or booklets specially designed for your target, work well for campaign development. Social media is also a powerful engagement mechanism, including Facebook, Youtube, LinkedIn etc. Other powerful channels can be listing on relevant HVAC industry directories, association memberships or certification institutions.
HVAC companies are generally well thought of by residential homeowners so your goal is to stand out from the rest of the market and your own competitors.
A customer's primary reason for considering switching to a more efficient HVAC unit is often due to cost savings. When people come to choose the new unit they want to purchase, there are often choices they need to make, based on who your target audience is. If targeting the upper middle class, they tend to accept a higher price tag for improved comfort. With this market group, they tend to be less price sensitive and more quality oriented. Depending on your target audience, there are factors such as price, comfort, safety and energy to consider how to market based on your audience.
An excellent revenue growth approach is annual service and maintenance checks. These checks can be systemised inside your HVAC business so you can drive high quality, low cost. These routine visits allow you to maintain relationships with the customer, pick up any service work and get paid in the offseason. FieldInsight has a nice little system called the Revenue Growth System that explains this clearly.
An Australian survey showed that 60% of the work successful HVAC companies receive is through customer referrals and word-of-mouth. The best way to guarantee this source of work is to ensure that you deliver quality work in a timely manner and a polite way.
To reduce the risk of lulls and quiet periods where you might be required to borrow money, you need to systemize your marketing process and ensure that it's executed regularly.
You can read our definitive HVAC Marketing Plan here.
4. Create a Sales Machine
Building a good sales system for your business is a core part of having a profitable and successful business. Improving conversion rates and reducing the time to get a quote to a customer is all part of creating your sales machine. For each step of this process ensuring profitability and follow up on quotes, helps oil your sales machine. This makes sure that you are always present in mind can have a dramatic effect on the viability and profitability of your HVAC business.
To be able to build profitable quotes and therefore a good sale system you need to be able to estimate accurately. To estimate accurately you need to understand and break down your job in to the beginning, middle and end of your project. You also need to know how long each of these job types will take.
Using the job management software can help you build function blocks which are made up of a labour hour and pass to complete a functional activity.
This can help you quickly build quotes over time and improve the accuracy of your estimation process.
Simply winging it is not a great way to fly. A key learning here is to not take on work which you can't control . There is a key step near where you analyse the market and determine where the opportunities are. From this you can then organise your business to be the exact provider of the services you've chosen to offer. Evaluate your business and then limit yourself to the tasks you know you can control exactly. Operating in an exact mindset will lead to ruin.
The story of Leonardo is an example to take. He was 5 years into his HVAC business and hugely successful at marketing and had a massive 20 million dollars in annual sales. However, Leonardo never made a profit because of his pricing model was a problem.
Run your business on cash flow and profit. You need to look at everything through the lens of profit. As you know cash flow is the money coming in and out of your business and profit is the money your company keeps after everyone else including Uncle Sam Spade.
There is a great book called 'The Power of Positive Pricing' by Matt Michel that is worth looking at for a deeper dive on this.
The quality of the equipment and installation method in delivering your customer is the first consideration. The second consideration is the level of service your team provides after installation. The ability to service the needs of your customer over the life of the system is what sets the professional Service Company apart from the amateur. The third consideration is the financial component, the two big aspects are the overhead costs and the profit motive
We will do a deeper dive in pricing later but the key factor is ensuring you are profitable by working out your overhead cost for the month and making sure that is factored into your price.
5. Consider Ways To Manage Your Office & Admin Works
HVAC job management is a specialised industry where you might need large volumes of paperwork for a straightforward maintenance job that falls under warranty. For this you might need proof of purchase, service reports, invoices to the customer, invoices to the supplier, purchase orders and asset test reports. All these moving parts can be easy to lose and hard to manage, especially out in the field. Historically these documents have been managed with spreadsheets, whiteboards, paperwork, orders diaries, Google Calendar, office calendar, email notepads, scraps of paper and the great human brain.
This is of course getting harder and harder as business gets more complicated. The need to be competitive in the marketplace to deliver higher quality and work faster only grows with your business. From a human point of view, you want to be able to reduce the overall pressure on the people in the organisation to make life easier and improve customer service. Software automation can take a lot of the burden off of people's shoulders and provide clarity and control over the business. This will reduce risks, improve profitability and improve business insight to help you ensure you are working on the right jobs and keep your team accountable.
6. Take Field Service Management Systems Into Account
Standard operating procedures in a high-performance HVAC business is when everything is documented and people are executing the same way each time. This allows for continuous improvement, consistency, higher quality, less stress, and easier training of new staff to replace people.
Another part of Performance Lab is software automation like FieldInsight. FieldInsight is an end-to-end field service software in Australia that allows you to automate parts of your systems so you deliver faster. It gives you traceability and accountability. If you want to go for an ISO 9000 certification you just want higher quality assurance regulatory assurance with SWMS records, job records, service report records and Asset Management.
7. Manage Accounts
A key understanding is to know the difference between what should be undertaken in Job Management Software like FieldInsight.com and what should be undertaken in Accounting Software like Xero and Quickbooks.
Your Job management software is for tracking and managing your jobs and your quotes, and ensuring that you are running an efficient and profitable system. Data such as tracking the hours spent on a job or the amount of materials used is critical to work out what work you want more of and what work you want less of.
Your accounting system is for completing tax requirements and having clear visibility of your Balance Sheet, Profit and Loss and cash flow. You need to ensure you have a Cash Flow Projection in place. This is vital to ensure that you don't go too far into the red and you understand your break even costs, and profit costs.
This data is critical to work out how to build a profitable and successful business. It's not a great thing to realise you are working at a loss but knowing this gives you the chance to turn it around. You need to find the work that gives you good profit margins and do more of that and find the work that gives you low profit margins like 3-5% and don't take on those jobs.
Understanding that not all accountants are the same is crucial. Some accounts just look after your tax obligations and don't look into the profitability of your business. So those guys may come to you one day and say you are out of money. Other accountants are business accountants and they help you work out if you are running a profitable business or not. You may need both if your business gets large enough, but you must always understand which type you have. If you do not keep an eagle eye on the profit and loss and where the money is going, you are open to people unfortunately ripping you off. I have heard countless examples of this, this can be very close to home, family, staff, or bookkeepers. You have to be vigilant, it is on your shoulders and it is your business.
Having a good job management system is vital. You need to be able to see how many jobs you are doing in a week and ensure every job has an Invoice and that's been paid and is in your bank account.
8. Launch Your Business Faster With Software Automation
It is clear above there are many steps to building a successful HVAC, but all of them have a common theme. You need to be informed on what decisions you should make, what customers you should go after, what type of work you should quote, how you should quote, build lists of data of people to market to, remind customers that you're still there and remind sales reps to follow up on activities.
If you are looking for the all-in-one HVAC job management software that helps you save hundreds of hours and improve your sales, FieldInsight is your go-to option. Book a FREE demo with us today to take your business to the next level.
Job Management Software to Start your Commercial HVAC Business
If you would like a chat about how you could Automate your Commercial and Retail HVAC Business, we would love to chat.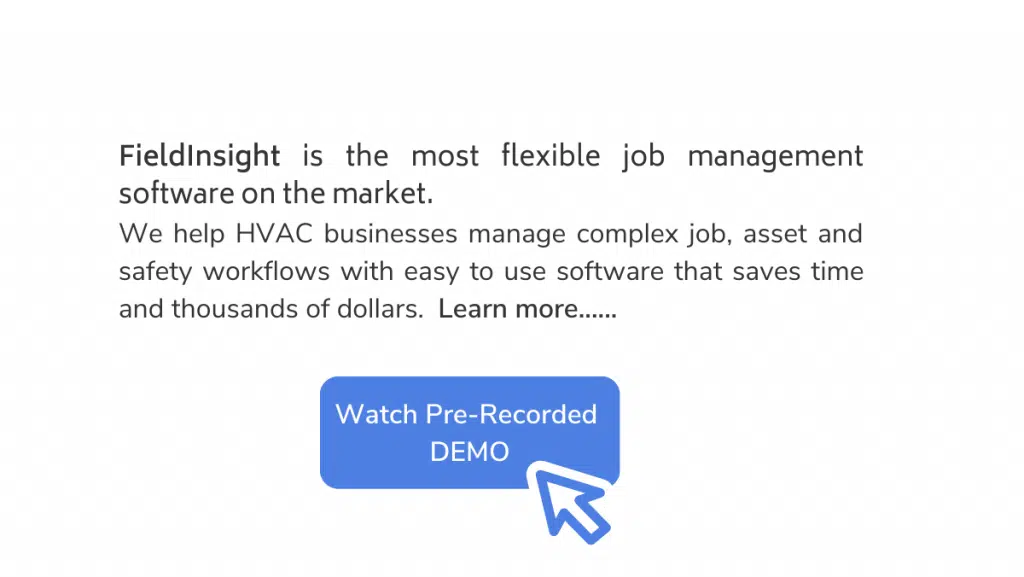 What You Should Do Now
Book a Demo. You'll be in touch with an automation expert who has worked in this space for over 5 years, and knows the optimal workflow to address your needs.
If you'd like access to free articles about managing HVAC workflows, go to our blog.
If you know someone who'd enjoy reading this page, share it with them via email, Linkedin, Twitter, or Facebook.