Myob Advanced Review (2023 Updated)
If you are looking for and ERP (Enterprise Resource Planning) Accounting software with good support, you will inevitably discover MYOB Advanced.
MYOB Advanced is an ERP solution (Enterprise Resource Planning) that can assist in managing accounts and finances. With MYOB Advanced, you gain more than just accounting, you can access features centred on CRM, asset management, project management and field service solutions.
When you combine your job management software with accounting software like MYOB Advanced, you can centralise your Operations/Field workflow from the ease of a cloud based ERP system. With an advanced accounting solution for your business, you can centralise your finance and budgets within the one easy to access platform.
MYOB Advanced is a great tool for accounting purposes and an ideal option for resource planning in your workflow. For those with little experience with this software, you will find this tool resourceful in determining what accounting software is best for your business needs. When facing the overall rating of a software solution you need to consider factors such as online accounting tools, the pricing and your value for money.
Myob Advanced Review: Key Takeaways:
MYOB Advanced offers essential cloud-based accounting features and mobile app accessibility.
Some drawbacks include a complex inventory system and occasional support issues.
Integration with FieldInsight streamlines processes, improves visibility, and enhances customer relations.
Pros of using Myob Advanced
MYOB Advanced is a reliable software for accounting that covers the essentials and allows you to easily track and manage your financial data relating to your jobs. With MYOB Advanced you gain the benefits of a centralised cloud based software. With a list of features that are more than reasonable, the mobile app helps to provide in field support for your technicians with real time information.
Some of the product Pros:
The payroll function is great and easy to use
Accept BPAY and card options
Generate invoices with ease
Track your GST and calculate your costs
Self service portal
Rich set of features to collect data
Monitor your expenses and budget on your jobs
Lodge Business Activity Statements (BAS)
Manage and create permissions
Gain high visibility over reports
Create and customise reports with just a click
Access from the field with mobile apps
Share account information with just a click
Gain real time visibility
Reduce pesky double data entry
Easy timesheet and rostering app functions
Manage accounts across multiple sites
It is good value for money and the pricing is quite reasonable
Balance your debit, create reports, budgets and more
Cons of using Myob Advanced
While MYOB Advanced is ideal for many businesses, there are also some negatives to consider.
Some may struggle with a few more complicated features, but with constant learning and experience these issues can be resolved that at first seem slightly complicated. A good example being an inventory system within MYOB that is complicated but may take some practice to master.
The product cons:
The inventory system is complex to understand
Hard to alter templates
Some expensive updates with little benefit
Software can be slightly complicated to navigate between modules
Support that is at times hard to connect if you are not supported by an Accredited Partner
Allows customers to change dates which can interfere with your numbers
Some delays in processing
Top 7 Reasons Why Field Service Businesses Should Use Myob Advanced With FieldInsight
With cloud ERP solutions like MYOB, you can combine the flexibility of your job management software with your accounting platform.
A cloud based ERP like MYOB gives you the advantage of reliability and consistency in your business. When you have top of the class field management software like FieldInsight, you gain the ability to combine the five primary automations. With FieldInsight you can access sales, field, office, marketing and accounts from the one centralised database.
With FieldInsight's MYOB Advanced integration, you can gain the best of two software's in the one platform. From the one easy to use platform you can access all your workflow needs from asset management to payroll options to accounting.
With the benefits of a preventive maintenance software and MYOB integration, you can connect to your customers and boost your CRM with just a few clicks. To boost your project management and job workflow, the correct accounting tool can help grow your business and meet all of your requirements.
Here are the top 7 reasons why MYOB Advanced is such a great tool for accounting purposes in your workflow: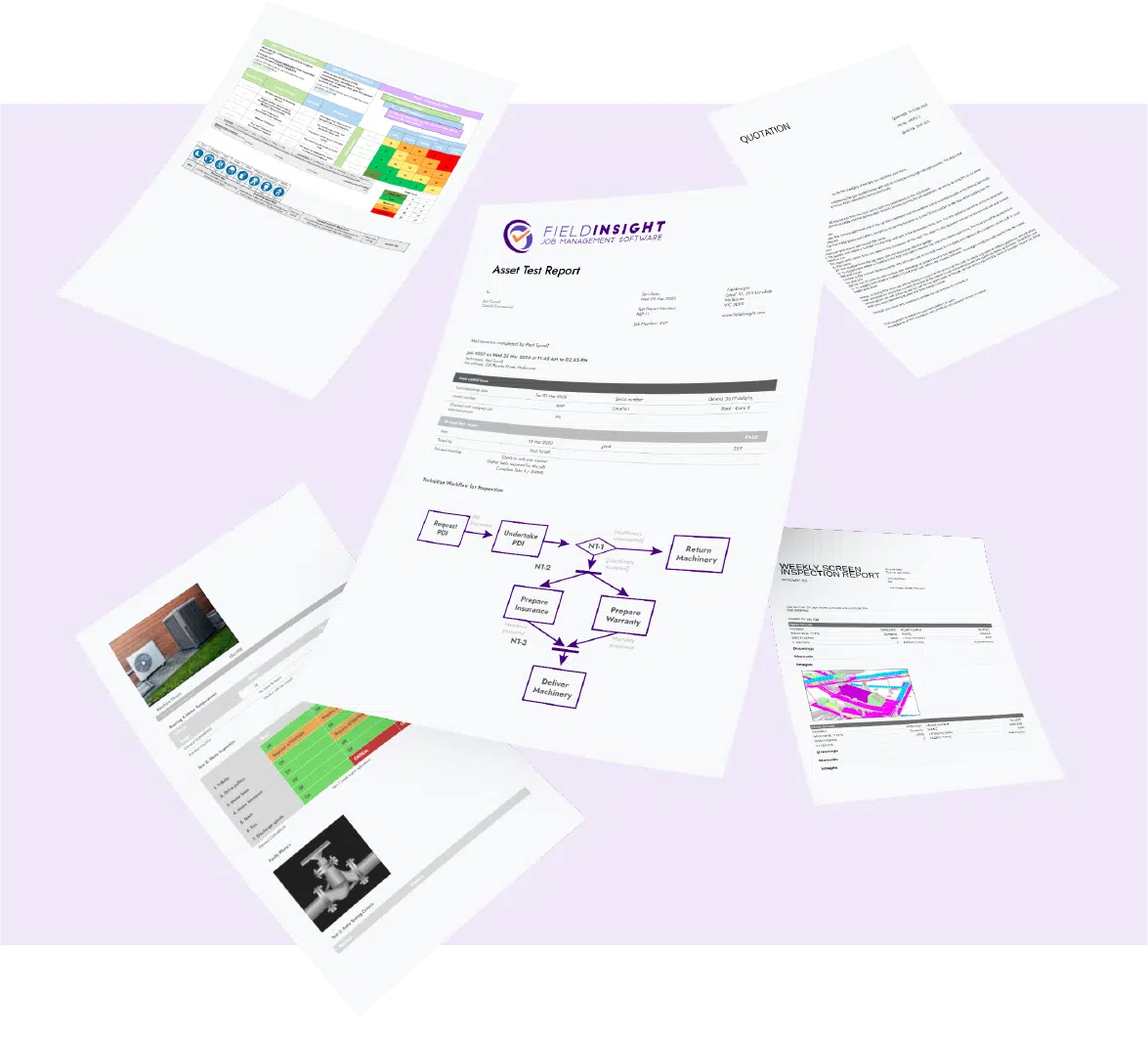 1. No More Clumsy Paperwork
Do you struggle with cumbersome paperwork clogging up your filing cabinet?
When you have a good accounting software at your back like MYOB, you can reduce the need for a paper based system. Imagine how much easier it would be if your technicians didn't have to scribble their quoting details out on a notepad in illegible writing.
When you have an organised invoicing and quoting system, you can simply add all the job details and click send (without having to worry if your customer can even read the writing).
Say goodbye to lost invoices and smudged purchase orders, with MYOB Advanced, you can simply access all your documents from the one central database (without the hassle of double data entry).
No more scattered information! When you can simply search in the FieldInsight database for your customer or asset history and find all you need in the one place, you eliminate the need to run around the office, diving into filing cabinets and trying to decipher the messy notes on the whiteboard to find the data you need.
While cloud ERP based systems like Google Sheets or Excel are a good place to start, they can be very limited in their sharing and updating abilities. With FieldInsight and MYOB integration, you have all you need in the one centralised software.
2. High Visibility Over Your Workflow
With MYOB Advanced reliable software for accounting, you gain high visibility over finances and current jobs. With real time information at your fingertips, you can access data easily and connect your business with MYOB's rich set of features.
You don't have to work blindly with MYOB integration and FieldInsight in your workflow. Imagine how much easier it would be if you could just search by name or address and find all the details of the customer you need.
When you have several customers with multiple sites and ongoing jobs, creating invoices can feel a little intimidating and confusing when you don't have a great system in place.
With better financial management over your jobs and budget, you can see what needs to be invoiced, chase up any jobs that have gone stale or been flagged and ensure you are keeping on top of your workflow.
When you have high control over your financial management through MYOB integration, you can take advantage of the five primary automations within FieldInsight. When you have high visibility over your workflow with features such as job site time clocks and scheduling options you can ensure your field service management is at the top of its game.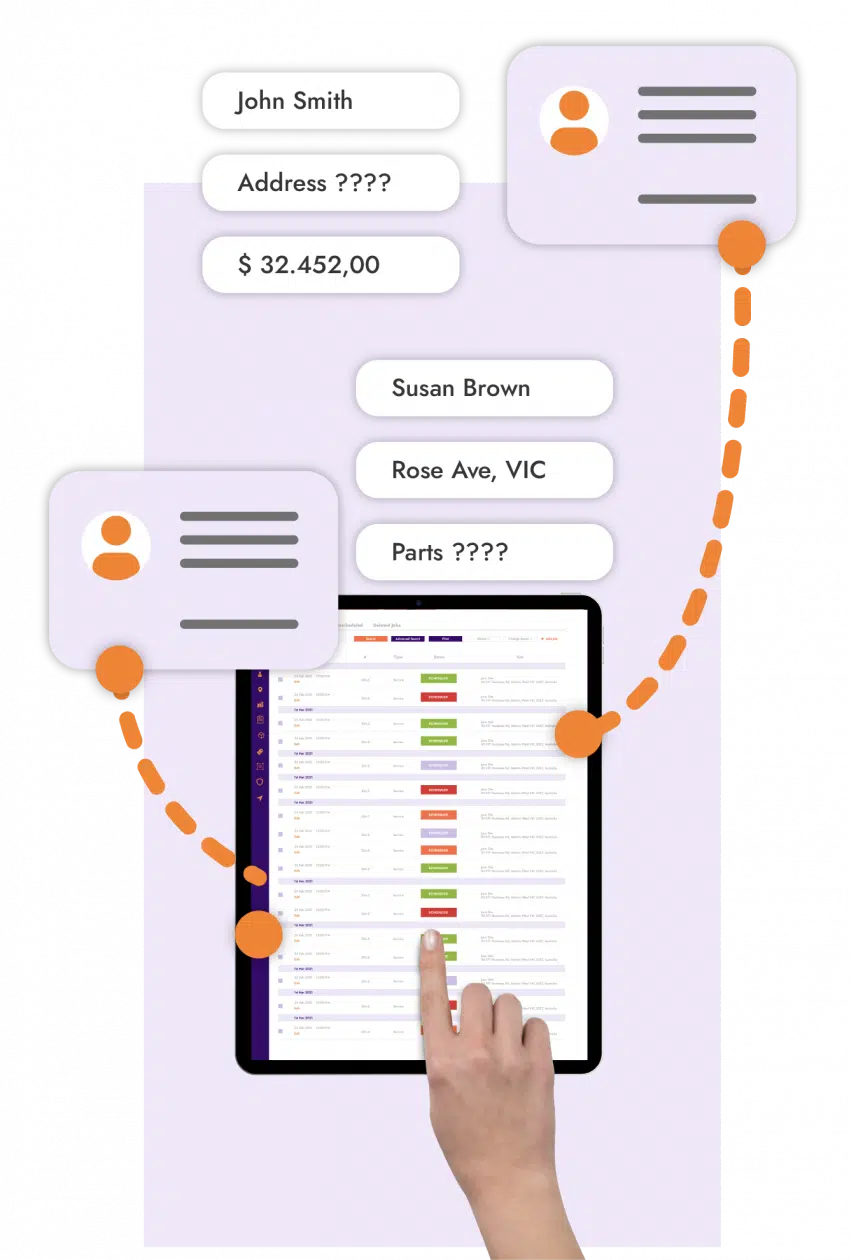 3. Quicker Invoicing
No more trips back to site because you forgot the customer's email and have to deliver the invoice in person.
When you have MYOB integration in FieldInsight, you can simply click send and your customer will receive their invoice within minutes.
Getting your invoicing correct is an integral part of any company. To put it simply, if you don't invoice a customer, you won't get paid for your hard work. It can become frustrating when you are relying on an out of date system and you have to wait weeks to send your invoice because you don't have the right data on hand. When you have a work order management system in your business, you can reduce the wasted time spent trying to reconcile your invoices.
Having a streamlined system within MYOB Advanced will also help bring more constancy in your pricing with a centralised price template that can be referred to for discounts, trade prices and warranties.
4. Easy Tracking For Jobs and Inventory
Centralised software like FieldInsight and MYOB integration is always important in asset based industries like HVAC. Without proper inventory management, you will find your business suffers with missing parts, lack of clarity over your warehouse and wasted time.
When you have a centralised system, you can use inventory management to ensure you have the correct stock balance and parts you need before you head to site.
When you have a busy maintenance schedule you will find the mobile application of FieldInsight valuable due to its real time information and accurate stock updates while in the field.
5. More Thorough Customer History On Hand
Do you struggle to find customer history when you need it? Do you struggle to remember customer names and addresses?
Imagine if you could simply search by name, job type or customer detail to find the information you need. When you have the ability to access FieldInsight's centralised system from the field or the office, you can help reduce downtime and boost your customer relationship management.
Building a thorough customer database in your business creates more value and consistency in your workflow and allows your technicians to have more power when in the field.
6. More Control In Your Business
Do you want more control over your asset goals and KPIs? When you have a field service software like FieldInsight and MYOB integration you can build more control over your day to day workflow.
When you have clarity over your business, you can see what is and isn't working well to help identify any weak points and reconcile them. When you can see all your information with just a click such as total travel time, time spent on the job site, amount of jobs completed per day and number of trips back to the office, you can gain a better understanding of what you can improve on.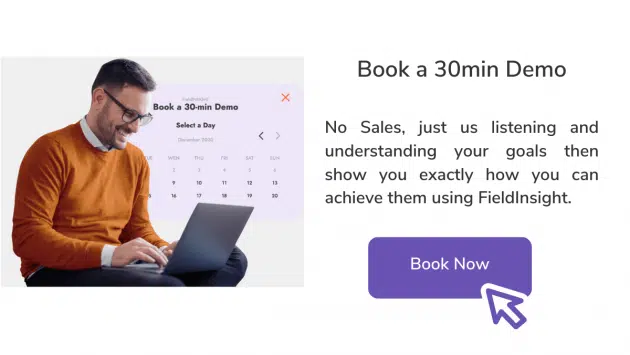 7. Value For Money With easy Accounting Software
Your time is as valuable as your money and when you waste hours of your time each day with complicated systems and out of date information, you might as well be throwing money out the window.
With MYOB cloud based ERP software, you can save hours of wasted time every day. MYOB is a great way to systemise your workflow and bring more structure into your business. Compared to other competitors in the market, MYOB Advanced accounting and payroll integrates a cost effective system into your business. For an accounting software for small to large businesses, MYOB Advanced stands out in the market with good value for money and an easy to use system.
Myob Advanced FAQ

How much does Myob Advanced cost?
MYOB starts at $13.50 per month and increases to $54.50 per month depending on what features and plans you choose. With MYOB Advanced, you can manage and track your cash flow and budget without having to pay ridiculous monthly fees.
What to know more about FieldInsight's pricing?
Is MYOB or Xero better?
With FieldInsight, you also have the option of using Xero integration in your workflow. To compare the two accounting softwares, you first need to consider what features you need from your accounting software in your business.
When looking at MYOB vs Xero, you will notice a few differences such as:
MYOB:
Visible activity dashboard
Available real time data
Predictive statistics
Real time notifications and alerts
Customisable templates
Easy drag and drop accessibility
Simple cost tracking
Inventory management and tracking
Visual workflow management
With both IOS and Android app this makes it easy to access from the office or the field
No free trial before you pay
No predicted sales trends
No customisable reports
No data mapping and planning
Xero:
Free trial before you start to pay
Customisable reports and templates
Easy tracking for expenses and budgets
Access for client portals
Visible activity dashboard
Access to easy invoicing and quoting
Easy electronic payment options
Product support is generally quick to respond
With both IOS and Android app this makes it easy to access from the office or the field
No risk assessment and tracking
No workflow management
No options for multi-location
No audit management
No timesheet management in your billing system
No billing projections
No estimating billing
No real time reminders or notifications
When you compare Xero and MYOB on price, they both have starter packs available at $13.50 per month and can be increased depending on what features best suit your business needs.
Both Xero and MYOB Advanced reviews show pros and cons in their overall rating and choosing either software simply comes down to your individual business requirements.
Resource Planning Accounting Solutions And The One Job Management Software YOU Need
Imagine if you could access quick reporting or an amazing accounting software that could save you time and money?
When looking at what software for small businesses is best, MYOB is a great place to start. With MYOB, you will find this tool resourceful as a part of your business and accounting purposes. With easy integration options for FieldInsight and MYOB, you can truly gain the best of two software's in the one easy to use platform.  You can check out our MYOB Advanced Marketplace listing here.
When you have MYOB Advanced in your FieldInsight system you will find:
A reduction in human errors
A smoother workflow
More visibility in your inventory management
No more missing invoices and quotes
No more missing customer details
No more messy paper based systems
No more frustrated customers
With FieldInsight integration you will have a 15% boost in profit and reduce your pesky double data entry by 50% in your business. MYOB Advanced will help boost your accounting experience with this software integration and enable you to get your value for money.
Are you tired of frustrating paper based accounting systems? Do you want cloud ERP business management in your business? Have you had enough of software that is a little intimidating and confusing to use?
Do you want to learn more about how you can access FieldInsight's integration options? Click here to book a free demo today and get your accounting on the right track.
What You Should Do Now
Book a Demo. You'll be in touch with an automation expert who has worked in this space for over 5 years, and knows the optimal workflow to address your needs.
If you'd like access to free articles about managing HVAC workflows, go to our blog.
If you know someone who'd enjoy reading this page, share it with them via email, Linkedin, Twitter, or Facebook.