The Detailed Guide To MRO Inventory Management & Field Service
In the field service industry, MRO inventory management is a key element to ensuring your business runs smoothly. Without great inventory management in your business, you will find a loss in your production process and an increase in wasted time.
When discussing the best practices concerning MRO inventory management in your business, you can work to avoid challenges and discrepancies in your work. Creating great inventory management practices in your workflow can help to build business continuity and stabilize inventory accuracy to make running your business a breeze.
What is MRO Inventory Management?
MRO or Maintenance, Repair and Operations, is all about the processing of stock lists, office supplies, equipment, hardware, materials and other supplies. MRO inventory management is used to ensure that a business has sufficient stock available and factoring in their current jobs to ensure adequate inventory levels ahead of time.
You can have different types of MRO supplies and management in your business and they can be divided into sections such as 'job in progress', 'production inventory', 'raw materials' or 'manufacturing inventory'.
Within your job management, inventory items typically calculated in MRO inventory management can include:
PPE and field safety equipment (such as work gloves, glasses, hard hats or dust masks)
Cleaning equipment and products (wet floor signs, chemicals, spill kits, disposable gloves)
Installation equipment and repair tools (everything from your tool belt and hammer to ladders and compressors)
Machinery components
Spare parts for servicing and emergency breakdowns (air filters, chemical products, thermostats, refrigerants etc.)
Office supplies and consumables (business cards, pens, printing paper, laptops)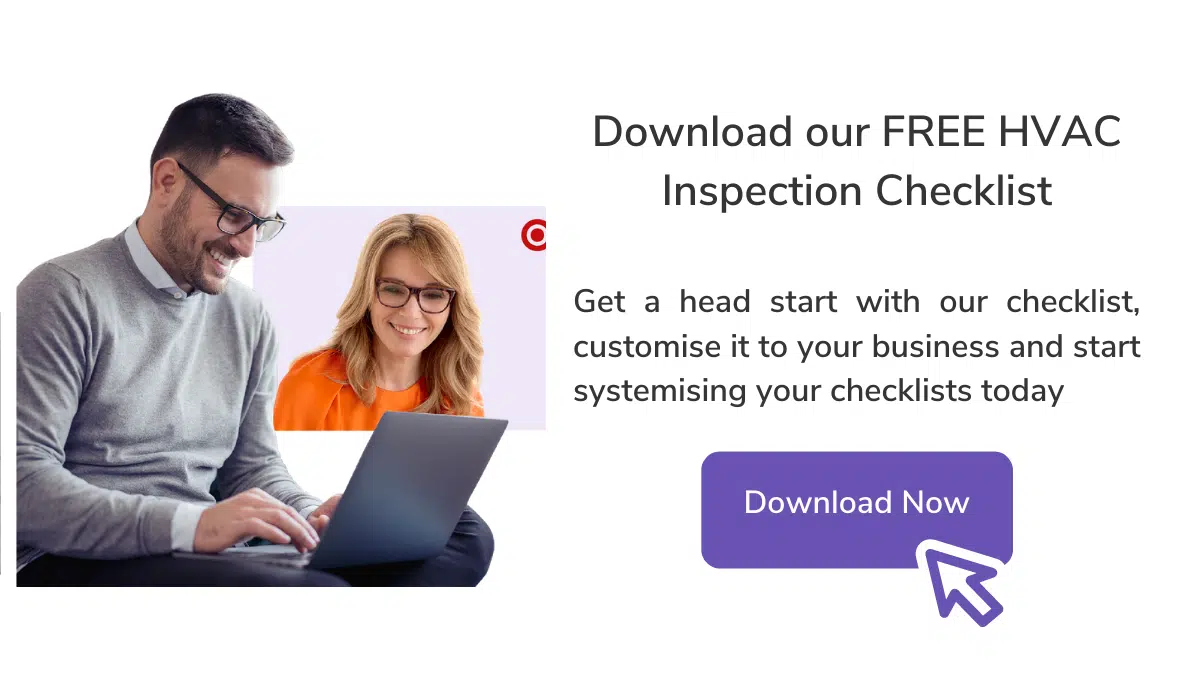 Why MRO Inventory Management Is Important In Field Service
You need a centralised system with real time information to help you in your inventory management. Without an MRO inventory maintenance process in your day-to-day operations, you will find you will have constant challenges with carrying costs, consignment inventory and cash flow.
Are you tired of wasting time feeling frustrated over not being able to find the right part when you need it?
No matter what industry your business is in, whether that is HVAC, mechanical, plumbing or electrical, you will need an organised inventory system to keep your business running smoothly. Imagine if you could access your stock list in the warehouse while in the field from the ease of an app? What if your business plan included a concrete inventory and supply chain management system that allowed you to have real time information?
With MRO inventory management, you can reduce your frustration and eliminate the countless wasted hours trying to track down part numbers.
Overstocking
Have you ever accidentally over-ordered on products or a spare part? Not only is overstocking a waste of money but can also be a waste of space in your inventory or warehouse.
Buying ten extra evaporator coils when you only need one for your HVAC service will ensure these extra parts sit on a shelf and get dusty. This is a purchase that you can't always return and can be a big loss of profit.
Determining the correct levels and amount of stock in your business will rely on your demand, costs and maintenance department. To discover this, you may need to sit down with your team and go over your numbers and performance indicators, this little activity will save your cash flow in the long term.
Having a great MRO inventory process is helpful in learning what you already have in stock and preventing you from over ordering on bulk orders. When you have an inventory management solution in place, you can create high visibility over your available materials and consumables with just a click.
Understocking
What's worse than having too many products sitting in your inventory? Having no stock at all.
When you have started on your maintenance repair job or equipment breakdown call out, you need to know you have sufficient stock waiting for you in your warehouse. If you only realise halfway through pulling their AC apart that you don't have the spare parts you thought you had, you're going to end up with a lot of wasted time on your hands (and an annoyed customer). Not only does this make you look bad, but it will decrease your customer service and cause massive delays in your schedule.
If you know that even in a bad week you manage to use 10 air filters through your servicing, you need to have the resources to back you up and ensure you have adequate stock on your shelves. When you have an inventory system in place that helps you manage and organise your stock lists, you can create more confidence in your business and ensure your customers know they can rely on you to get the job done on time (not two weeks later because your stock was empty and you had to wait for the shipping process).
When you have a great field management software in place, you can navigate your customer service and inventory management with ease.
Lack Of Organisation
You might know for certain that you have the air filter part you need in your warehouse, but if you can't find it when you need it, you're simply wasting your own time. Having the right stock levels in your inventory is great, but to smoothly run your business, you need to have a well organised system in place to know where everything is.
A badly organised system can easily lead to under and over stocking in your inventory and cause more headaches and chaos than necessary. Many supply chain professionals use automated software to log shelf locations for their equipment, materials and other inventory items.
Wrong part numbers
It can be hard to have organised inventory operations in your business when you have the wrong information on hand. A key process in having a great MRO inventory process is having a solid foundation for your information storing process. Mislabelling parts due to lack of asset knowledge on hand or not paying attention when storing parts can easily lead to the wrong part being used or catalogued. Again, this can be a huge waste of time and lead to confusion over what you really do and don't have in your inventory.
This confusion can easily lead to ordering the wrong parts due to lack of information, now you have to reorder your part and your customer has to wait in the middle of winter with no working heater.
MRO Inventory Management Examples
There are different methods of managing your MRO inventory with the result of a well-oiled machine. MRO parts and equipment management techniques can include:
Ensure Your Team Is Trained
With the correcting training and guidance, you can work with your team to ensure the correct supply chain personnel and MRO sourcing are in place. With supply chain professionals on your site, you can ensure your inventory system is up to date with the correct materials and items.
Set Your KPIs and Goals
Another inventory management tip is setting goals and KPIs to guide your process. When you have a clear goal in site such as 'reducing wasted products on the shelves' you can proactively work towards your aim. Sit down with your team and work out the bottom line of where your inventory management issues are.
Find a Software Solution
MRO Inventory management software like FieldInsight uses automation and business processes to make inventory systems centralised. With the use of real time information and centralised software like FieldInsight, you can access your data no matter where you are.
With great supply chain management in the organization of your materials, equipment and supplies, you can reduce the amount of wasted time and effort lost to under and over stocking.
Using automation to track your MRO inventory items can also help in predicting trends and the pre-emptive needs of your business. With this ability you will know when you need to order more items before you run out and wont end up with tricky overstocking that contributes to cluttered shelves.
For businesses in maintenance repair and operations, having an inventory management software can mean the difference between organisation and chaos in your results.
For competitive and flexible MRO asset management software, FieldInsight can provide the answer to your inventory dilemmas.
Book a demo today to discover how you can improve your MRO inventory management and production process.
What You Should Do Now
Book a Demo. You'll be in touch with an automation expert who has worked in this space for over 5 years, and knows the optimal workflow to address your needs.
If you'd like access to free articles about managing HVAC workflows, go to our blog.
If you know someone who'd enjoy reading this page, share it with them via email, Linkedin, Twitter, or Facebook.