HVAC Pricebook Template (Free Download)
HVAC Pricing Guide (HVAC Pricebook Template Included)
What's a HVAC pricebook template and why do you need it? A HVAC pricing guide will generally contain price lists, standard operations or checklists, warranty details and discounts.
For a  commercial HVAC business, a pricebook template is a vital part in maintaining consistency throughout the year. To create a more reliable and simplified system in your business, having a template can provide an easily accessible list to bring up information with a click of your technician's fingers.
With the assistance of a job management software, invoicing and quoting can introduce a quicker and more efficient way to manage customers, costs and keep an eye over your pricing.
Benefits Of A Template And Why You Need It
The best feature about pricing templates is the efficiency you create in your business. The bottom line is with a practiced template and pricing guide, you will save hours of manual admin time and get the best costs every time without putting yourself in the red. With a pricebook template you will:
Save time

Cut costs on quotes

Create more accuracy in your quotes

Speed up your billing period

Improve customer service
HVAC Flat Rate Pricing (Pros & Cons)
When looking at HVAC flat rate pricing, there are both pros and cons to consider. 
Pros for HVAC Companies:
Reward productivity (the quicker the job gets done, the more money is made)

Creates transparency for customers 
Cons for a HVAC Company:
Unexpected problems that take longer than perceived 

Rushed jobs can lead to lesser quality work (Your technicians want to make good money on the job)
HVAC flat rate pricing is about creating a quote or invoice for a job and providing your customer with a predetermined amount. This single or flat rate makes sure you can accurately estimate for a job rather than providing your customer with an hourly rate.
The disadvantage of using an hourly rate can be the duration of your work, if you finish a job within the hour, your costs won't likely be covered by your hourly rate. When you are calculating the costs of materials, travel time and using the knowledge and skill of your technician, you need to reflect your hard work in your costs to generate a healthy profit and loss in your business.
Alternatively, when you have a flat rate price system in your business, you can make sure you are covering the costs of labor and materials that you need and make a profit from the mark-up.
Read more on HVAC revenue, accounting and the 7 best practices  HERE.
When you have set up flat rate pricing in your business, you can save time that would usually be spent writing up quotes, checking retail prices and reading guidelines. With a flat rate per asset type or serving type, you can choose the best prices for your business from just a glance.
Your customers will love you with a flat rate template, as they will know upfront what the work will cost and can be kept better in the loop of their project. Estimates for quotes can often be tricky and it can be all too easy for a technician to forget to add something to their final quote, only to surprise the customer later with the costs. When you have a flat rate and understand the price guidelines you have adjusted, your customers won't get any unpleasant surprises.
With flat rate pricing, you also have the option of getting your customers to pay with deposits that can be done in stages. This is an easy way to start your invoicing early and make sure you get paid on time.
The only pitfalls of HVAC pricing is when you get your flat rate wrong. This may be due to a lack of skills or knowledge on your technicians behalf or a misunderstanding of the work needed. This is why it is great to have not only well trained technicians but great software in your business to counteract human errors and lack of on hand knowledge. With great software you gain the ability to introduce more customisation into your workflow and ensure you are reaching that healthy profit margin in all your jobs.
Guide To Create Smart HVAC Pricing
Step 1: Know Your Net Income 
When calculating your net income, you need to do a few calculations for your HVAC business to boost efficiency: 
Your total revenue – any material costs – labor – overhead = net income 
Once you know your net income, you can find out what your profit margin will be. This is important to know as it allows you to ensure your labor costs, material and overhead are within reasonable margins. 
To find out your profit margin, you need to:
Net income/ Total revenue = your profit margin
Step 2: Know Your Margin % Goals 
If you want to boost your profit margin for your HVAC business, you need to set goals for exactly what you want to achieve. 
Your goal here for your HVAC business is to boost your profit slowly and smoothly. It's important here not to set goals that are too high and overwhelming for your business. 
Step 3: Consider the Average Consumer and Your Competitors 
When setting your HVAC business goals, you need to take into account what your consumers can afford and expect. What your competitors cost will also determine what your clients will expect from you. Your prices need to be a balance of realistic expectations and the ideal profit margin for your business to maintain. Your profitability will depend on your company's expectation of your margin profits. 
HVAC Price Book
When you have great software, you can create a centralised system where you can access your price book and templates with ease. Having a price book can be the key in maintaining good accounting practices in your company.
Keeping your prices competitive can also come easier with a HVAC price book. One important step in mastering your HVAC price book is doing the research to ensure you aren't cutting yourself short. In this step, you need to get out the calculator, the notepad and make sure that your net profit minus your workflow costs are leaving you with profit.
FieldInsight & Your HVAC Business 
With  FieldInsight  you gain the insight into making the best service decisions and keep your books in a healthy profit margin. For HVAC companies, you want to know everything for your price book from your warranty needs to your customer's first name, last name, asset type and contract requirements. With a great software, you have all your available information on hand whether in the field or in the office.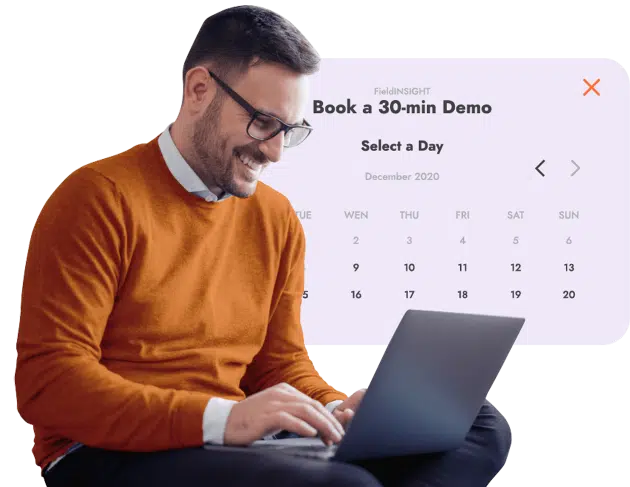 What You Should Do Now
Book a Demo. You'll be in touch with an automation expert who has worked in this space for over 5 years, and knows the optimal workflow to address your needs.
If you'd like access to free articles about managing HVAC workflows, go to our blog.
If you know someone who'd enjoy reading this page, share it with them via email, Linkedin, Twitter, or Facebook.