HVAC Maintenance Inspection Checklist (FREE to Download)
Why do you need a HVAC inspection checklist? Essentially it can improve the efficiency of your business and save you time and money. Did that grab your attention?
Inspection and maintenance checklists are part of improving your business. By using a checklist to improve performance of your business you can then use systems and software automation to help you deliver faster and more consistently.
A commercial HVAC preventive maintenance checklist can help your business on many fronts:
Help you connect better with customers and improve customer relationships and customer satisfaction.
Lead to picking up additional work by being present of mind with your customers.
It can increase the longevity of the equipment.
Improves your relationship with the supplier of the equipment because you're keeping it well maintained.
It reduces the warranty breakdowns and issues with that equipment and generates you more work and revenue.
You have the opportunity to schedule the time that the work is likely to be needed (pre warranty end date etc).
By using a checklist and commercial HVAC software automation you can hugely increase the profitability of your business.
Commercial HVAC Inspection Checklist:
To ensure your customer's assets and HVAC systems are getting the care they need, your technicians need to know when to visit a site and what to check.
While every job and HVAC system is a little bit different from the next, there are lots of general components that you need in every list. Some main areas of criteria for your HVAC inspections might include, but are not limited to:
Inspect the overall state of the asset and installed parts
Inspect temperature and thermostat checks
Inspect electrical connections and components are tight and secure with the correct voltage
Inspect cooling system functioning
Inspect air filter cleaned
Inspect heat pumps functioning
Inspect combustion air checked
Inspect air conditioner refrigerant level within correct spans
Inspect safety measures/controls checked
Inspect coils and connections checked
Inspect pressure checked
Inspect quality of the parts and asset checked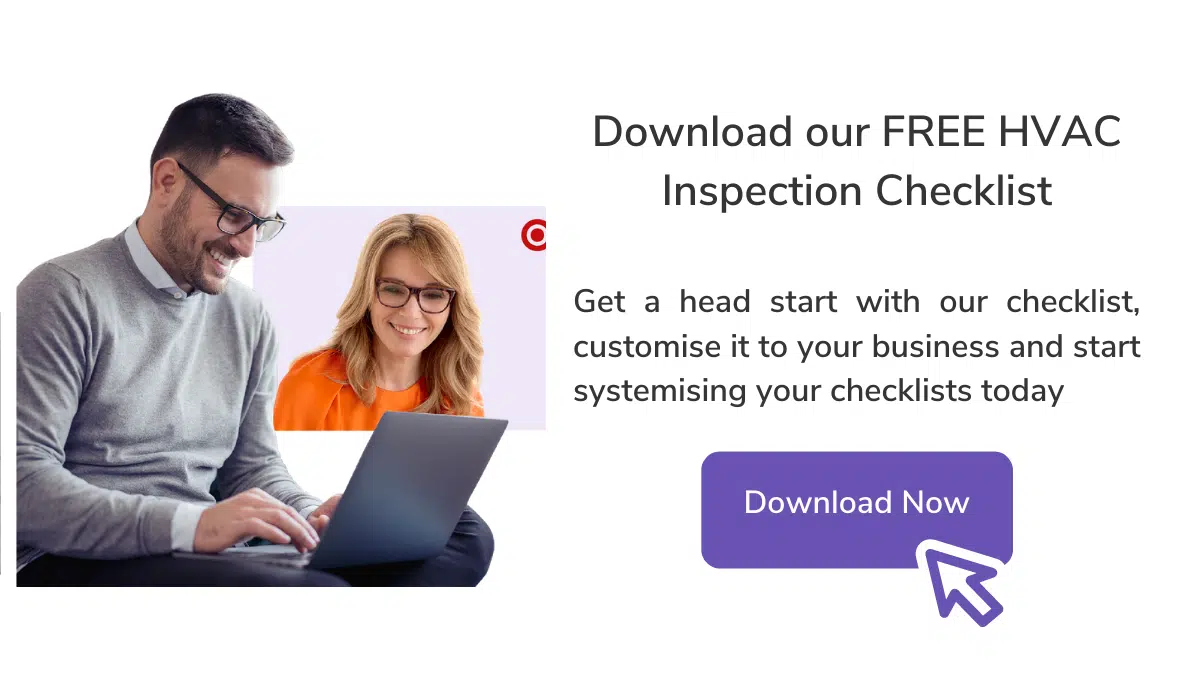 The Importance of Commercial HVAC Maintenance Checklist
Why is a HVAC inspection checklist important? Regardless of the type of checklist (air conditioning maintenance or a HVAC preventative maintenance checklist) – having a checklist is going to help systemize your business (do things in a consistent and repeatable way).
The importance of HVAC inspection checklists falls into six categories:
Longevity: A checklist should ensure longevity of the installed HVAC Unit. It should thereby improve the life of the unit and the satisfaction of the customer.
Increased CRM: Increase your customer relationship management and your contact with customers. This will improve the chances of additional work.
Safety: By having a checklist you can make sure the job is completed in a safe manner. You can make sure both your customer and technician are safe.
Quality: By using a HVAC inspection checklist over time you can increase the quality and efficiency of your service.

Software automation gives you more efficiency and quality control over your work.
You can easily capture data and automatically generate reports after a review from the office.

Continuous Improvement: By having a documented system with automatic record keeping you can easily email customers to give you an advantage over a non-systemized business. That is you can pick up areas for improvement and continuously improve.
Increasing the value of your business: Building a valuable HVAC business is rooted in two core activities outside of the team itself. Systems and Software Automation. By completing and refining your maintenance checklist you are increasing the value of your business.
What makes a great inspection checklist?
A HVAC inspection checklist should cover basic workflow and focus on things that can be easily missed. A great checklist is easy for a technician to follow and completes all the steps that need to be undertaken. To build a really effective checklist you can test it over time and refine your process to suit you.
Paper lists can be all too easy to lose. Paper is hard to update and maintain and even harder to get from person to person. Using paper adds hours of manual time collating and delivering lists to technicians and generating reports for customers, hours that you can easily save by using automated software.
A great inspection list should be:
No longer than a page – short and simple
Concise and easy to follow with unambiguous wording
Easy to understand without having to think too hard (usage diagrams, images to convey steps)
Focus on parts usually missed or of vital importance
Easy to share from office staff to technicians
Easy to check off completed components on the list (and easy to see what has been missed on the list)
How to sell regular HVAC maintenance to a customer
Having all your eggs in the one HVAC commercial servicing basket, you can be left vulnerable in times of commercial or residential downturns (times like COVID19). Being able to develop a residential maintenance relationship with customers, will provide more regular work and an additional revenue stream for your HVAC business. If commercial (or residential) goes off the boil like it has done in the time of COVID19, the question is how do you sell a regular maintenance offering to customers?
Given where we are now, in a period of an increased amount of people working from home, it is paramount for people to have a working HVAC system. These systems are running a lot longer currently and they're more likely to break down. In having a maintenance plan in place, you reduce the likelihood of forgetting anything. You don't want to forget about a maintenance check or to check a particular part, this will increase the chance of damaging your unit. If you have a maintenance plan in place you can increase the efficiency of a unit and thereforereduce electricity costs. This is a great point to sell to a customer, no one likes massive electricity bills, especially if they are avoidable.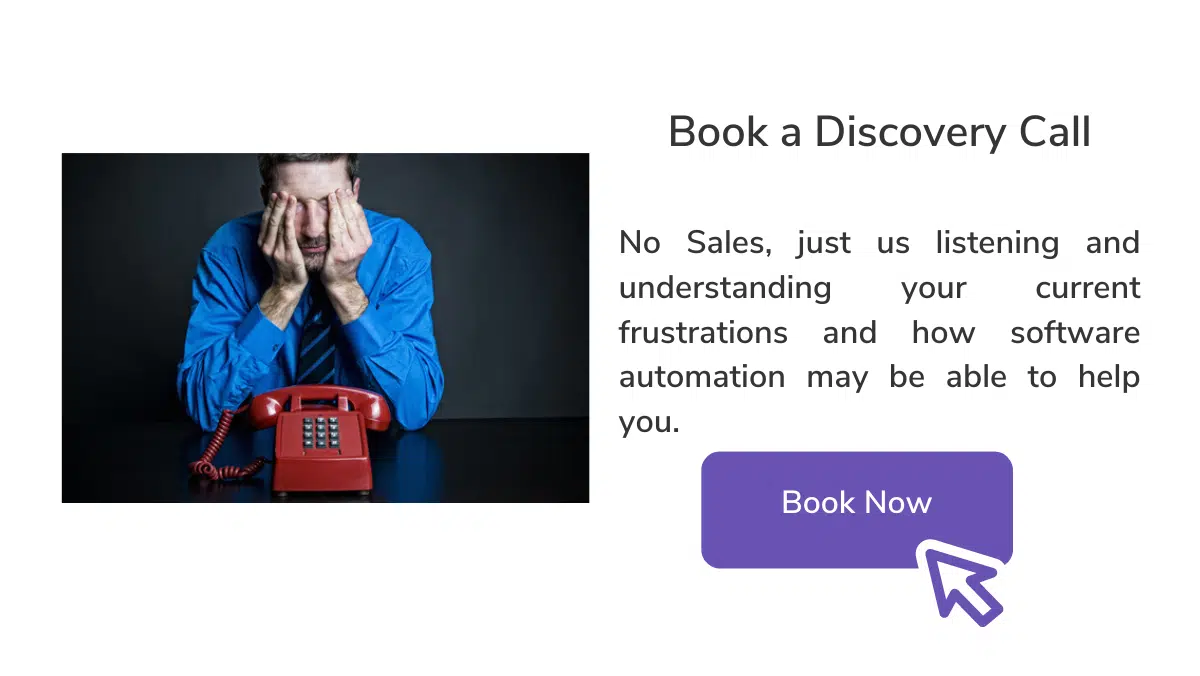 You can deliver these selling points to a customer in a flyer or an email. By using email to encourage residential customers to sign up to a maintenance plan, you can reach a large number of customers in the one go. The similar argument can be applied to commercial customers by saying you can reduce costs of ownership of the unit by maintaining it.
If you have insurance on units, they may require you to meet all the warranty maintenance requirements and to ensure that the system is actually running efficiently. Regular maintenance is recommended, and in some cases required by the manufacturer for warranty. Having a system and plan in place with your customer is the best way to make sure the requirements are met. By simply explaining this to your customer and getting them on the same page as you, they are more likely to keep calling you back.
Consider Using An Automation Software For Office Management
Being able to complete the checklist using commercial HVAC maintenance software can dramatically reduce the effort required and improve theconsistency andquality of your maintenance services. A checklist can increase safety controls, preventative maintenance and efficiency of your business.
With FieldInsight you can increase the quality and efficiency of your business. You can use the automated job management software with FieldInsight to better organise office management and your technicians out in the field. Having a system for preventive maintenance for HVAC can increase the workflow of your business and keep your customers impressed. You need a system that you will be able to trust to organise your business and keep you on track.
Job Management Software to Systemise your Commercial HVAC Business
If you would like a chat about how you could Automate your Commercial and Retail HVAC Business, we would love to chat.
What You Should Do Now
Book a Demo. You'll be in touch with an automation expert who has worked in this space for over 5 years, and knows the optimal workflow to address your needs.
If you'd like access to free articles about managing HVAC workflows, go to our blog.
If you know someone who'd enjoy reading this page, share it with them via email, Linkedin, Twitter, or Facebook.