ERP Benefits and Challenges (Complete Guide)
Is an ERP solution right for your business? There are many pros and cons for ERP software in the field service industry, and your options need to be weighed up before you decide if an ERP is right for your business. 
With ERP Job Management Software, there are many steps to consider from implementation to deployment when thinking about choosing your software. In this complete guide we will discuss the benefits and challenges of an ERP solution. 
What Are the Primary Benefits of Enterprise Resource Planning Software?
Whether you are starting a HVAC business or looking to boost your revenue, enterprise resource planning software or ERP software, can help systemise your business processes. With the benefits of ERP in your HVAC business, you can eliminate redundant processes like paper-based systems and manual data entry and introduce more productivity. 
ERP systems are designed to streamline your operations through a centralised platform to assist in all aspects of your business from inventory management, accounting, customer relationship management, human resources, safety, scheduling and asset management. 
Below is an example of why so many field service businesses have chosen to incorporate an ERP system into their workflow: 
1. Real Time Information 
One of the main enterprise resource planning advantages is the availability of real time information in your workflow. With an ERP you can connect your office and your field instantly to enable instant access of reports and documentation. Real time information enables you to send instant notifications/reminders and keep on top of any discrepancies in your workflow. 
With real time information you can more accurately schedule your technicians and view live status updates of your current jobs. The benefits of an ERP system will ensure that business functions are kept up to date. There is nothing worse than dealing with out-of-date information and making easily avoidable mistakes because of it. Out-of-date information will cause gaps in your schedule and create chaos amongst your team. When you have the power of real time information you can increase efficiency and keep everyone on the same page.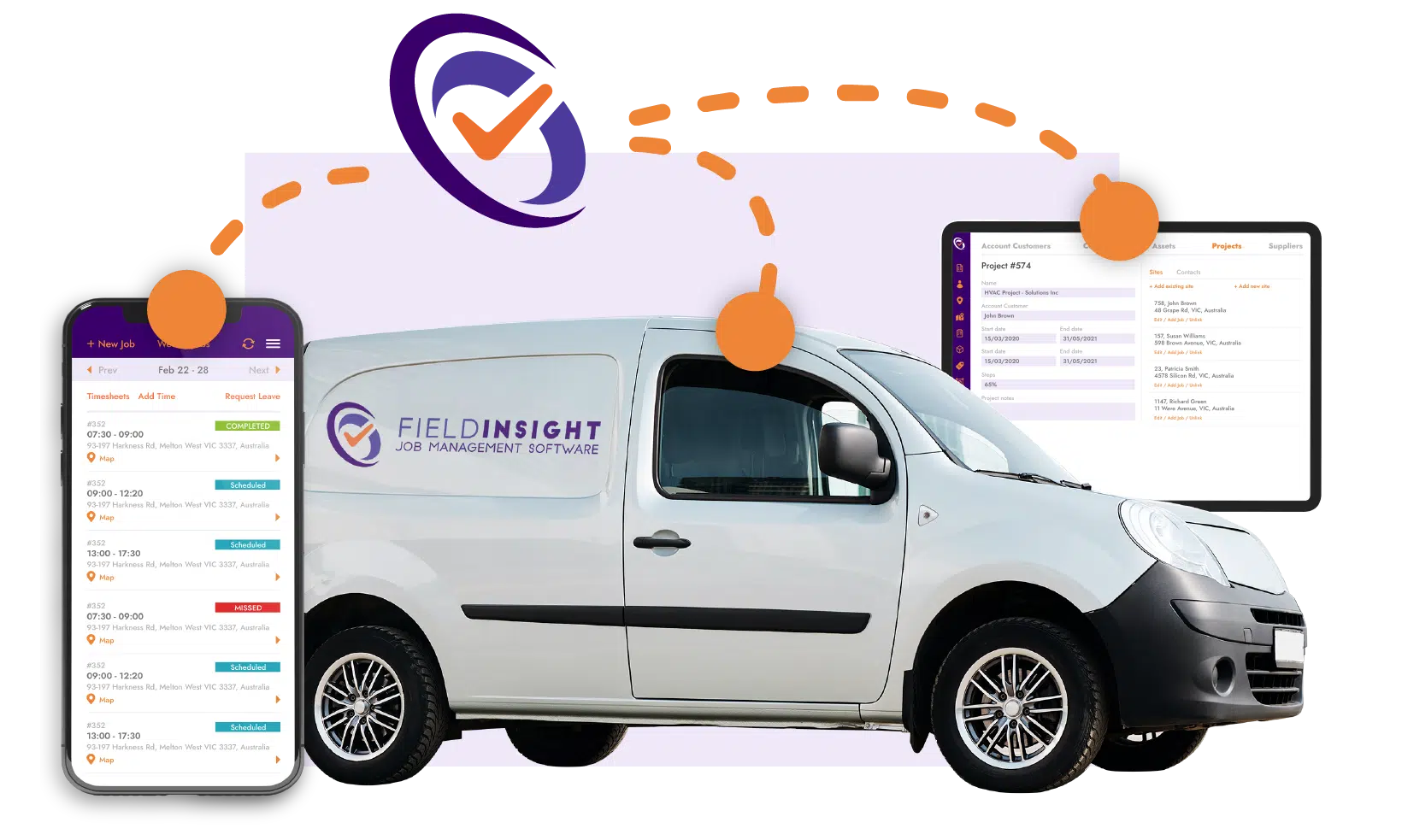 2. Centralised System 
With a centralised system in your hands, you gain full visibility over all your day-to-day running's. You can instantly access inventory management from the field to check on a part number or access asset history with just a click. With increased efficiency and data accuracy in your business, you can streamline your business with a centralised system. 
3. Boosted Efficiency in Your Workflow  
With an ERP system, you can save on the amount of time that goes into entering and analyzing data. As a part of your business plan, you need to have efficiency amongst your team. With ERP solutions you can cut admin time by up to 24%. When you don't have to handle pesky double data entry and excessive paperwork you can streamline your workflow and boost your efficiency. 
4. Improved CRM 
Not only will an ERP solution benefit your business, but your customers will love it too. Your customer relationship management or CRM is vital in keeping consistent and ongoing work from your customers. 
The advantage of an ERP software helps your team concentrate on nurturing long lasting customer relationships through real time information and fast customer reporting. When you have a centralised database, you can send your clients information with just a click and ensure they are kept in the loop. With automation in your ERP software, you can meet customer expectations from quote to invoice and everything in between. 
Information is key and when you have provided your customers with the information they need for their assets, they will be more likely to stay with your business longer.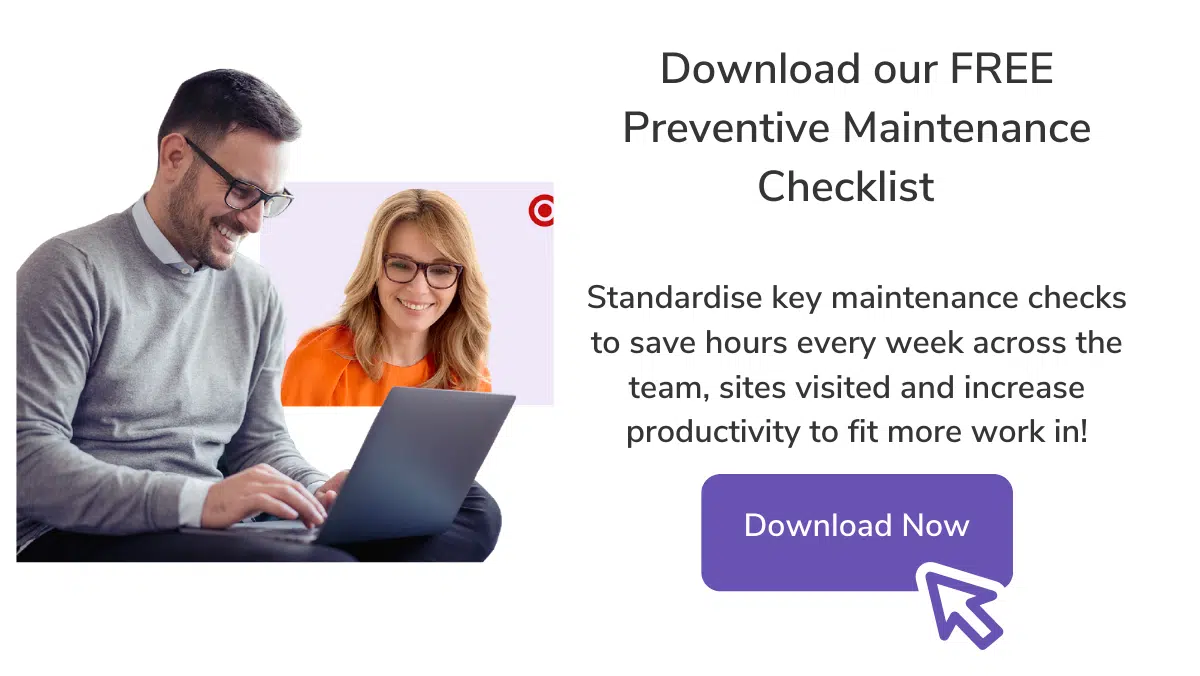 5. Consistency in Your Business Processes 
In the field service industry, it is important to have consistency in your business. The benefits of an ERP solution mean that you have access to up-to-date information, checklists and templates. In the field your technicians can access checklists that you have created to ensure every maintenance test is performed accurately. 
It can be all too easy to lose track of information while in the field and with a centralised ERP system, you can be assured that all your data is in the one easy to access place. 
With consistency in your workflow, you can better predict asset trends and workflow patterns. When you can predict when an asset might need new parts or when your quiet periods are, you can take measures to avoid low performance. 
6. Better Safety and Compliance 
With the ability to access SWMS in your ERP solution, you can ensure your regulatory compliance is kept up to speed across all your job sites. 
With the amount of regulatory compliance and safety measures that are necessary on high-risk sites, it is vital that your technicians have up to date SWMS in the field. Not only does SWMS and compliance keep your team safe on site but helps to avoid fines from auditors and site managers. 
The benefit of an ERP software is the availability of templates and safety checklists for your technicians in the field. When you can set up safety measures and hazard reduction practices for your team, you can ensure to keep everyone on site safe and sound. With the centralised software of an ERP, technicians can also update any new hazards while in the field (without the pesky trip back to the office). 
7. More Opportunities for Growth 
When you have high visibility over all your current jobs, budgets and projections, you can better prepare for your future. With ERP systems, you can help to reduce equipment downtime and wasted double data entry in your business. When you have more control over every aspect of your business and you move your workflow from Chaos Town to Smart Town, you can prepare to scale up and grow your business. 
You gain more opportunities for growth with an ERP system with the ability to grow your customer relationships, expand your job management and cut down on wasted time and money. With an ERP system you can save 10+ hours a week that would have been lost on wasted travel time, double data entry and chasing your tail. This can easily grow to saving up to 520 hours a year – that's a lot of extra time to have on your hands. 
8. Smoother Supply Chain Management 
ERP software will smooth out your supply chain management and shorten your sales cycle to be more efficient. When you have the ability to streamline your workflow with an ERP solution, you can be more decisive in your sales cycle and get paid faster. With tools like status triggered notifications and messaging, you can ensure as soon as your technician has completed the job, an invoice will be sent to your customer – no more forgetting paperwork or putting it off until Monday. 
With Job Estimate Templates and visibility over your jobs, you can put to work some industry best practices in your day-to-day workflow.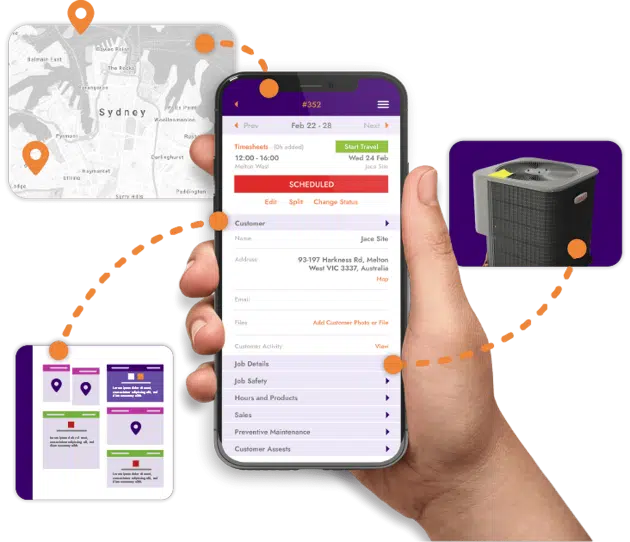 What are the challenges of an ERP system?
While there are many benefits to an ERP solution, there are also some disadvantages to consider. 
1. Your Initial Cost 
Do you know how much it costs for an initially implemented solution vs a cloud-based ERP software? Enterprise resource planning systems provide a major investment for businesses, but it comes at a cost. Depending on what type of ERP platform you choose, you may end up paying a subscription or an upfront cost. For many on premises automating processes, there is usually a large upfront cost for your software. On the other hand, cloud-based software uses a subscription type fee and can be upgraded or downgraded over time as needed. 
Curious to see How Much an ERP Solution Cost For a Field Service Business?
2. Upgrades and Maintenance 
Just like your assets, your software will also require maintenance and upgrades from time to time. This is often a forgotten cost for many businesses and can end up being an unpleasant surprise. 
Similar to your maintenance checklist for your assets, you need to ensure that your ERP systems are running at peak performance and up to date with the latest enterprise solution software updates. Your maintenance costs for breakdowns or bug fixes can vary over time. You need to ensure that the software you have chosen has the ability to grow with your business and evolve with the latest modern ERP software updates.  
3. Over Complicated Systems 
While the list of complex systems for ERP grows, you may feel overwhelmed with your available choices. Consider the old saying, "If it's not broke don't fix it". Does your business have space and time for complicated systems that sometimes take up more time and energy than they are worth? 
Implementing ERP software can be a long and complicated process if you don't have the right tools on hand. ERP software requires a lot of time and consideration for successful implementation and this needs to be taken into account before you choose your ERP platform. With most ERP systems, you will find that you have to hire ERP consultants to assist in your implementation and deployment if you don't have the right in-house skills. 
4. Time Consuming Customisation 
While customisation is a great feature of many ERP vendors and can give your business a competitive advantage over other businesses in the field, it can also be a challenge. ERP software requires time to be implemented and part of this process is customising your software to suit your business operations. Management software can be both a blessing and a curse with the ability to specifically tailor your software to suit your business needs you can ensure you are capturing the right information that you need.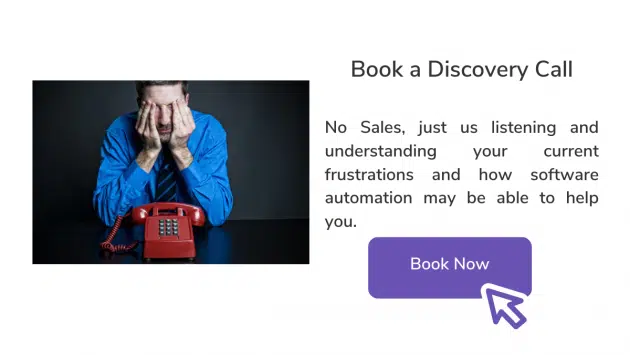 Why you should consider an ERP software solution
While there are a few challenges that accompany successful implementation of ERP software, for most businesses, the benefits far outweigh the challenges.
With the right project planning and ERP solution at your back, your business will see increased efficiency in no time. 
With FieldInsight you gain an all-in-one software solution that covers everything from day-to-day business operations to allowing you full visibility over your key performance indicators. 
Call one of our product specialists to discuss more or book a demo today.
What You Should Do Now
Book a Demo. You'll be in touch with an automation expert who has worked in this space for over 5 years, and knows the optimal workflow to address your needs.
If you'd like access to free articles about managing HVAC workflows, go to our blog.
If you know someone who'd enjoy reading this page, share it with them via email, Linkedin, Twitter, or Facebook.