Field Service Management Software
Unite your team. Manage every job step from quotes to installations and extend asset life. More time. More insights. More profits.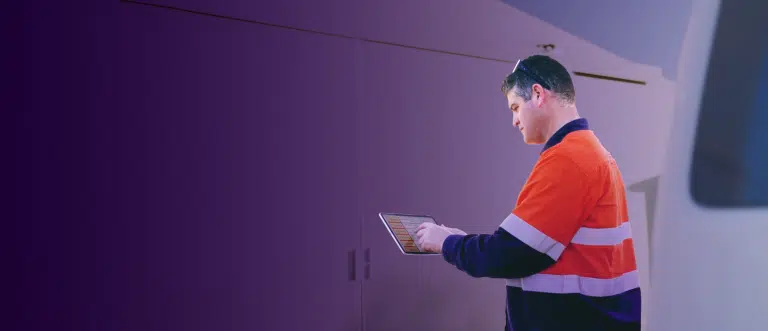 The Only Asset-Focused Field Service Platform
FieldInsight excels in the market with its unmatched capabilities in job scheduling, asset reporting, preventive maintenance, and workflow customization. Reduce waste and increase profit. Oversee every job aspect and ensure asset longevity.
See How It Works
What our Customers Are Saying

Heating And Cooling
"I tried other Solutions and spent $10,000 and over 6 months trying to get it to work; I couldn't get my data in or get it working the way I needed. It was incredibly frustrating. I called Paul and explained what I wanted and he stuck with me to get everything I needed up and running. It took a little while for the team to get onboard, but now they love it too. Life is just flowing so much better now."

Commercial HVAC in Melbourne
"I used to spend weeks chasing paperwork and 2 hours creating each report for a customer, we do 100s of maintenance contracts and this was a huge time waster for me. With FieldInsight, it takes minutes to generate the reports and the guys have the information they need to do their job in hand which meansI get the information on the same day, such a win for me."

Sandman Electrics
"Being able to re-assign a technician for an urgent job is critical to my business. Being able to create that job, assign and notify both the Customer and the Technician is a great customer experience."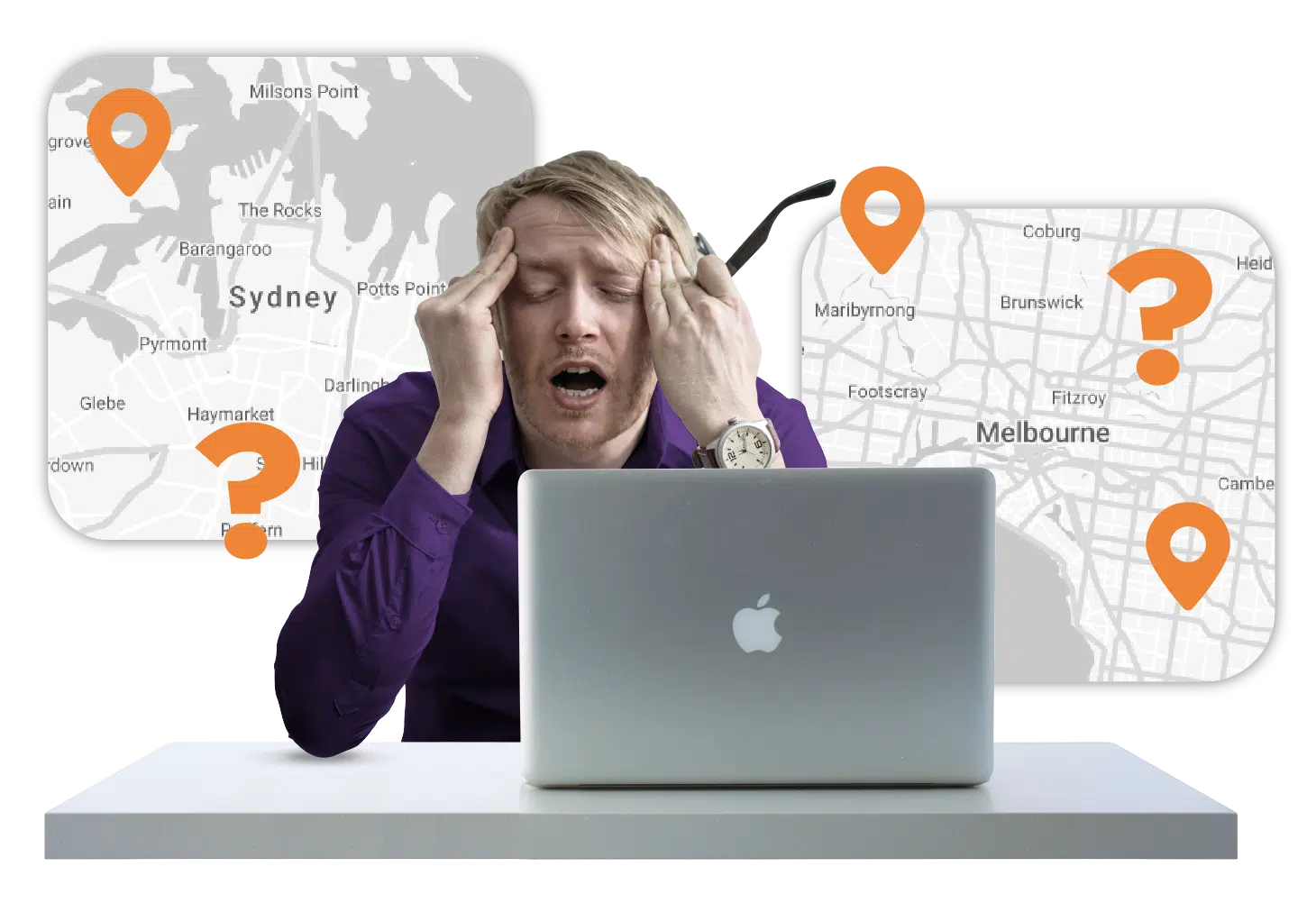 Does your team feel like they are running in opposite directions?
What would it mean for your business if your whole team was running in the same direction? Your schedules knew what your technicians are doing. Your technicians knew what they had, and your customers were happy. What sort of business could you create if everyone was on the same page?
Tablet & Mobile field service management software. Easily accessible everywhere:
Instant connection between office and field
Save time on generating reports and customizing information
Configure your own workflow to fit your business needs
Improve work's efficiency and reduce time wasted
Reduce frustration with information available at your fingertips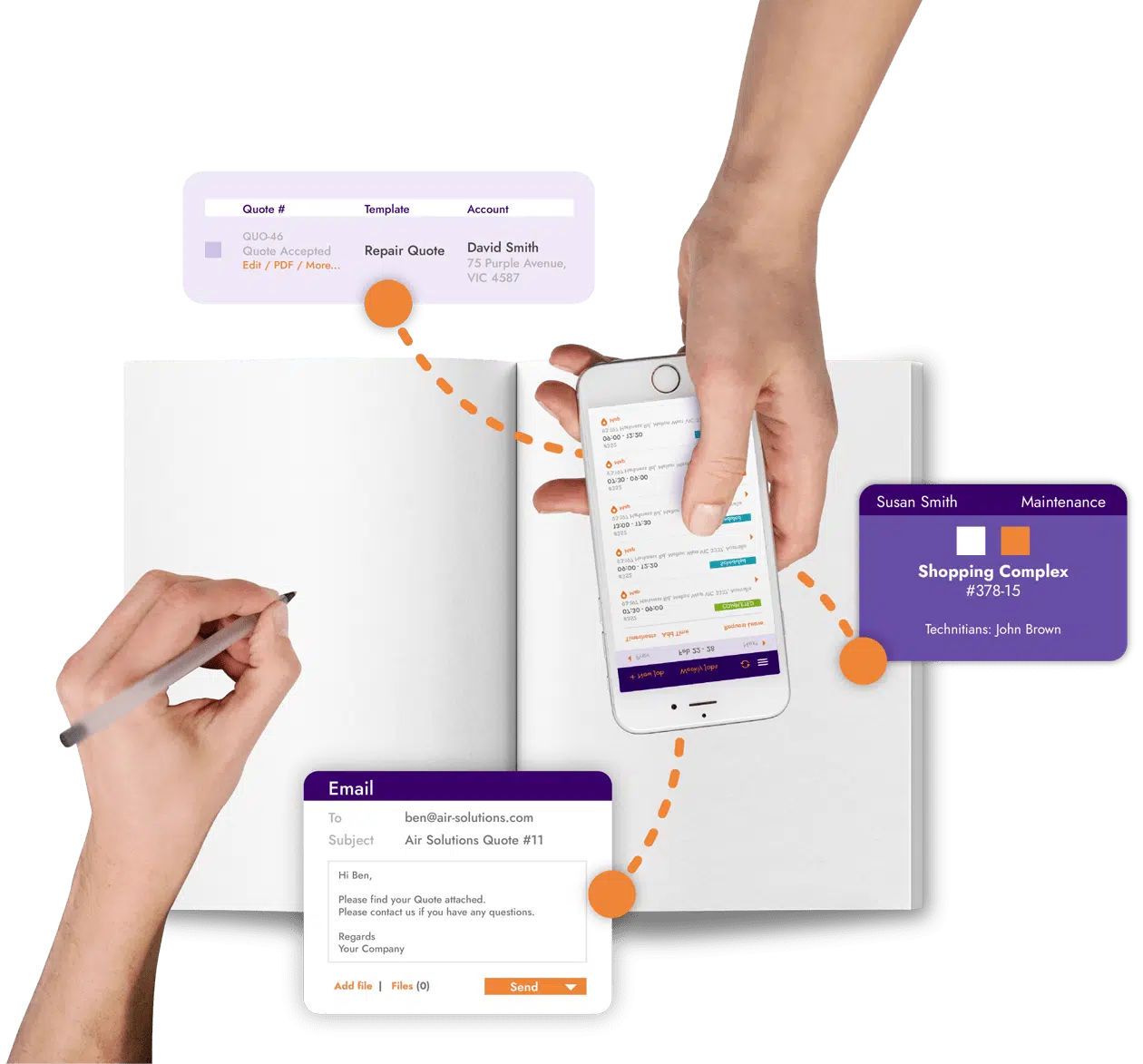 Do you struggle keeping track of everyone?
Get full visibility of the locations and tasks of your team with our field service management software. Our live schedule feature reflects the job status of field technicians in real-time through a click of a button. Whenever there's a change in the field., the office gets an update on job status and documents.
Get full visibility of staff locations and daily tasks of your team with our field service management software
Improve the team's communication and keep track of job statuses with easy emailing and SMS reminders
Schedule smarter with timesheets
Easily manage job history, customer communication, and job site data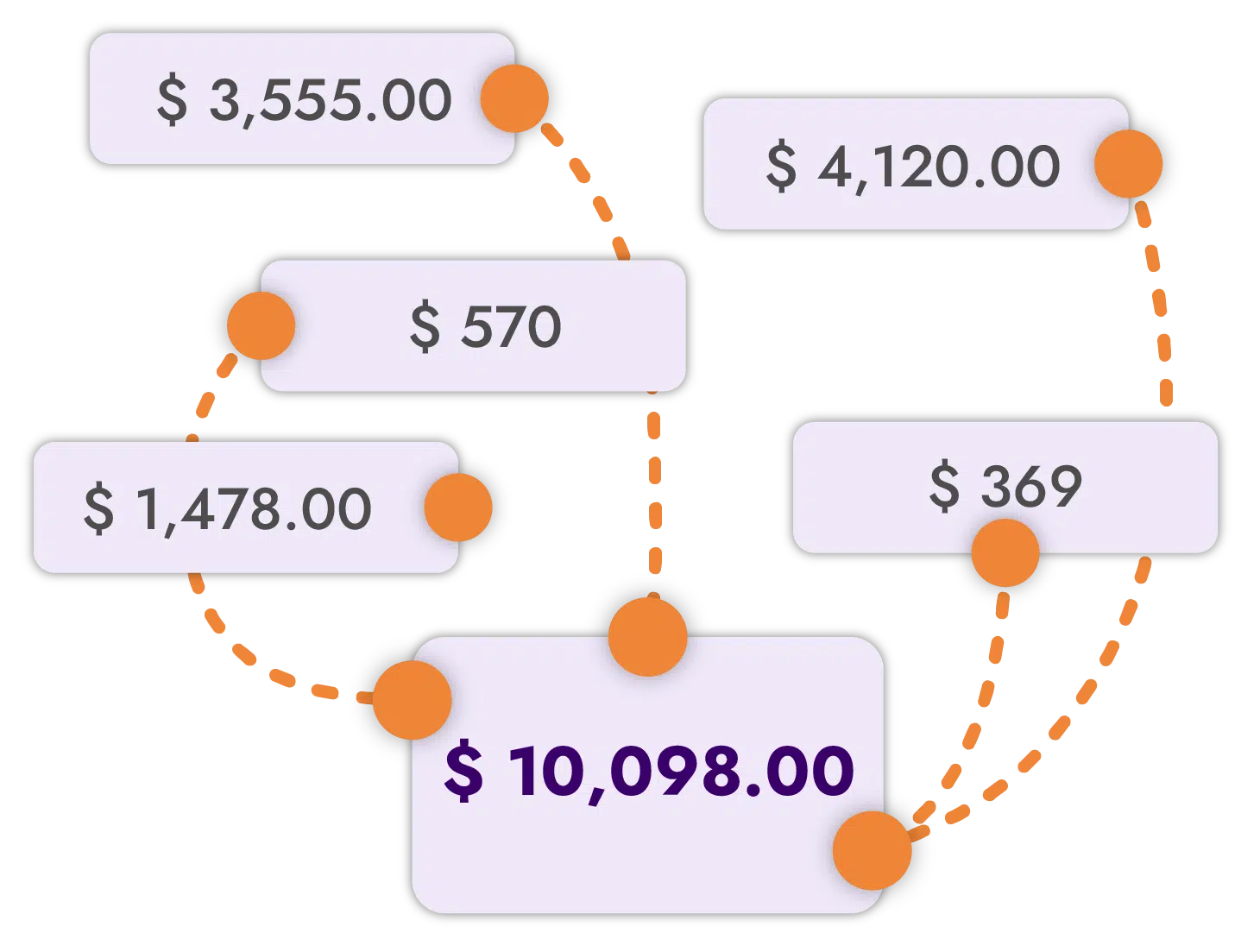 Are you tired of manually tracking your Costs?
Keep track of your costs with FieldInsight. You can use this information to segment your customers and your work type. You can use it as a reward and improve your team.
Easy to access timesheets. Improve your payroll process by full visibility of the real-time hours your team put into their work
More efficient project costing by job type feature. Give you clarity over materials used, hours taken to do the job, and how many technicians you will need next time for the job.
Ravel and shift time management. Using the option to click start and stop, your technicians can log hours spent traveling or working.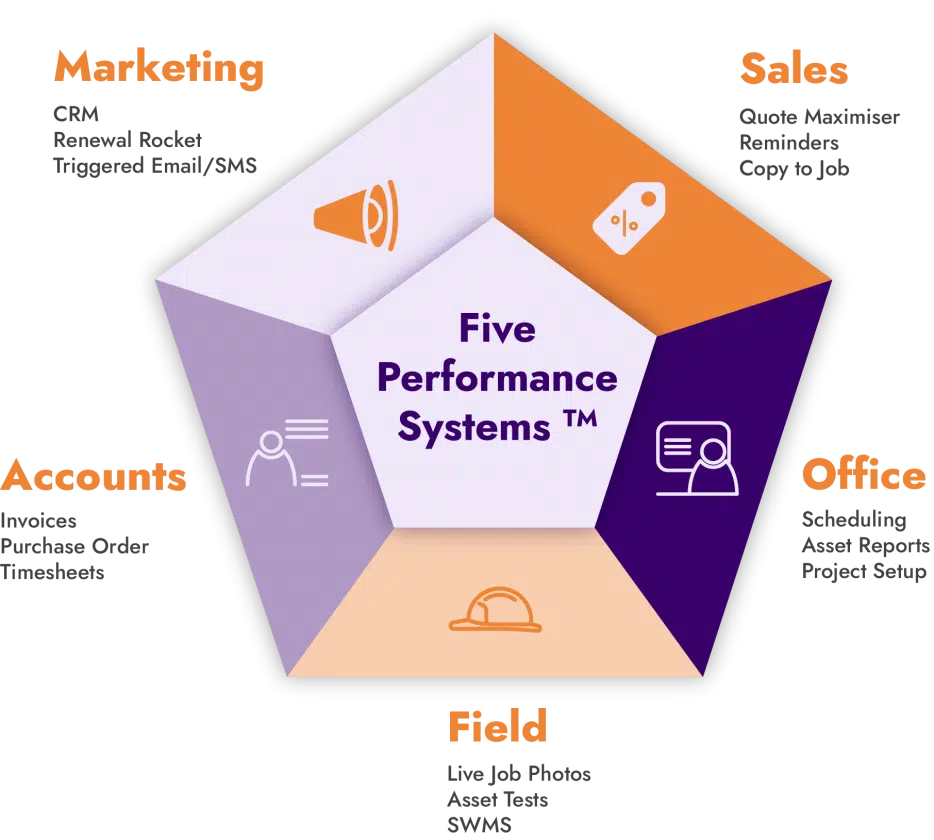 Improve and Automate Your Business's Systems
Grow your field business and gain an edge over your competitors with our flexible job management software. By having your systems defined in the job navigator, you can set your job statuses and workflow for the scheduler and the technician. You can then automate or design your business system and the software helps with your execution.
Grow your field business and gain an edge over your competitors with our flexible job management software
Have a history and ability to look back at how much work has cost, allowing you to replan and move forward
Save time on traveling between field and office
Improve staff's location tracking and client signatures collection
Want to Save Time?
Save hours finding information with FieldInsight. Have all your data in a one easy-to-use system. All your information is searchable by using phone number, suburb, state, quote, job or asset. With a simple search, you can find everything you need without having to call the office or drive over town to find the paperwork.
Find and capture any information you want by using our advanced job search with your own custom fields
Ensure that you don't miss anything in a job with Job History feature
Have all the customer and asset test history in one place
Communicate JOB STATUS instantly to the office
Time-sheeting captured from job information as the day progresses
Easily complete SWMS in the field.
Complete asset tests in the field and issue reports automatically.
Manage customer expectations for ETA notifications.


Integrate Field Service Management Software With Your Other Computer Systems
Increase efficiency and create error-free job workflows across the Field and Office. You can integrate field service management software with your other systems
Increase efficiency and create error-free job workflows across the Field and Office
You can link field service management software with accounting software such as Xero, QuickBooks, MYOB to achieve faster invoicing results
Quoting software, such as QuotientApp
Improve customer experience and satisfaction with better communication and streamlined processes
Free yourself from administrative responsibilities so you can focus on creating new business opportunities. The software improves each field technician's output since it ensures to meet all your business needs with superb project management usage. Get all everyday jobs, schedules, and assignments completed in the most efficient manner possible with FieldInsight. 100% Customer satisfaction guaranteed.
Want to see FieldInsight in Action for your Business?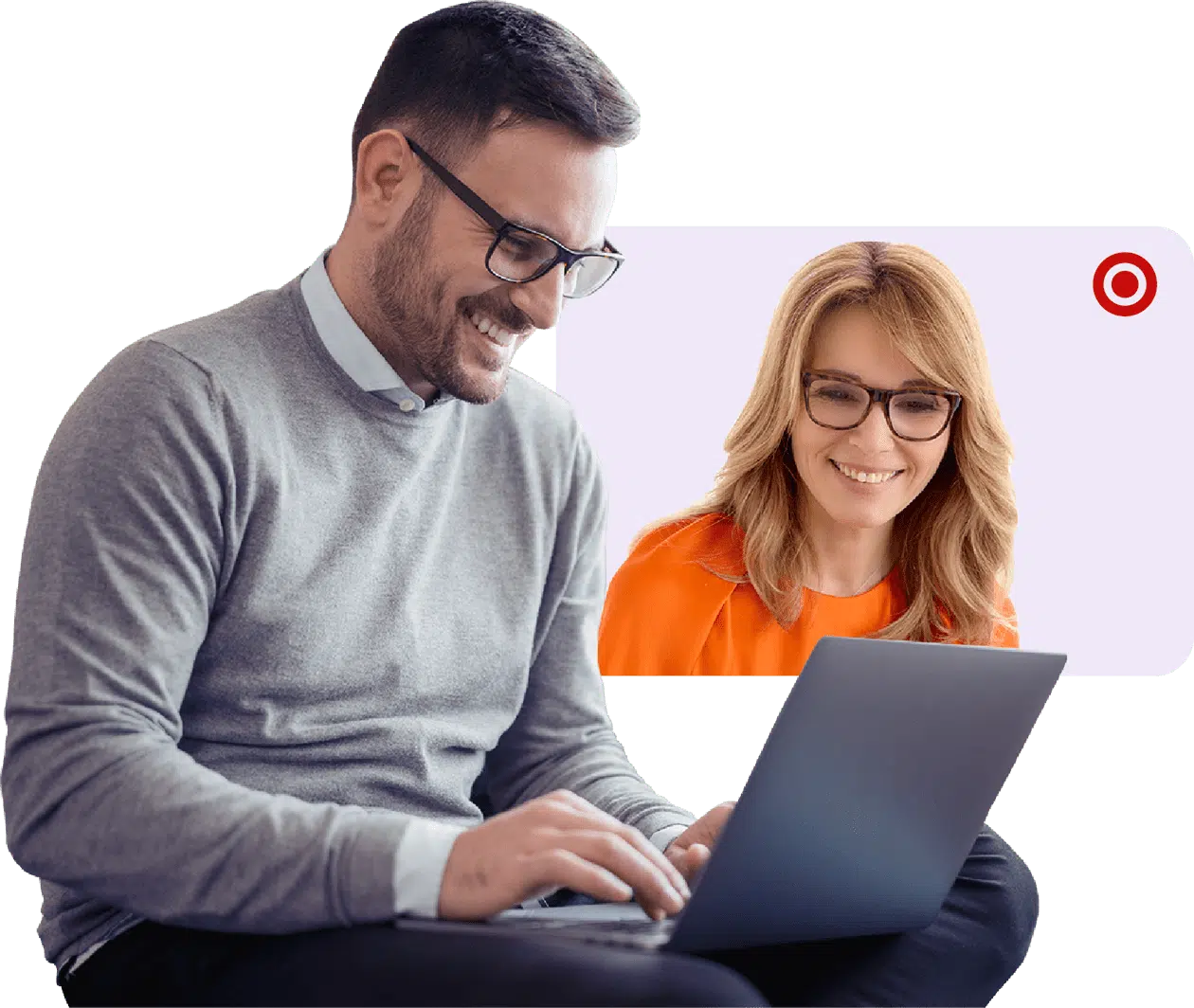 No Sales, just us listening and understanding your goals then show you exactly how you can achieve them using FieldInsight.
You'll be working with a product and automation expert who has worked in this space for over 5 years, and knows the optimal workflow to address your needs.
Book a 15-minute Call today to see FieldInsight in Action.
Frequentlly Asked Questions
What is Field Service Management Software?
Field Service Management (FSM) software is a system designed to help manage a company's field operations. This could include coordinating field staff activities, managing customer information, scheduling and tracking work orders, providing real-time visibility into operations, and tracking inventory. It's used to streamline field operations and improve efficiency, reducing the need for paperwork and minimizing errors.
How much does Field Service Management Software cost?
The cost of Field Service Management Software can vary greatly depending on the features offered, the scale of your operations, and the provider you choose. Some providers offer subscription-based pricing, which can range from $20 to $200 per user per month, while others may offer a one-time license fee that could range from a few hundred to several thousand dollars. There can also be costs associated with implementation, training, and ongoing support. It's best to contact software providers directly for the most accurate and up-to-date pricing information.
Who should use Field Service Management Software? Are there specific industries or businesses that can benefit more from its features?
Field Service Management Software is beneficial for any business that operates in the field and needs to manage remote, off-site workers or services. Industries that often use this software include telecommunications, utilities, waste management, home health care, property maintenance, IT services, and any other industry that requires mobile workers to perform tasks or services at different locations.
Can Field Service Management Software be customized to fit my business needs?
Yes, many Field Service Management Software solutions offer customizable features or modules that allow you to tailor the software to fit your specific business needs. This might include custom workflows, custom fields, or the ability to integrate with other business software you use. However, the degree of customization available can vary between software providers, so it's important to discuss this with potential vendors when choosing a solution.