SimPRO Pricing, Review and Alternatives (2023 Guide)
What is great software and how do you find out what's best for your business? In this guide we will dissect SimPro to show you how to determine a great software solution and show you alternative job management  solutions. 
What is SimPROsoftware? SimPRO enterprise software is a field service management software that helps to streamline business workflows. As a field service management system, SimPRO uses workflow management and cloud based software to create more accuracy in your business. With the new SimPRO mobile app, you can access field data and update real time information. 
SimPRO Review: Key Takeaways
SimPRO: Pricier software with comprehensive features for trade and service industries, but has some drawbacks like a clunky interface and no free trial/version
FieldInsight: Top alternative offering an all-in-one solution, better value for money, dedicated customer support, seamless field service management, advanced asset management, and user-friendly inventory management for various industries
SimPRO Pricing
SimPRO pricing, when compared to several other software programs in the same industry, can be considered a little on the expensive side. This software starts at $129 per license as a software package, but this can increase based on features added to your platform.
While software can range anywhere from a few dollars to a few hundred dollars per month, it can be hard to gain a good grasp on what a good price is for software. Typically the size of your business and amount of customisation you want will impact the size of the software and the price will vary as such. Price can also depend on paid options for software as either a one off purchase or a subscription based option. Other factors to consider when talking about a software include costs for training, data migration and implementation. 
Visit the SimPRO helpdesk if you want to learn more about your local support team. 
Pros of SimPRO
Some of the pros of SimPRO include: 
Multi stage projects 

Managing inventory tools

Determine job status 

Mobile app

Job management software 

Project management aspect 

Tools for tracking job cost management 

Billing, invoicing and quoting options 

Suited to the trade and service industry 
Cons of SimPRO
While SimPRO software is a sound software and well suited to some businesses, there are a few confusing aspects to the software that require more management. 
Cons: 
Seems clunky to use 

No free trial

No free versions 

No billing portal

No document management 

No tax reporting 

Time tracking is limited

Takes practice to learn the system 

Some teams may require ongoing support 

Ill suited as a global software 
What's the best alternative to SimPRO?
FieldInsight is an intuitive field management software that builds a rock solid, supportive, knowledgeable and easy to use software for the field service industry. FieldInsight has job cost management, inventory management, job tracking and more, all built into the one easy to access system. As a management software solution created in Australia, FieldInsight is a robust and intuitive field custom software. 
FieldInsight stands out as SimPRO's competitor thanks to its widely received audience across the  commercial HVAC, plumbing, electrical  and  mechanical industries. While there are many alternatives to SimPRO software on the market, the key to finding your perfect software is in the details. Is the software flexible? Can you add customisation? Can the software grow with your business? Does the software have all you need in the one system? 
Top 5 Reasons Why You Should Choose FieldInsight Over SimPRO
While SimPRO software has many advantages, FieldInsight is an All-in-one solution that serves as its best alternative. You will find the likelihood to recommend FieldInsight as an overall service project software is high due to FieldInsight's workflow management and highly trained support team. If you find yourself weighing up your options between FieldInsight and SimPRO, here are the top 5 reasons why FieldInsight will be more beneficial for your business. 
#1 Value for Money 
One of the best reasons that FieldInsight beats its competitors is due to its value for money and all-in-one software solution. While many software packages on the market offer a wide range of features, they are often out of many businesses' price range. Alternatively, you will find many other software packages that are reasonably priced, offer little to no features and customisation. You might find yourself buying into several software platforms just to get the features you want and this can lead to an over-complicated workflow. With FieldInsight, you can get all you need in the one software package (no more confusion in switching from platform to platform). 
Check out FieldInsight's  Competitive Pricing online or contact customer support to talk to one of our product specialists today and  book a free demo. 
#2. Customer Support 
Do you find customer success is always just out of your reach? FieldInsight's dedicated customer success team will tailor our software to best suit your needs. Unlike many software solutions that only have a standard technical support team, FieldInsight goes beyond to ensure you get the most from your experience. 
You won't be left in the dark with FieldInsight. With either our dedicated product development team or a customer support member, we can transfer your existing customer database and set up an implementation plan  for your team.
#3. Field Service Management 
Do you struggle with tracking asset information while in the field? With FieldInsight, you gain extensive field service management  that connects your office and field seamlessly.
By using FieldInsight's field service management, you can save time in systemising your software program, eliminating unnecessary phone calls and reducing job costs across your team. 
FieldInsight can update real time information and track your material and labor costs with just a click. With FieldInsight's competitive software, it makes keeping on top of pending and progress jobs easy as pie. 
Do you know what the  Best Field HVAC Software is in 2021?
#4. Killer Asset Management 
FieldInsight's  asset management software will track your job statuses and centralise your asset information. With FieldInsight you have the ability to access all your asset data from the same software program as your testing, checklists, SWMS and office management. 
With the FieldInsight mobile app, you can create visibility over all your asset information and history (no more forgotten paperwork ever again). 
#5. Top Of The Class Inventory Management 
You will find that the inventory management part of FieldInsight's software package fits seamlessly into your business. Unlike the SimPRO mobile app, FieldInsight offers an easy to use interface that makes tasks like tracking job costs a breeze. 
When you have the ability to see what your warehouse has in stock with just a click, you will find you have more power in your workflow and consequently have less mistakes in your system.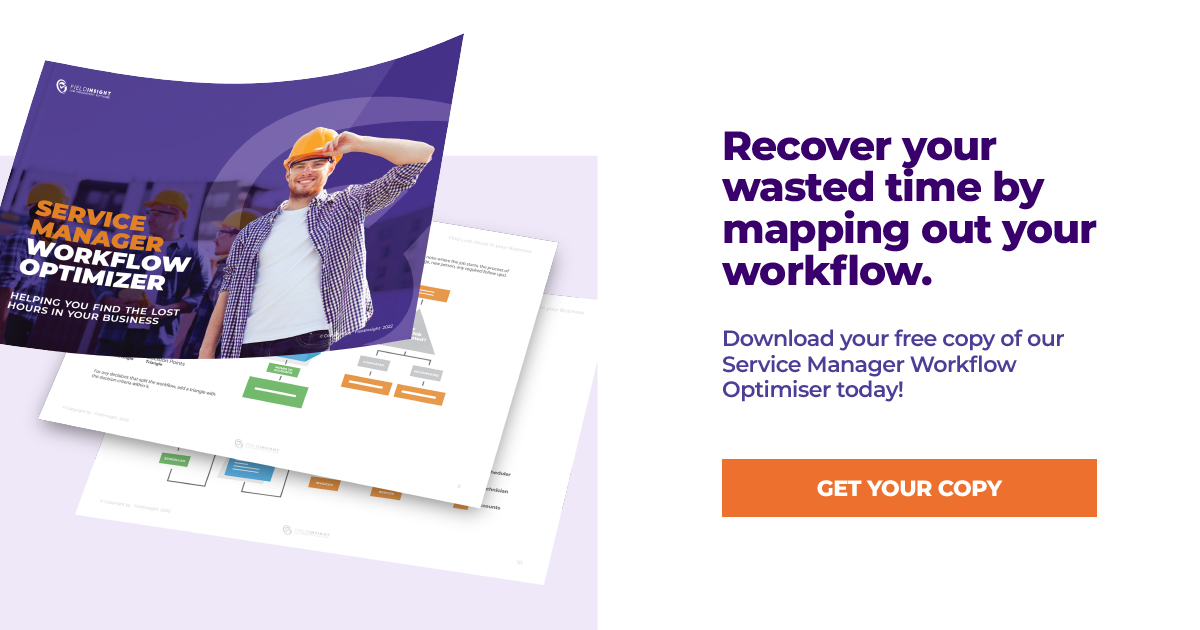 If you want to have a job management software that seamlessly connects your business, book a demo today and see what FieldInsight can do for your first hand. 
For more software comparisons, see  FieldInsight Job Management Software Comparisons to learn more.
What You Should Do Now
Book a Demo. You'll be in touch with an automation expert who has worked in this space for over 5 years, and knows the optimal workflow to address your needs.
If you'd like access to free articles about managing HVAC workflows, go to our blog.
If you know someone who'd enjoy reading this page, share it with them via email, Linkedin, Twitter, or Facebook.