Good day FieldInsight followers (and those who still remember us as Scheduleflow).

Part of our Values is to Delight our Customers and this means continuing to innovate and provide new features or optimisations to help our customers become more efficient in running their business.  Our Mission is to help those using our software to gain back hours of productivity in their team, to make them more productive and profitable on every project/job.
So lets see what is coming up shortly in our feature roadmap.
Job Management workflows
JSA/SWMS workflows are complicated. Every business has a different take on how to do it and we wanted to get a baseline so people could quickly get a workflow up and running quickly and also give them the ability to make it easy and fast for the technicians to enter the data.
We've been doing a deep dive on the JSA and SWMS functionality around:
multi-signatures on SWMS,
really flexible JSA forms :- a simple set-up to start.
We've worked really hard to try and build a simple form so technicians can go through their JSA checklist and sign it off.  The office can then quickly see whether they're signed off or not and take action quickly.
Timesheets
Those pesky timesheets that everyone hates but is king when it comes to knowing:
how much to invoice your customers

how much to pay your staff,
a key input to whether you jobs/projects are profitable
In light of that, we have done a deep dive on timesheets to make it easier to log non-billable times and make it easier for the technicians to see where they've tracked time and where they haven't tracked time.
This is really important on projects when you've got a bunch of guys out there and you want their time sheets done on time and easily.  We're working on those workflows and screen designs for the Web App view for the Technicians.
Follow-ups
Last week we spoke about adding thousands of dollars to your bottom line by following up the services work for your business. 
Leveraging the Follow-up report is powerful and if you are not using it (or dont know how to set-it up for your Field Service Business) then get in touch with the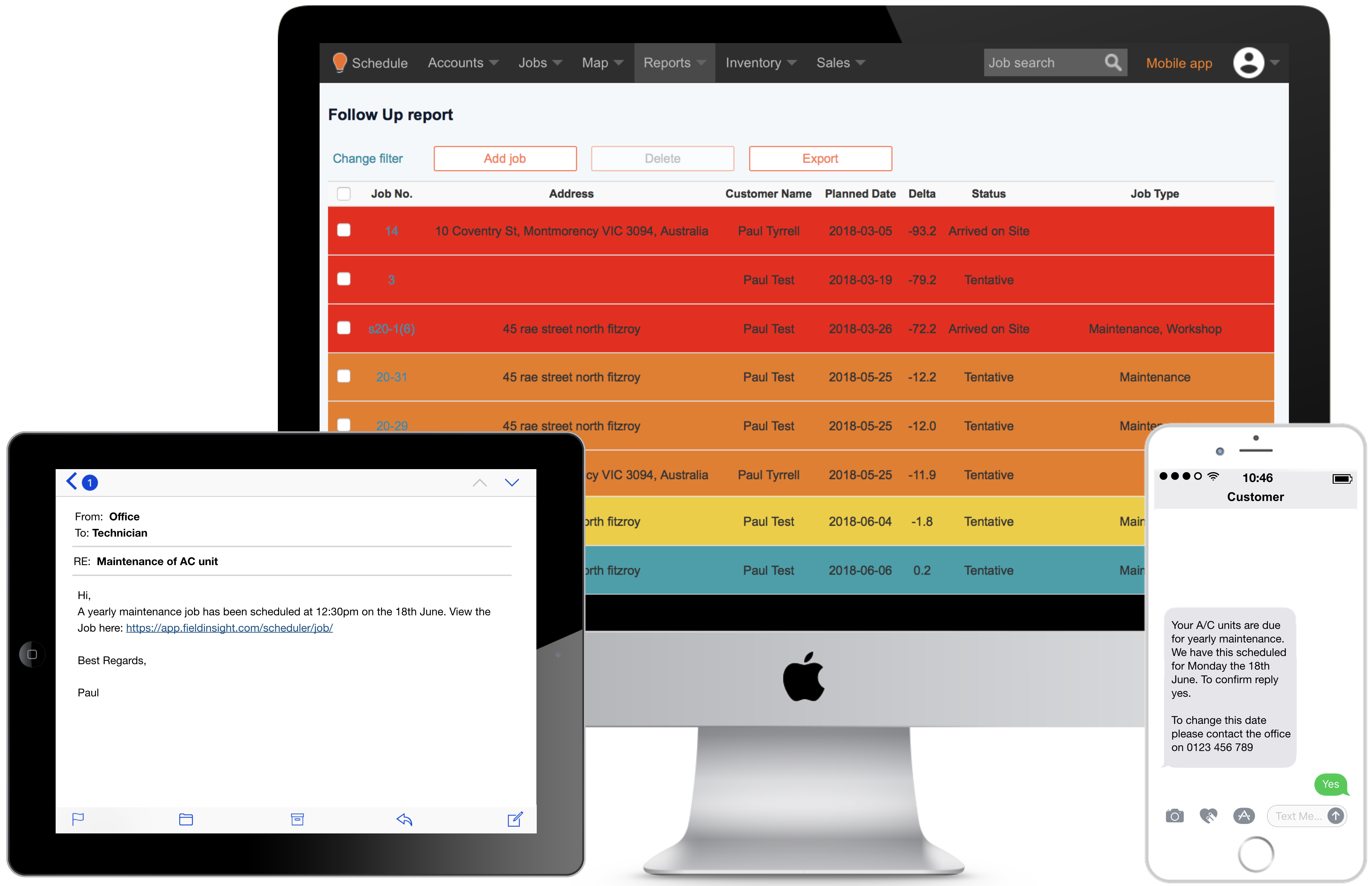 team at support@fieldinsight.com and book in some configuration/training time (small hourly rate applies) as there is additional money you are not tapping from your customers that could be costing you financially.
Profit & Loss
All of these changes tie in to our revamp of P&L reporting per project and per job.  We want to  make it super easy to see how your Projects / Jobs are tracking so you can make informed decisions that keep you in the green (not the red).
As you can image, trying to build these is a challenge but we have thrown everything in to designing the profit and loss reports around schedule performance and budget performance on each project that will meet the needs of any field service industry.
Watch this space
We will roll parts of these features out incrementally over the next couple of months, we will have some neat screen shots and videos to show you how they work.
So, drop us a response or an email on your thoughts, if you are an existing customer and want some help with your workflows then get in touch via support@fieldinsight.com
Referrals:
Do you know someone managing a field service business who might benefit from our Job Management software – send them our way.  If you are an existing FieldInsight customer, we appreciate your recommendation of us.  
Have a great week.