Congratulations, you have made the big step to searching and finding a Job Management software solution for your HVAC Business; or you could be Electrical, Plumbing, Pest Control, Concrete pumping, Lawn/Garden Maintenance the list goes on….the most important similarity across Field Service industries is finding a way to streamline their business for growth and software is the quickest way to achieve this.
It is natural that you have high hopes about what a job scheduling software solution can do for your HVAC business…..and we certainly take that responsbility SERIOUSLY here at FieldInsight – we have spent 10 years perfecting our software for HVAC Commercial and Retail (across Installation & Services) with the help of our customers.
So, how can we take the stress out of this big decision for you…easy….our 3 pillar outline is how we help businesses streamline their business and is core to how we engage and support our customers.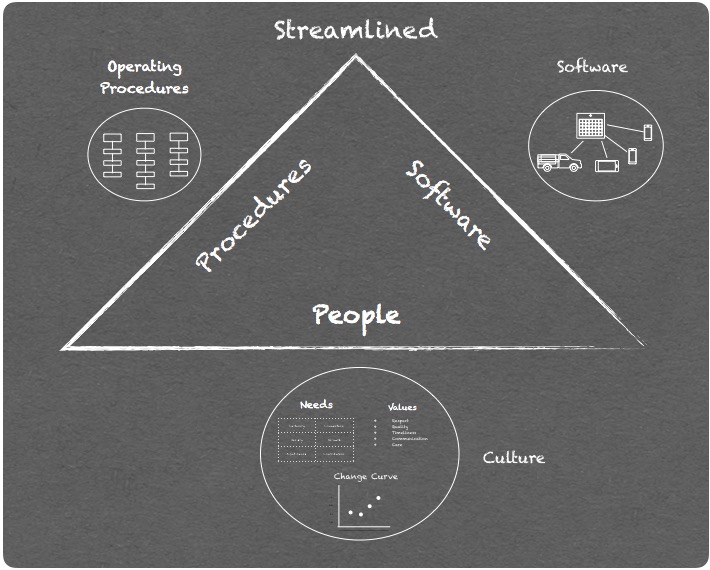 Pillar One:  Procedures
We help you systemise your procedures in conjunction with our software.  Creating predictablility in how your run your business is a critical element that will open up productivity, reliability and this is where you will gain the capacity to grow.
Pillar Two:  Software
Finding HVAC software that meets the needs of your business can be hard, you struggle with trying to make the software fit how you do things today, the key is to allow the software to guide some of the decisions around what has to change in your processes.  In most areas the software should simplify repetitive tasks so it becomes second nature.
Pillar Three:  People
This one is the emotive side of the triangle.  The culture of your business is a key element that should always be nurtured as this means the team is engaged and responsive to change.  People by nature dont like significant change especially when change is thrust upon them and they weren't part of the process.  We talk a bit later in this post about how to deal with that.
So, you have signed up for your free trial or booked your demo…where to now?  We have your back….here are some suggested tips or sequence of events you may want to consider:
Change is hard : Pillar 3 – People
You have made the decision now the team need to be on-board
This is a big step and cant be underestimated.  You, as the business owner know you need to make change to succeed and position yourselves for growth and more importantly profitability.  But, your team havent necesarily felt the same pain you have, here are some considerations:
Engage the Team:
Be open/authentic – dont keep them in the dark or hide (these may be desperate decisions you have made and they need to know this is important)
Tell them how and why you came to the decision to move (they will probably agree with you and start telling you about all the problems they are experiening now…be prepared 🙂 )
That this is a key part of the future of the business to grow and scale (keep their jobs with increased security)
The open discussion is good stuff as it will help you get the most out of your onboarding experience with the software.  Also consider:
Does everyone have the right equipment

mobile device, tablet,
access to data plans in the field
can take photo's
can use email etc

Is there anyone who has specific needs you need to consider
Know what role each person is going to play (Scheduler, authoriser, Technician, Apprentice etc)
Sell the benefits : Pillar 2 – Software
Now you have told the team why you have decided to move to FieldInsight, tell them the benefits and what it will mean:
Increases productivity and importantly capacity within the team to take on more jobs
Can communicate with the team real time and assign jobs based on skill/availability and urgency
Can invoice customers straightaway for the correct items (labour, parts etc)
Allows the team to see all the job, customer and inventory requirements for a job at a glance in the field (including the history)
Can manage the stock and inventory items on the go so there is no wastage
Allows you as the business owner to focus on growing the business and become more competitive
Communicate the steps involved to make the move:
How you will roll FieldInsight out – who goes first and why (see below)
How long will it take
Make a big deal of it, bring the team together (in the office or some location you can all fit) and celebrate this momentous decision and allow open discussion, capture feedback and allay any concerns raised
Consider how you will roll it out to the team
Every business is unique but there are certain things you need to consider for your rollout:
What role each person holds; are they a Scheduler a Technican (or both)
Will everyone go on at the same time or will you stagger it (if you are staggered how long do you think this will take – time running two systems will imapct the effectiveness of FieldInsight to achieve the workflow efficiencies you are seeking)
Do you have a clear view of the pain points you are experiencing at the moment to ensure all of those are addressed in the software and most importantly in the the configuration and training sessions
Get the team up and running fast (get to peak efficiency)
It has been demonstrated time and time again that people feel comfortable asking a colleague/peer when they are having problems with learning new skills.
Lets face it, not everyone is comfortable learning new ways of doing something they have done for years (decades for long established businesses).  This type of resistance comes from fear of being seen as inadequate, but we have to allow for individual learning patterns, just because you are an expert on installing commercial HVAC units it doesnt mean they can navigate a job management app intuitively.
We get it and the following should help smooth the way.
Identify the person in the team (one from the office and one for the field team) who are the 'go to people', you know, the person who always gets called when something goes wrong with their computer, cant figure a problem out and they can solve it in 5 seconds! – THAT PERSON(s) is your GOLD and the key to success – they are your Champion
These are the people will go to your training sessions and will learn to use the system before anyone else….
WHY; because they are the ones who will support the rest of the team for any questions they have when they themselves start to use the software
You will increase your time to peak efficiency by leveraging this person who can help the others when they have questions – they are the trusted insider

even though we love suporting our customers, calling a colleague who knows your implementation intimately is going to serve you better
although, dont deprive our customer success team from a few questions every now and then 🙂
Get ready for the configuration and training
Don't try and do it yourself…that is our advice.  You are making a financial investment in to your business and with that you want to see the return on investment.
Taking on configuration and learning the software yourself and trying to convey that to the team is time you are not focussing on your business.
We have seen time and time again customers that dont want any help and they end up not using the software because they find it too hard to make it work with their business (they cant make the connection to help them systemise their workflows).  That is our job and what we have specialised in….let the experts help with this part.
Configuration:
Depending on the FieldInsight plan you have subscribed to there are different requirements for configuration
An important note is, clean your data before you send it to us for importing (the old saying 'garbage in ….. is garbage forever' cant be underestimated; consider things like

do you manage franchises; account/customer and/or site/billing relationships

Consider the unique elements that support your business

Custom fields
Templates
Job status's and Job types
How you want jobs, messaging, quoting, invoicing and payment integration to flow
Are there any exceptions (special type of jobs, customers etc)
Training:
Training is the crescendo of the above steps, getting everyone on the same page allows you to move forward quickly and seamlessly – towards scalability and growth!
The training is for you and your success, you should never leave a session with un-asked questions (no excuses, too embarassed, not sure how to ask the question) – it is our job to ensure you get what you need out the training to run the process yourself – you are doing yourself a disservice by not making the most of it.
Ensure your configuration has been completed
Ensure the nominated champions attend the session(s) and
Come with an open mindset and ask questions
Rest assured, here at FieldInsight, the Customer Success team and our Product Specialists are here to help every step of the way with a comprehensive onboarding package.
Start using the software : Pillar 1 – Procedures
The next bit sits with you and the champion…..ensure you build time in the teams schedule to be trained by the champion and shown how the system has been set up for you and what is expected; cover things like:
how jobs get assigned – will they get an SMS/email
What information is expected to be completed in the field (job status' to use etc)
How to use inventory (if part of your plan)
How to complete quoting and invoicing (technician vs scheduler)
What checklists should be completed in the field
How to process payments (if taken in the field)
So, if you are
trialling our software right now…..good on you, let us take the next step
If you are looking for a job management software solution for your HVAC business, we would love the opportunity to spend 15 mins to demo our software to you