G'day, FieldInsight people,
So your team walk up to a site, you called the day before, "Everything ready?" "Yeah everything's ready." You walk up, and then you find out that you can't get access to the area because someone's;
concreted a wall over it

they haven't yet put the door in, or

they haven't laid the slab you need

or they haven't put the wall up that you need

or maybe they haven't got the base wiring in to the house yet.
The basic stuff you need to start your job, can't be done. And you've driven out to woop woop to do this job and now you are stuck out there with a long drive back.
Find jobs nearby
Now you may remember you have maintenance and service work to do out that way, but you don't know where it is. You're going 'uh', call the office, the office hunts through paperwork thinking … or hunts through the whiteboard or hunts through the diary going 'somewhere in here there is some job in woop woop I know we can get you to do'.
You can't find it, you get home, the next day a customer calls; says, "Um how are those jobs going out in woop woop?" You go, "Ahh bloody hell I could have done those jobs in woop woop when this job didn't work out." And in the end I spent an hour driving out and an hour driving back and didn't even any work done.
Now it's going to be another hour driving and another hour driving back and I spend an extra two hours I didn't need to burn. I'm late on delivering a job I could have delivered a day early, or two days or a whole week earlier!
"Show me all the jobs in this region which are pending to be done."
How to deliver jobs on time
So wouldn't it be excellent if you could just jump on to FieldInsight and say, "Show me all the jobs in this region which are pending to be done." Grab the job, assign it to yourself. Set it to "In progress", start the job and get it done.
A super, super improvement in your efficiency and the autonomy of your team. So much less back and forth between the office, cutting down on that communication just saved hours and hours of everyone's time.
Office time, tech time – techs want to be at the job doing work. That's what they're paid for. That's what they like doing. That's what they're good at.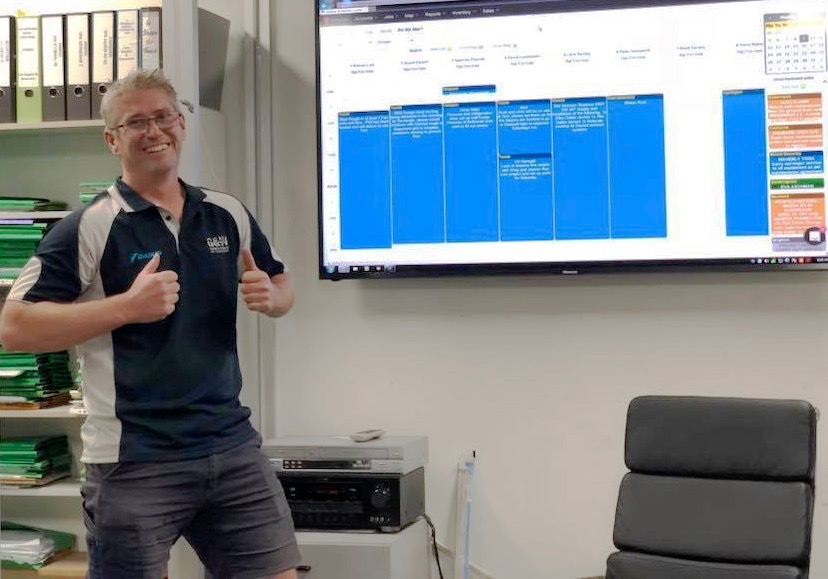 Give FieldInsight a try, have a chat to us about the follow up report, where you can see how long the job's been sitting in there. They change colour if they start to get a bit old and go a bit funky.
Here is our unique framework of solving this problem for you
The JC3 solution

Existing FieldInsight Customer?
If you want us to set-up the Follow-Up report for your Business then get in touch at www.fieldinsight.com/request-review